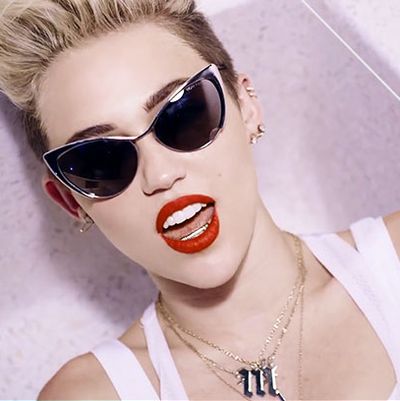 For a music critic, year-end best-of lists are irresistible agony. They're agony because one can't help feeling, in one's more puffed-up moments, that to quantify musical preferences is to debase them, to strip them of nuance and romance — to reduce ideas and feelings about the most powerfully ineffable of the arts to box-score tabulations. Lists are irresistible, though, because of course music criticism is a nerd's game, and the arc of nerdiness bends inexorably towards quantification, taxonomization, Sabermetrics.
This tally of favorite songs is the longest year-ender I've ever compiled, and I can report that the agony is not diminished by all those extra slots: Many cherished tracks got cut in the winnowing process, and, reader, I grieved for them. I deliberated for a while about my No. 1, but kept coming back to a song that captivated me from the first time I heard it, a song that definitively caught the zeitgeist and incited Twittersphere Sturm und Drang. I love Miley Cyrus's "We Can't Stop," though, for its timelessness, not timeliness: for a sound that's as beautifully boomy and doomy as, for instance, "Let's Face the Music and Dance," a song that would probably have topped my 1936 Best Songs list, had I been around back then.
I was tempted to compile a separate rundown of favorite songs featuring 2 Chainz, the rap clown-prince who is one of my 2013 MVPs. But that list might have required more than 100 slots, and the madness has to stop somewhere.
1. Miley Cyrus, "We Can't Stop"
2. Young Dro, "Strong"
3. Kacey Musgraves, "Follow Your Arrow"
4. Lady Lykez: "Eurgh!"
5. M.I.A., "Bring the Noize"
6. Eli Young Band, "Drunk Last Night"
7. Rich Homie Quan, "Type of Way"
8. Jupiter & Okwess International, "Margarita"
9. Backstreet Boys, "In a World Like This"
10. Luke James ft. Hit Boy, "Oh God"
11. Rokia Traoré, "Lalla"
12. FIDLAR, "Cheap Beer"
13. Brandy Clark, "Hold My Hand"
14. Stein, "Body Nuh Dead"
15. Blake Shelton, "Mine Would Be You"
16. Haim, "The Wire"
17. Bruno Mars, "Treasure"
18. Pusha T, "Numbers on the Boards"
19. Valerie June, "Workin' Woman Blues"
20. Migos, "Versace"
21. JB and the Moonshine Band, "The Only Drug"
22. Taylor Swift, "22"
23. Laura Mvula, "Green Garden"
24. Roberto Junior Y Su Bandeño, "El Coco No"
25. Vampire Weekend, "Step"
26. Omar Souleyman, "Wenu Wenu"
27. Kelly Rowland, "Dirty Laundry"
28. A$AP Ferg ft. A$AP Rocky, "Shabba"
29. Selena Gomez, "Come & Get It"
30. Ashley Monroe, "Two Weeks Late"
31. 2 Chainz ft. Pharrell, "Feds Watching"
32. Katy Perry, "Roar"
33. Kacey Musgraves, "Blowin' Smoke"
34. Brad Paisley, "Beat This Summer"
35. Lulu James, "Sweetest Thing"
36. A$AP Rocky feat. 2 Chainz, Drake, Kendrick Lamar, "Fuckin' Problems"
37. Ciara, "Body Party"
38. The Mavericks, "Born to Be Blue"
39. Daft Punk ft. Pharrell Williams, "Get Lucky"
40. Tegan and Sara, "Closer"
41. Chrisette Michelle, "A Couple of Forevers"
42. Bonnie McKee, "American Girl"
43. Phosphorescent, "Ride On/Right On"
44. Alice Russell, "Heartbreaker"
45. Aidonia, "Fi Di Jockey"
46. Kali Mutsa, "El Jardin"
47. Kevin Gates, "4:30 AM"
48. Tirzah & Micachu, "I'm Not Dancing"
49. Danny Brown, "Side B (Dope Song)"
50. Coco Carbomb, "Reel Alligata"
51. Charly Black & J Capri, "Whine & Kotch"
52. Los Primos MX, "Sólo Tú"
53. Ariana Grande, "Honeymoon Avenue"
54. Chance the Rapper, "Juice"
55. Draco Rosa, "Más Y Más (Versión Oculta)"
56. R. Kelly, "Marry the Pussy"
57. Parquet Courts, "You've Got Me Wonderin' Now"
58. A$AP Rocky ft. Skrillex and Baby Nam Nam, "Wild for the Night"
59. Natalia Lafourcade, "Mujer Divina"
60. Justin Bieber, "All That Matters"
61. Bill Callahan, "Small Plane"
62. Eminem, "Rap God"
63. Major Lazer ft. Busy Signal, the Flexican, and FS Green, "Watch Out for This (Bumaye)"
64. Jake Owen, "Anywhere With You"
65. Lil Bibby, "For the Low"
66. Drake ft. Majid Jordan, "Hold On, We're Going Home"
67. Paramore, "Still Into You"
68. Robin Thicke, "Go Stupid for U"
69. Lee Brice, "Parking Lot Party"
70. Willy Moon, "Get Up (What You Need)"
71. RDX, "The Bruk Out Song"
72. Cage the Elephant, "Come a Little Closer"
73. Pink ft. Nate Ruess, "Just Give Me A Reason"
74. Queens of the Stone Age, "I Sat By the Ocean"
75. Miranda Lambert, "Mama's Broken Heart"
76. Charlie Wilson, "My Love Is All I Have"
77. Romeo Santos, "Propuesta Indecente"
78. Fantasia ft. Big K.R.I.T., "Supernatural Love"
79. Justin Timberlake, "Mirrors"
80. Savages, "Shut Up"
81. EXO, "Wolf"
82. Jay Z ft. Nas, Beyoncé, Justin Timberlake, Pharrell, & Timbaland, "BBC"
83. The-Dream ft. Fabolous, "Slow It Down"
84. Roberto Tapia, "Me Enamore"
85. Ninjaman, "Ninja Mi Ninja"
86. Stromae, "Papoutai"
87. Yoko Ono Plastic Ono Band, "Bad Dancer"
88. Mr. Vegas, "Twerk It"
89. Vick Allen, "I'm Tired of Being Grown"
90. Cassie ft. Rick Ross, "Numb"
91. Riff Raff, "Dolce & Gabbana"
92. Sophie, "BIPP"
93. Disclosure ft. Eliza Doolita, "You and Me"
94. Janelle Monáe ft. Miguel, "Primetime"
95. James Blake, "Retrograde"
96. Gerardo Ortiz, "Dámaso"
97. ScHoolboy Q, "Man of the Year"
98. Devendra Banhart, "Für Hildegard von Bingen"
99. Ca$h Out featuring Future, "Another Country"
100. Will.i.am ft. Britney Spears, "Scream & Shout"