Last night's Keeping Up With the Kardashians Christmas special featured a bunch of "never-before-seen" home videos, moments in which the clan reminisced about their pre-fame days, and, most important, a look at this year's Christmas card. It's a wonderful tradition, and although the average family's photos might get less embarrassing as the years progress, the Kardashians' just get wackier and wackier. There were the matching white clothes, the motorcycle gangwear, the year Lamar might have been Photoshopped in, 2011's 3-D motif, and last year's, which featured Kim's now-dead kitten, Mercy. 2013's photo was shot by David LaChappelle and is "high fashion" in a way we now come to expect from the Kardashian family. (Since they've been hanging out with Kanye West, especially.) We've dissected this year's photo below:
What's actually going on here (other than the Sears Portrait Studio's worst nightmare)?
All hail Kim Kardashian! Prominently featured in the top left, her body is much bigger than the rest of her family's — perhaps a nod to the fact that she is their cash cow. Not convinced? Check out the giant dollar sign to her left.
Kardashian significant others Scott Disick, Lamar Odom, and Kanye West all appeared to be missing from last year's portrait. But just as Kanye claimed on Kris Jenner's short-lived talk show, Kris, to have drawn himself into past portraits, he might have also snuck himself into this year's, too. One of the mags the family is standing on? Kanye's cover of Rolling Stone. 
Speaking of covers, it's Bruce Jenner on the cover of a Wheaties box.
If there's actually an Illuminati, the Kardashians would like you to know that they are definitely in it.
"Coming Soon" reads the neon sign. Right under it, a baby wearing a heavenly halo. North, is that you?
Nori might be missing, but Mason isn't. Hi, Mason!
Right above the happily airbrushed Kris Jenner, a graffiti tag that reads "FAME." 
Bruce and Kris may be happily separated, but that doesn't mean he'll be left off this year's card. Here he is, looking like Spaulding from American Horror Story and stuck into a booth labeled "cashier." Not a coincidence.
And for a bit more detail: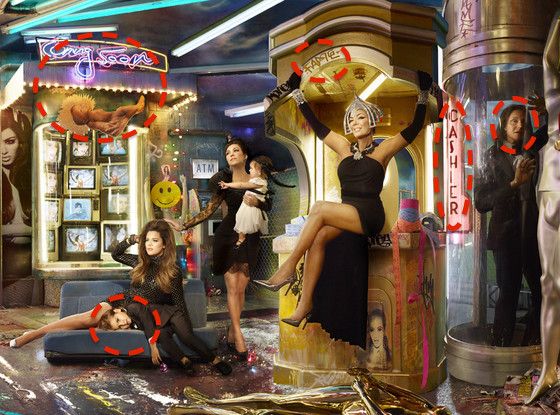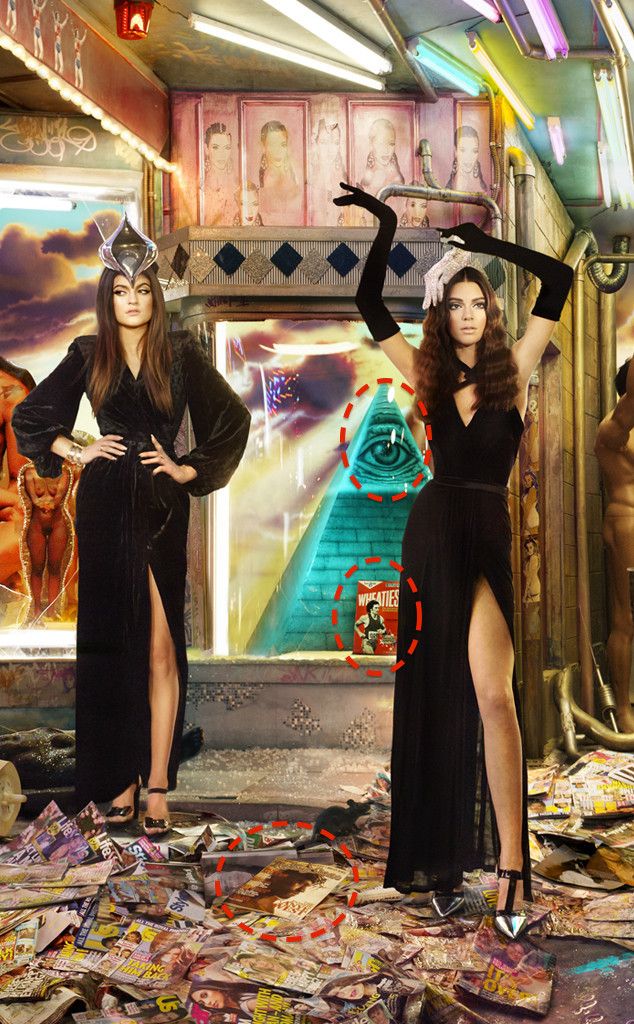 P.S. Where's Rob?