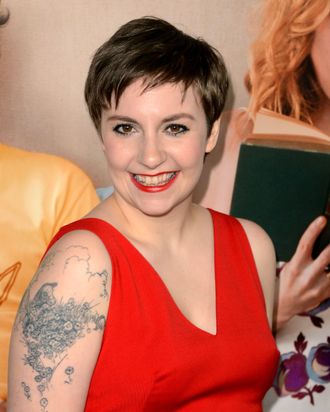 Actress Lena Dunham attends the premiere Of Universal Pictures' "This Is 40" at Grauman's Chinese Theatre on December 12, 2012 in Hollywood, California.
Photo: Jason Merritt/Getty Images
Girls returns January 12 for its third season — a season that includes Jenna Lyons, a beach vacation, and dancing on (or at least around) a grave, among other things. "We had a few goals for Season 3," Lena Dunham tells Salon. "One was to push each of the character's back-stories and histories further and to better understand why they're facing what they're facing," she says. That is not the only item on the agenda: "I wanted to talk about that moment when the messiness goes from feeling age-appropriate to 'Is this a problem?'" Dunham says. "I also wanted this season to have more alone time with each character," particularly to reflect how the characters behave differently together and apart. "Also, for Hannah I really wanted it to be about why she wants to be a writer and what it means to her, to make it less about her relationship to any particular guy and about how she is defining herself," Dunham says. These are good goals for a TV show and also a pretty good emotional to-do list for most 25-year-olds.