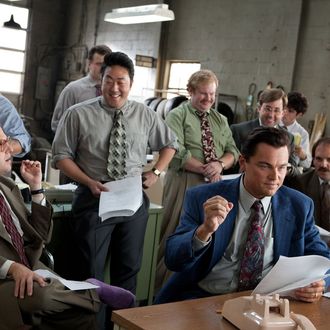 Photo: Mary Cybulski/Paramount Pictures
Yesterday, in our Monday Morning Movie Club, we asked the question, "Does The Wolf of Wall Street exalt Jordan Belfort's excesses?" It's the debate that has dominated the conversation about the movie since its Christmas Day release. For his part, the film's star, Leonardo DiCaprio, is defending the movie. Talking to Variety, he addresses the issue head on:
This film may be misunderstood by some; I hope people understand we're not condoning this behavior, that we're indicting it. The book was a cautionary tale and if you sit through the end of the film, you'll realize what we're saying about these people and this world, because it's an intoxicating one.
Maybe that's the problem: Not a single person has been able to sit through the three-hour movie.