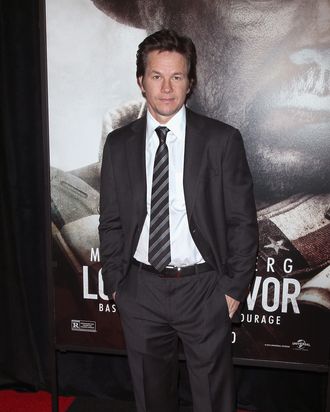 Mark Wahlberg.
Photo: Jim Spellman/Getty
Mark Wahlberg knows he's raised a few eyebrows with his upcoming A&E show Wahlburgers. Why venture into reality television when you're a movie star? But he assures Vulture that his show isn't just lowbrow reality TV: "I wouldn't spend twenty-something odd years building my career up only to throw it all out the window by doing embarrassing reality television," he told us yesterday, at a lunch hosted by Peggy Siegal in honor of his upcoming Navy SEAL drama Lone Survivor. "It's a docu-series about building a business that happens to be from the center of a family." The family members featured will include his brother Paul, executive chef of the family's Massachusetts burger joint, Wahlburgers; their mom, Alma; Mark, who's executive producing; and Donnie. "People are going to be surprised, I think, in a positive way." In fact, he's glad the expectations seem generally low. "It's always best to expect the worst," he said. Then, explaining by way of example, he told us about that time his wife insisted Ted was a dumb idea.
"When I told my wife on the way to the Oscars that I was doing a movie about a talking teddy bear, she said, 'You're the dumbest guy in the world, this will be the last you're ever going to be at the Oscars, and you're going to ruin your career.'" He worked to persuade her. "You try to pitch it in a way that they get it: You know, The bear is really cool, and it's edgy, and it's this kind of bromance. And she's like, 'Yeah, whatever. Dumb idea.' Right? I felt the same way when I was pitched it. It's hard to wrap it up in a bow, but then you know what? It was a nice surprise; it was the most successful movie of my career and the most successful original R-rated comedy of all time, in the world. So I think [Wahlburgers] will be one of those things that surprises people."
Hopefully his mother will be among the pleasantly surprised — or relieved. Although she's very into the show now, she wasn't at first. "I had to convince her," Wahlberg said. "She wasn't into the idea, but now she's completely embraced it … It only took her a minute." Also worth noting: His wife and children will not be appearing on the show. "We're pretty private in that way," Wahlberg said. That's a good sign!