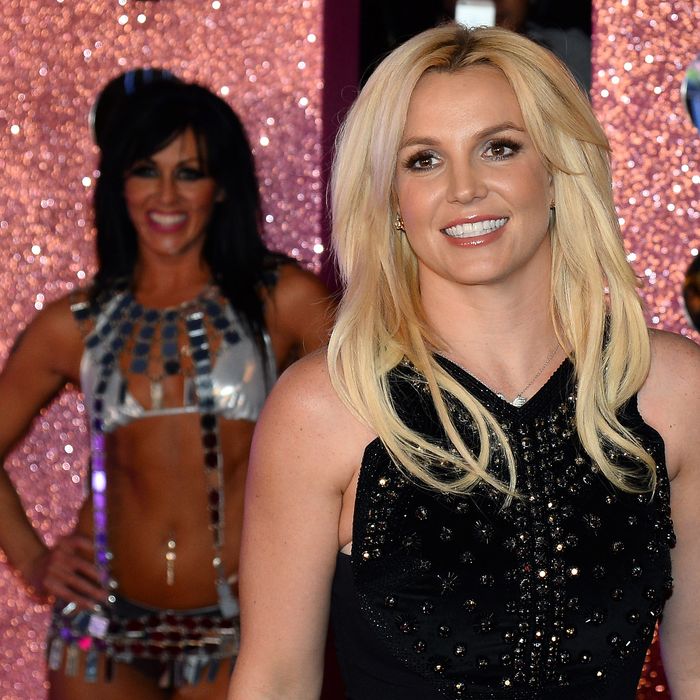 Photo: Ethan Miller/Getty Images
Let's be honest: Britney Spears may be the most boring person on the planet. She's certainly one of the most boring; she's in the running. She has no discernible talent, musical or otherwise. She has been in the public eye for two decades and has never evinced anything in the way of a personality. She can't sing or dance; she can't even sing or dance badly in a compelling way. In public, no utterance of any interest has escaped her lips. I've just finished watching a few interviews on YouTube, and take it from me: Next to Britney Spears, Kim Kardashian is Dorothy Parker. Spears is a blank, a void. She's antimatter in a belly shirt.
This isn't to say that Britney isn't a good person. I'm sure she's very nice. Nor, more to the point, is it to say that she hasn't made good records. In fact, she's made great ones. People who dislike pop music will sometimes point to Spears as Exhibit A — as evidence that pop is soulless industrial product, assembled by committee and performed by singing mannequins. Of all the major pop divas, Spears is the only one who resembles a singing (in her case, "singing") mannequin. But her body of work is conclusive evidence that great pop — forsooth, art — can result from industrial production. Consider: "…Baby, One More Time," "Oops!…I Did It Again," "Toxic," "Piece of Me," "Til the World Ends," "How I Roll."
These songs are amazing, and they're amazing not despite but because of Spears's limitations. Spears has been one of the most reliable record-makers in music by playing to her strengths: by accentuating the synthetic, by making herself a vessel for songwriters' ideas about celebrity and sex and other juicy topics, and by letting some of the world's most talented producers treat her voice like sonic Laffy Taffy, a thing to be coated with sugar, dyed garish hues, and stretched into all kinds of preposterous shapes. It should be noted that credit for this aesthetic must go to Spears herself. Whatever she lacks in other areas, Britney has shown exceptional taste and judgment when it comes to what songs to record and release.
Unfortunately, on her eighth album, Spears had a wacky idea: to try to impersonate a sentient she-human. Britney Jean is, per Britney, "my most personal album ever." The thing about personal albums is that they call for a personality, and a voice to project it. Britney Jean is dead on arrival.
It has a couple of moments. I happen to like the stentorian career-counseling session "Work, Bitch," in which Britney affects a bizarre "Euro" accent to bark out boasts and warmed-over RuPaul commands: "Go call the governor / I bring the trouble … You better work, bitch." "Perfume," co-written by the ubiquitous hit-maker Sia Furler, is musically blah, but the premise — a woman "marking her territory" by slathering her boyfriend in eau de toilette — is fun and creepy.
As for the rest: It's heavy going. This time out, Spears forsook her go-to maestro, Max Martin, turning executive producer duties over to will.i.am. The Black Eyed Peas leader is one of pop's most reviled figures, but I've always liked him: He's a minor genius of major noisemaking, a master of dopey dance-pop excess, rococo 'n' roll. (Cf. "Boom Boom Pow," our twenty-first-century "Tutti Frutti.") He would seem to be a good match for Spears — in fact, the pair hooked up to fine effect on "Scream & Shout" earlier this year. But on Britney Jean, will.i.am's good-bad taste slips: The music is dull and outdated, full of blundering bottle-service club beats and way too many sodden ballads. The songs are about feelings and stuff — alienation, heartache, sexual rapture. "Chillin' With You," a duet with Britney's younger sister Jamie Lynn is a, um, meditation on female bonding. Acoustic guitars signal that Something Meaningful is afoot; the lyrics paint a poignant scene, possibly laid in a wine bar: "I loved so much that I cried / I danced so much till I was tired / I drank some red wine and now I'm walking on the sky / I had the time of my life." Neither sister sounds remotely like a human being experiencing emotions. That's a deficit that the elder Spears has previously made an asset, but it's squandered here. I look forward to album No. 9 — hopefully, Britney's most impersonal ever.