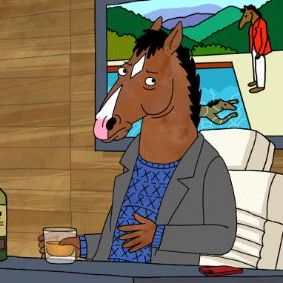 BoJack Horseman coming exclusively to all Netflix territories in mid-2014.
Photo: PRNewsFoto/Netflix, Inc
Netflix announced its next original series today: BoJack Horseman is a cartoon about a horse (voiced by Will Arnett) who was the star of a beloved '90s sitcom  called Horsin' Around. Now he's all washed up — but with the help of his former TV sidekick (Aaron Paul) and cat agent/ex-lover Princess Caroline (Amy Sedaris), perhaps things are looking up. The show premieres in a twelve-episode chunk some time in the middle of next year, so when you need a break from season two of Orange Is the New Black, there will be a whiskey-loving cartoon horse waiting for you.