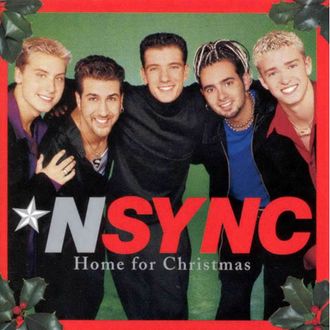 I normally hate Christmas music. It's awful when I'm forced to listen to it, piped in through Duane Reade speakers or while surfing channels on my shower radio. This is all very unsurprising, because as a Jew, I didn't grow up listening to any of it, so there's absolutely no nostalgia attached: To me, it's just a month during which I'm suddenly and without my consent forced to listen to a style of music I do not like. And yet, even though I have always gone out of my way to block these seasonal ditties from my ears, I know all the words to "The First Noel," "The Christmas Song," and even "O Holy Night." And for that I credit and blame 'N Sync's 1998 album Home for Christmas, the only Christmas music I have ever loved.
Home for Christmas was released right after 'N Sync's debut album, likely rushed out in the wake of the band's quick and massive popularity. They aren't the first — or last — band or artist to drop some holiday-themed songs at the behest of a label attempting to capitalize on a holiday shopping rush and the tradition of Christmas caroling. (That said, most carolers have never adopted the band's original single, "Merry Christmas, Happy Holidays" into their set lists.) There were only three traditional Christmas tunes on the album, the rest (other than a K-Ci and JoJo cover) were original, wannabe additions to the canon — including "Home for Christmas," "I Never Knew the Meaning of Christmas," "The Only Gift," and "Under My Tree" — and they weren't all bad. But as I was a 15-year-old superfan of the boy band, I embraced them all equally, whether it was their own work or them applying their impressive five-part, barbershop-esque harmony to "O Holy Night." 
Was my Jewish mother thrilled that I aimlessly crooned about Baby Jesus while she was frying up latkes? Nope. But when your favorite band (er, boy band) puts out music, any music, nothing will stop you from getting that record. Not even Santa Claus. The music transcended religion and tradition: I'd never heard half these traditional songs before Home for Christmas. To me, they were all just really good 'N Sync songs. Whoops.
Now Home for Christmas is worth listening to as a cultural artifact, a memory of a time when Justin Timberlake was so cool to tweens and teens but, in retrospect, was deeply uncool. Bleach-blonde cornrows, this weird blue spacesuit onesie, and the lyrics, "Celebrating this special time we share / Happiness 'cause love is in the air." The word suave is the subliminal message in every aspect of The 20/20 Experience, but it's nice to remember a time when J.T. was as 100-percent pure cheese as a loud Christmas sweater or an Elf on a Shelf.