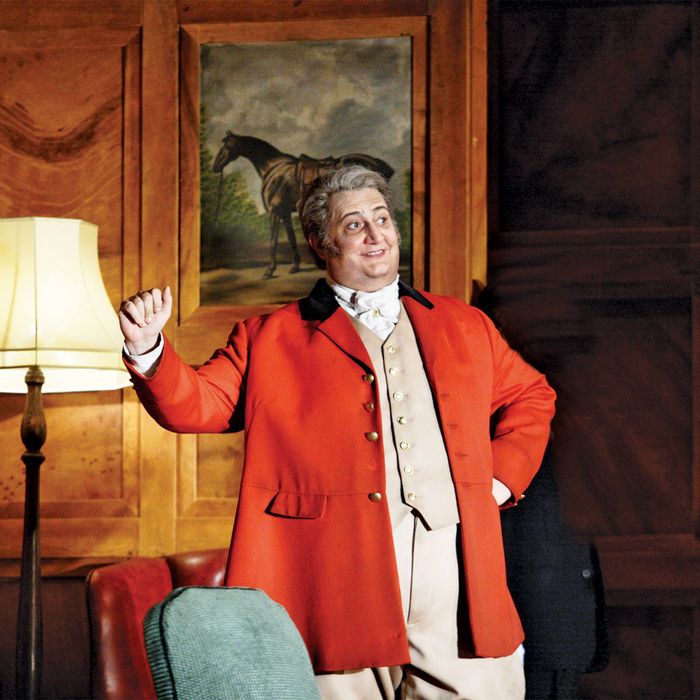 Ambrogio Maestri as Falstaff.
Photo: Catherine Ashmore/Royal Opera
Like its title character, the Metropolitan Opera's old production of Verdi's Falstaff was a tattered relic­. Leonard Bernstein conducted the opening of Franco Zeffirelli's staging in 1964, which popped out of storage from time to time for the next half-century. Finally, though, the director Robert Carsen has given the Met — and the four other co-commissioning companies — a fresh and vibrant vehicle for the role's preeminent interpreter, Ambrogio Maestri. Suddenly, these are the good old days.
Directors love to drag operas back and forth across the centuries, and Carsen has chosen to set this one in the reign of Elizabeth II instead of Elizabeth I. The libretto survives the jump just fine, and the backdrop of postwar London intensifies the friction between wild comedy and an autumnal haze of sadness. Waking in a musty hotel (nicely wood-paneled by set designer Paul Steinberg), Sir John appears, first in long johns of dubious cleanliness, later in Edwardian splendor. He is the embodiment of Britain's leftover imperial dreams. His young female targets Alice and Meg, on the other hand, are impeccably modern housewives, laying their trap in a kitchen of garish Formica. You can feel the era of damp tweed rolling into the age of polyester.
If a new production took so long to materialize, it's partly because Falstaff is often seen as an afterthought to its maker's long career, a comic caboose on a train of somber tragedies. Actually, it's one of Verdi's most perfect operas, the musical opposite of its blowsy title character. It is lean, compressed, lithe, and knowing — the last testament of a man who had made sovereigns and scoundrels sing, and had learned a thing or two about people along the way. It is also funny — not in that wan, my-goodness-what-is-she-doing-under-the-table way that often passes for humor in opera, but funny in its great sloppy bear hug of human absurdity. Falstaff is the cameo character as protagonist: the wisecracking sidekick, the hapless bumbler, the vainglorious poet, and hopeless lover all rolled into one and trundled into the spotlight. Verdi wrote much of his best music for deluded fools, and in Falstaff's faults he found the distillation of his own strengths. Neither hero nor villain, he is a wry, indignant, self-serving, self-pitying, petty, and magnificent man who has always been good at laughing at others and finally learns how to smile at himself.
Somewhere out there may be a better incarnation of this meaty antihero, but when you experience Maestri in the flesh, that possibility seems awfully wispy. The economy-size singer wields his abundant body with dexterity, so that Falstaff's belly practically becomes a character unto itself: a demanding, stubborn, and irresistible appendage that gives its owner vigor but also drags him down. It also supports a prodigious diaphragm whose vibrations launch a big, heavy voice into the air, giving it unexpected agility and grace. Maestri's baritone is the sound of a man at ease with his own physicality: It seems "natural" — always an illusion in opera, since training the vocal cords to produce those blaring sounds is the work of years.
As anyone who's ever tried telling a joke in a foreign language can attest, it matters, too, that Maestri is Italian. In Falstaff, Verdi's librettist Arrigo Boito ditched the high literary language of his tragedies and equipped the rough knight, his crew of ruffians, and the klatch of designing women with quick, clever banter. Singing the title role requires high comic timing, especially in his scorching dismissal of honor as a rational motivation for doing anything. ("Can honor fill the stomach?" Beat. "No.") Verdi matched this compressed language with recurring musical one-liners, like the simple little flourish on "dalle due alle tre" ("between two and three" — the hour when the unfortunate husband will be out of the house) or the mockingly fancy trill of reverence with which Mistress Quickly greets Sir John. The cast works together with the breathless hilarity of an improv group.
There's more to Falstaff than Falstaff, of course. Stephanie Blythe in the role of Mistress Quickly matches Maestri's star power watt for watt; Angela Meade as Alice and Lisette Oropesa as Nannetta make a strike force of female vengeance. This is an opera full of colluding ensembles, and James Levine, wheelchair-bound now but in fine musical form, manages them as adroitly as ever.

Falstaff is at the Metropolitan Opera through January 11.