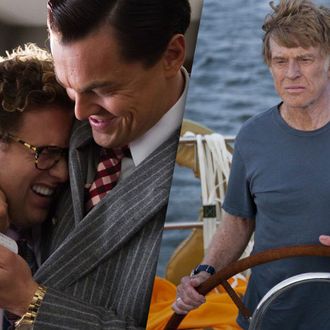 Every week between now and January 16, when the nominations are announced, Vulture will consult its crystal ball to determine the changing fortunes in this year's Oscar race. Check back every Friday for our Oscar Futures column, when we'll let you in on insider gossip, confer with other awards season pundits, and track industry buzz to figure out who's up, who's down, and who's currently leading the race for a coveted Oscar nomination.
Let's check out this week's chart:
Best Picture

Dallas Buyers Club
Voters for the Screen Actors Guild Awards handed a surprise nomination for Outstanding Performance by a Cast, their de facto Best Picture category, to Dallas Buyers Club. How did a film with a relatively slim ensemble (past its three stellar leads) squeak in over its considerably more stacked competition? Clearly, the movie itself is striking a chord with actors, and since they also comprise the Oscars' largest voting body, a Best Picture nomination no longer seems like such a long shot.

Saving Mr. Banks
Saving Mr. Banks swallowed a spoonful of reality this week, and it sure wasn't sugary sweet. Here and there mentioned as a threat to actually win Best Picture at the Oscars, the feel-good movie couldn't even manage the equivalent nomination from either SAG or the Golden Globes, and supporting actor Tom Hanks was shut out by both organizations, too.
Current Predix
12 Years a Slave; American Hustle; Lee Daniels' The Butler; Captain Phillips; Dallas Buyers Club; Gravity; Inside Llewyn Davis; Nebraska; Saving Mr. Banks; The Wolf of Wall Street
Best Director

David O. Russell (American Hustle).
Russell's got momentum: After those early NYFCC laurels, Hustle got tons of love from SAG and the Globes, while the director himself scored a nomination with the HFPA.

Martin Scorsese (The Wolf of Wall Street).
Paramount cautions that the movie finished too late for SAG voters to include it for consideration, but the HFPA did get to see the movie, and Scorsese still didn't make the final five.
Current Predix
Alfonso Cuarón (Gravity); Paul Greengrass (Captain Phillips); Steve McQueen (12 Years a Slave); David O. Russell (American Hustle); Martin Scorsese (The Wolf of Wall Street)
Best Actor

Robert Redford (All Is Lost).
How did Redford go from presumptive winner to SAG snub so quickly? Perhaps All Is Lost simply doesn't play as well on a screener, what with its near-total lack of dialogue; the fact that Redford hasn't done any press past its initial debut may also hurt, since his contemporary Bruce Dern is out there hustling every chance he gets.

Forest Whitaker (Lee Daniels' The Butler).
Whitaker is the actor who supplanted Redford in SAG's fifth Best Actor slot, but his position is still tenuous: Both Whitaker and The Butler were shut out completely by the high-profile Golden Globes, and once Wolf of Wall Street starts screening more widely, Whitaker's deferential performance will have to contend with Leonardo DiCaprio's showy tour de force.
Current Predix
Bruce Dern (Nebraska); Leonardo DiCaprio (The Wolf of Wall Street); Chiwetel Ejiofor (12 Years a Slave); Tom Hanks (Captain Phillips); Matthew McConaughey (Dallas Buyers Club)
Best Actress

Emma Thompson (Saving Mr. Banks).
If Saving Mr. Banks flags in the Best Picture race, that might contrarily help Thompson's case here: Suddenly, without the potential benefit of Banks in Best Picture or Hanks in Best Supporting Actor, a Thompson win will become the only place for Banks partisans to make themselves heard.
Adele Exarchopoulos (Blue Is the Warmest Color).
If anyone was going to recognize this acclaimed performance, you'd expect it to be the internationally flavored Globes, which spread the wealth with separate commendations for actresses in comedies and dramas. Without a boost from the HFPA, though, the Oscar quest for the frequently snubbed Exarchopoulos becomes that much tougher.
Current Predix
Cate Blanchett (Blue Jasmine); Sandra Bullock (Gravity); Judi Dench (Philomena); Meryl Streep (August: Osage County); Emma Thompson (Saving Mr. Banks)
Best Supporting Actor

Tom Hanks (Saving Mr. Banks).
Truth be told, Hanks doesn't figure much into Mr. Banks, but the fact that he's got a primo monologue near the end — and the constant insistence from some pundits that Banks is an Oscar dark horse — had firmly planted Hanks in the Best Supporting Actor conversation until now. After both SAG and the Globes denied him, though, is he currently on the outside looking in?

Jonah Hill (The Wolf of Wall Street).
Hill is great in this film, there's no doubt, but he's going to have to hope for some Christoph Waltz–like late momentum to overcome his lack of love from early precursors like the Globes.
Current Predix
Barkhad Abdi (Captain Phillips); Bradley Cooper (American Hustle); Michael Fassbender (12 Years a Slave); Jonah Hill (The Wolf of Wall Street; Jared Leto (Dallas Buyers Club)
Best Supporting Actress
Sally Hawkins (Blue Jasmine).
Finally, someone recognizes how great Hawkins was as the counterweight to Cate Blanchett! But can Hawkins capitalize on her surprising Golden Globes nod? Sony Pictures Classics would be wise to import the English actress for a further press go-round to keep her momentum going.

Oprah Winfrey (Lee Daniels' The Butler).
The HFPA rejected The Butler completely, so you can't hang Oprah's snub on Oprah alone. And yet, there's something to be said for the fact that so many headlines seized on her absence from the Golden Globes roll call. If she's perceived as an also-ran, does that open the field to other competitors?
Current Predix
Jennifer Lawrence (American Hustle); Lupita Nyong'o (12 Years a Slave); Julia Roberts (August: Osage County); June Squibb (Nebraska); Oprah Winfrey (Lee Daniels' The Butler)