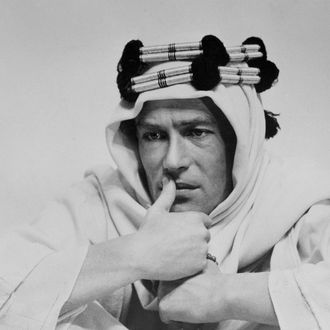 Peter O'Toole died Saturday at Wellington Hospital in London, the Guardian reports. His agent, Steve Kenis, said the actor suffered from a longtime illness that caused him to leave acting last year, though he came out of retirement last month for Katherine of Alexandria, a film about ancient Rome. O'Toole's daughter, Kate, said in a statement that the family has been overwhelmed "by the outpouring of real love and affection being expressed towards him, and to us, during this unhappy time." She added, "In due course there will be a memorial filled with song and good cheer, as he would have wished."
The 81-year-old was born Seamus Peter O'Toole to Irish bookie Patrick "Spats" O'Toole and his wife Constance in 1932. (There's some debate as to whether that happened in Connemara, Ireland, or in Leeds, northern England.) As a young actor, O'Toole saw early success at London's Royal Court Theatre in a 1959 production of The Long and The Short and The Tall. O'Toole is best known for starring in the 1962 classic Lawrence of Arabia, a performance that got him his first of eight Oscar nominations for his work in My Favorite Year, The Stunt Man, Goodbye, Mr. Chips, and Venus. He never won but was given an honorary award in 2003.
The actor was also known for his membership in the "hard-drinking Hollywood hellraiser" crew that involved himself, Richard Burton, and Richard Harris, the latter of which he once said, "We did in public what everyone else did in private then, and does for show now." Of his eventual sobriety — O'Toole gave up the bottle in 1975 following serious health problems and major surgery — he explained, "If you can't do something willingly and joyfully, then don't do it. If you give up drinking, don't go moaning about it; go back on the bottle. Do. As. Thou. Wilt." He will certainly be missed.