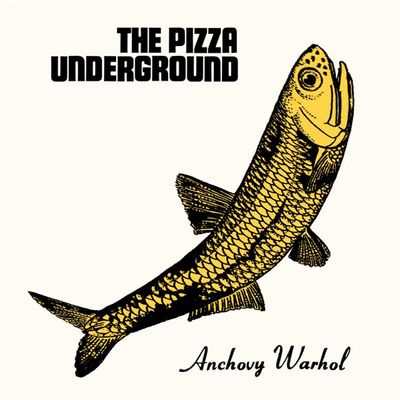 Photo: http://thepizzaunderground.tumblr.com/
If you've been on social media lately, you may have heard what Macaulay Culkin is up to these days: He's in a band that plays pizza-themed cover versions of Velvet Underground songs. For real. The Pizza Underground is the brainchild of musicians Phoebe Kreutz, Matt Colbourn, and Deenah Vollmer, all veterans of the East Village anti-folk scene. They were introduced to Culkin through a mutual friend, and in November, the whole band went to his house to record a medley of songs bearing the titles "I'm Waiting for the Delivery Man," "All the Pizza Parties," and "I'm Beginning to See the Slice." (You can download the MP3 here.) This past weekend, Buzzfeed put the Pizza Underground on its front page, and the members of this jokey side project are now weighing offers to perform their saucy tunes around the world. Vulture spoke with glockenspiel player and vocalist Phoebe Kreutz about the band's origins, what they have planned for the future, and whether there's a full-length version of "Pizza Day."
So what was the genesis of the Pizza Underground?
It started in February 2012, when I was on tour with my husband, Matt Colbourn, and Deenah Vollmer, the pizza box player. This began as something that we were playing around with on tour just to pass the time on trains. Then when we got back to New York, we played a show with our friend Austin Kilham, who joined the band. And then we didn't really do anything with it. But Deenah's boyfriend, Toby Goodshank, is in an art collective with Mack called 3MB, named after Three Men and a Baby. They do really weird reinterpretations of pop culture, mostly with paintings. So they had a big show at Le Poisson Rouge last year, which I guess was the first time I was in a room with Mack. Anyway, Deenah was telling him about the band, and he said, "That sounds great. I want in if you need an extra member." And the rest is history.
Do you remember the first time you paired Velvet Underground songs with pizza lyrics?
I really don't know. I think it started as something that Matt and Deenah were goofing around on, and eventually I came to understand it. But Mack just joined the band a few months ago. We were on indefinite hiatus when Mack put that extra spice in our sauce that we needed to get going again.
So when did you accumulate all the amazing fan art that's on your Tumblr? Did that start after the Buzzfeed post?
The outpouring of fan art started before then. People that heard about us, a lot of them friends and some strangers, just sort of dug the concept. I think if you give people parameters, it's easier for people to be creative. So the idea of putting together the Velvet Underground with pizza — you just start thinking about, and all of a sudden you're making puns and then you're making paintings of the puns, and I don't know where it stops!
Are you booking shows now?
We're fielding a surprising amount of offers right now, trying to figure out what the best course of action is. We've been very, very nicely offered some different shows around the country, which is exciting, and some different opportunities in Europe have popped up as well. It was all inevitable, but still, it's taking us some time to figure out exactly how far we want to take this thing.
I listened to your medley. Do you actually have fully written versions of those songs?
No, we are a medley band. Which is why we think of ourselves as more of an art project than a band-band. I mean, we're not going to stand onstage and play an hour set of individual songs anytime soon. You want to end the joke before it goes stale. I think sometimes, even just doing the hook of the song seems like enough. So, we've got more medleys in the works.
And you're sticking with Velvet Underground and pizza in your future songs?
Yeah, I think so. We sort of toyed with the Rolling Scones, but with the Rolling Stones, it seemed so general. And baked goods, they could be anything. There's something about the specificity of pizza, and also about the Velvet Underground, who wrote a lot about indulgence and preference and things that come together with pizza in a really fruitful way. Although, we did just get invited to Fresno to play with a band called the Misshits, which is a Misfits cover band that sings about poop.
Obviously a lot of interest in the media has to do with Macaulay Culkin resurfacing in this unexpected way. How is he feeling about all this?
You know, he's amused by it, as we all are. I don't think it was anything any of us were looking for, and none of us know how long it will last or when we'll feel like it's over. I think we're sort of waiting for the universe to let us know what to do. So he's game. I think he's having fun with it.
Where does Pizza Underground go from here?
We're still trying to figure out the best way to get the pizza delivered to the fans, so to speak. Toby Goodshank is putting together a little concert film of our first show that we all played together at Union Pool in Williamsburg, so he's going to be releasing that in the next few days. There may be a show happening on Friday. I think we're playing on the radio on Sunday. Scheduling is hard because Mack lives in Paris now, so trying to figure out when we can do these things is the biggest hurdle. I think we're trying to cram in as much as we can, when we can. So I don't know what comes next.
 For updates, follow the Pizza Underground on Twitter.