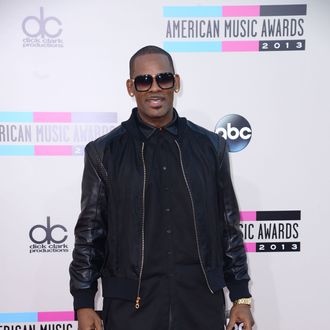 Photo: C Flanigan/2013 C Flanigan
R. Kelly is back in the news these days because he has a new album. But R. Kelly has also been accused of rape multiple times, which is something that either gets glossed over or ignored completely.
These serious and credible allegations first made major news in 2000, when Chicago Sun-Times music critic Jim DeRogatis and courts reporter Abdon M. Pallasch wrote a story detailing Kelly's predatory behavior toward teenage girls, including his marriage to a 15-year-old Aaliyah. DeRogatis has continued to report on Kelly, and in a story today he spoke with the Village Voice's Jessica Hopper.
DeRogatis: I think in the history of rock & roll, rock-music or pop-culture people misbehaving and behaving badly sexually with young women, rare is the amount of evidence compiled against anyone apart from R. Kelly. Dozens of girls — not one, not two, dozens — with harrowing lawsuits. The videotapes — and not just one videotape, numerous videotapes. And not Tommy Lee/Pam Anderson, Kardashian fun video. You watch the video for which he was indicted and there is the disembodied look of the rape victim. He orders her to call him Daddy. He urinates in her mouth and instructs her at great length on how to position herself to receive his "gift." It's a rape that you're watching. So we're not talking about rock-star misbehavior, which men or women can do. We're talking about predatory behavior. [The victims'] lives were ruined. Read the lawsuits!
You can also read all of the court filings and original Sun-Times articles or walk through a timeline of R. Kelly's career and sex crimes. Prepare to be horrified.