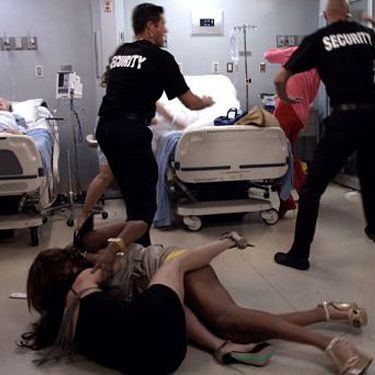 Real Husbands of Hollywood is a male-driven comedy, but all praises go to the women who guest-starred on last night's episode for delivering this show's best laughs all season. The "Real Wives" takeover consisted of Tisha Campbell Martin, Nicole Ari Parker, Eva Marcille, Nadine Velazquez, and Erica Ash. Thanks to Tisha's husband, Duane, who is pimping Selita Ebanks's pregnancy despite discovering that she's only knocked up with a dented pillow pad, all of the women are under the impression that they've been selected to be the host of Selita's baby shower – a red-carpet, televised event.
It's the sort of exploitative, publicity-chasing behavior that I imagine gives Kris Jenner a tingly sense of excitement shortly before she swims into a pool of gold coins like Scrooge McDuck. None of the women really know Selita that well, but what does that matter when cash and a camera crew are involved? Selita doesn't seem to mind either, given her only request — delivered by way of attorney Trina Shaw — is: "At no time will any of you look better than Selita."
I tend not to question my lord and gyrator, Beyoncé, but a diva seems like a whole lot more than just the female definition of a hustler.
Even before the women realize the ruse and the subsequent reality that they'd be in contention for a hostess position (and the big paycheck that comes with it), the division among the ladies was made clear. As Tisha and Nicole warmly greet each other, Eva Marcille walks into the room and insults are tossed back, back, forth, and forth (Aaliyah references are always appropriate). For those who don't remember Eva "the Diva" from cycle three of America's Next Top Model, Tisha and Nicole offer some quick pop-culture history.
Tisha asks Eva, "You're the girl with the boy body who won that modeling show, right? Yeah, you changed your name or something?"
Nicole answers, "Yeah, she's French now."
Yes, there are some black folks who do indeed love themselves a French-sounding name, but for those curious, the person we first got to know as Eva Pigford claims she conceived her new stage name – an amalgam of her grandmothers' names (Majorie and Lucille) – for the sake of her acting career. That may seem silly, but I bet Allen Stewart Konigsberg (Woody Allen), Natalie Hershlag (Natalie Portman), and John Renold Aufenstein (Ryan Seacrest) can relate.
Faux-French names aside, Eva is no stranger to cattiness, so she threw some sass right back at Tisha and Nicole. Eva informs Tisha of how long ago Martin was and not so subtly lets Nicole know that Boris could do a lot better than her. But just as soon as Eva threw that shade a full eclipse smacked her right upside the head.
Tisha hits back with, "You know what it is, Nicole? They're models and they're hungry because they need to be skinny to wear bullshit like that." Tisha was referring to Eva's ensemble, which did make Eva look like one big, poorly wrapped Christmas present.
Not long after the trio's tit-tat-tit came Nadine, who was Kevin's girlfriend for all of 22 minutes a few shows ago. Also playing off the Martin jokes, Nadine channels the voice Sheneneh and calls Tisha "Pam," a.k.a. Tichina Arnold's character and the BFF of Gina, the role Tisha actually played. Nadine took a look at Tisha and Nicole and quips, "This is like the house that the nineties built."
That house certainly beats the shack that the last fifteen years of black TV has built, but I digress.
Though Tisha Campbell Martin did play Jay Kyle on ABC's My Wife & Kids for 122 episodes, the Martin references dominated and carried on until the very end of the episode. For Martin fans, remember the episode when Martin Payne fought pro boxer Tommy "The Hit Man" Hearns and ended up with a face resembling Chris Brown's stress ball? That was Tisha Campbell after she ate shellfish, which she already revealed an allergy to.
Sadly, Tisha's pal Nicole was responsible for the ordeal. She had the decorator she brought in to design the shower, Mr. Eloquence (basically a Latino version of Dwight Ebanks from The Real Housewives of Atlanta), serve her shrimp. Nicole owes her an apology and a bunch of Cheddar bay biscuits.
Not for nothing, Eva did try to comfort Tisha by noting, "If it makes you feel any better, sweetheart, you really didn't look that much better before this happened." Tisha ended up tossing the bedpan carrying her piss at the other ladies and all hell broke loose shortly thereafter. Unfortunately, all this fighting will ultimately prove to be for naught as slowly but surely, Selita's lie is beginning to be exposed.
No matter, though, because Selita's still in a better position than she was a few years ago. I mean, portraying a fake pregnant woman beats the malnourished turkey she played in Kanye West's "Runaway" short film. Go, Selita!
All that bitchiness within the half hour made RHOH mirror the Real Housewives of Every City! In other words, it was pure perfection because after all, this show is supposed to be skewering reality TV. More of this, please … and yes, bring back Bobby Brown. Oh, and Robin Thicke, too, if BET can swing his post–"Blurred Lines" salary.
Other notes:
Salute to Kevin's ex-wife, Bridgette for her self-awareness: "They say you can never be too skinny or too rich. Well, with an ass like mine and a jackass like Kevin I gots to go for rich."
Tisha encouraging the women to "just play our roles and get paid" and letting Eva know her role is, "Well, you are obviously a gay man in a woman's body." Ditto for most of the women on Bravo and WeTV.
Tisha Campbell Martin is one of the funniest women not enough folks know about. Someone give her a show, and please, reunite her with Tichina Arnold when you do it.