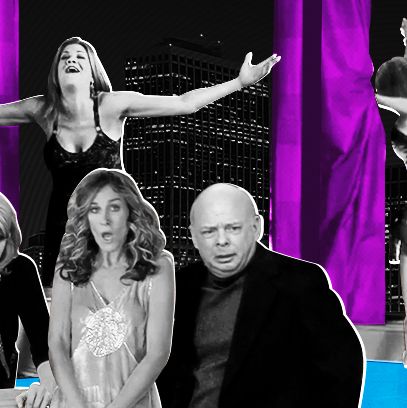 This piece originally ran as part of Vulture's Micro Oral Histories Week in 2013. We're republishing it today in celebration of the 20th anniversary of Sex and the City. Enjoy!
Throughout its six-year run on HBO, Sex and the City reveled in shocking viewers with tawdry tales involving water sports, eff-able friars, and lagomorphic sex toys, but the show's most gasp-inducing moment had nothing to do with carnal love. It arrived February 8, 2004, with "Splat!," the show's third-to-last episode, when the brassy, once-fabulous Lexi Featherston (Kristen Johnston) falls to her death from an open window while ranting at a cocktail party hosted by Carrie Bradshaw's Vogue editor Enid Frick (Candice Bergen) about how lame New York City has become. The surreal scene served as a reminder of how nimble Sex and the City's scripting could be, while also providing another reason for Carrie to leave town with her boyfriend, Aleksandr Petrovsky (Mikhail Baryshnikov), and end her twisted love affair with the series' greatest muse, New York City.
Cindy Chupack ("Splat!" co-writer): As soon as Carrie got into a good relationship, we felt like we were going to be out of good material. But now we thought, What happens if she stopped examining love and just experienced it?
Michael Patrick King (executive producer): Carrie was aware on some level of what she would be sacrificing if she moved to Paris with her boyfriend. We needed to scare her with what her life could be like if she stayed, which is why Lexi was created.
Jenny Bicks ("Splat!" co-writer): And we knew we needed something really shocking to happen so that the idea of Carrie leaving New York seemed less shocking.
Candace Bushnell (Sex and the City creator): In the first season [in "The Power of Female Sex" episode], there's this character Amalita Amalfi, a party girl who introduces Carrie to a guy who leaves her $1,000 [after a hook-up]. Lexi is that kind of party girl, years on. Everyone kind of moved on, but Lexi didn't.
King: The character was a legend in New York. She's someone who isn't intimidated by Carrie, who could just blow by her and go, "Shut the fuck up! I fucking hate you." We knew it had to be someone with an enormous, voracious talent. I knew Kristen would kill it.
Kristen Johnston (Lexi Featherston): I've been friends with Sarah Jessica for years — literally, since we were in our early twenties, through the theater company Naked Angels. She kept asking me to come on the show, and I could never do it because of 3rd Rock From the Sun. Three episodes before the end of the series, she called with Michael Patrick King and said, "There's, like, the greatest role ever for you." And I said, "I'm in. Let's go."
King: The great thing about writing is that you can blow up people's worst attributes for an effect, and you can also blow up their best. Lexi is actually a Frankenstein monster created from all our years of living in New York.
Johnston: I didn't base her on anyone. I heard rumors that the role was based on Amy Sacco [the party girl turned impresario of Manhattan's influential nightclub Bungalow 8]. I actually ended up meeting Amy later and it was like, "Wow, I did play you … kind of?" But I really just based Lexi on a loud, drunk idiot.
Bicks: It wasn't Amy Sacco. People thought that because they're both really tall. Amy turned partying into a business. She couldn't have been Lexi and done what she did. There was as much Candace Bushnell as there was Amy or anyone else.
Bushnell: I hope not! But in the eighties, we all had our moments …
Bicks: I would have nights in the late eighties that started at the Knitting Factory with [performance artist] Annie Sprinkle showing people her cervix, and then end up at Show World, a sex-club thing in Times Square. You sober up very quickly when you watch sad-stripping at a sex club. At Studio 54, you would walk into the bathroom and there would be people doing lines on the sink. And it was okay. It was fine — because Bianca Jagger was on the dance floor. Everything was so glossy.
King: Lexi is what Carrie was in season one. She's carrying a Fendi bag with poker chips on it wearing a Versace dress. And smoking.
Johnston: I hadn't been on television since 3rd Rock, so I was a little trepidatious over … I wasn't looking great. I was bloated and not fit. I just had been doing theater and eating late burgers and drinking a lot. I thought everyone was going to make fun of me. And I had to do it in that Versace fucking dress!
Sarah Jessica Parker (Carrie Bradshaw): Kristen today is radically different than Lexi. The thing that connects them is that great, bold, unapologetic sense of humor — to hold court and amuse people. But Kristen is really somebody who hunkers down. She's very introspective. Lexi doesn't have the fortitude to withstand sadness. And Kristen has — she's battled it. She's like a Viking to me.
Johnston: Sex and the City was when the fat lady sang for me. I was mostly a red-wino and a pill addict [at that time], as I recount very openly in my book [Guts: The Endless Follies and Tiny Triumphs of a Giant Disaster]. My stomach burst open, and I almost died. Remember that time when I was scary skinny? That's what happened. I wasn't anorexic. My stomach blew open.
Bicks: The way her face was so pliable in the scene in the bathroom — that's what I remember about her. Kristen was also pissed at the number of times we had to shoot the scene in the [tiny] bathroom where she does the line [of coke]. She was so tall it was so physically hard. I think there came a point of like, "How much more of this baby powder concoction do I have to make believe I'm sucking up my nose?"
King: When we did that episode, coke was out! So when you see her, it's like you're watching a dinosaur in that bathroom.
Johnston: You know how Wally Shawn [playing a turtlelike Bon Appétit food critic whom Carrie had set up on a blind date with Enid] comes up to me and says, "You're being rude" and all that stuff? Literally, that night was the press opening for Aunt Dan and Lemon, a play I was doing, written by him. They had to shoot me quick, because I had to go.
King: The details of her falling out that window, you could almost do a film about it: making sure the ankle twisted, hearing the snap of the heel, the sound of the shower curtain being pulled down, like in Psycho. Even the windows were a major specific. I knew a person in NYC who lived way high on Central Park West, whose windows were floor to ceiling and opened out from a latch at the bottom. When we were pitching the show, I kept saying, "The window has to be this, because I actually know somebody who committed suicide out that window." When our show was good, it was always tethered to a writer's reality and then went fantastically up to where it should be.
Johnston: They hired a stuntwoman. I got there and was, like, "No, no, no — I do it." If you watch 3rd Rock, that's all I did: fall and trip. Basically, there was a giant pad right under the window. It was all on a set. So I hate to burst everybody's bubbles, but I fell maybe a foot. I probably did four or five takes of the fall out the window. But I did the big speech, the "New York is over" thing, probably 30 times.
King: There was a thousand ways to do that monologue. She did one, and it was sad and sweet. I went up to her and said, "Kristen, you just gotta bring down the house." I mean, that is the worst direction you could give somebody [laughs]! But she knew what it meant. It's gotta be, like, fireworks. Then she just did it.
Johnston: Having Sarah laugh at everything I said kind of pumped it up, too. I kept checking in with her: "Is it too much?" She kept saying, "No, it's perfect." I really trusted her.
Parker: Reaction shots are hard to do because you're not seeing anything. You're not really seeing a human being leap to their death.
Chupack: She tripped on her Manolos, made that grand speech, and she's doing it for a cigarette — there was a lot that went into making it not just tragic, but funny and ironic and horrifying at the same time.
Johnston: The fall was shot separately. It was, like, me and the crew. She screams how lame everyone is and that she's so bored she can die. I don't think she necessarily deserved it, but she wasn't some innocent creature. That's my favorite kind of acting: There is nothing I love more than having people laugh as they're gasping.
King: The actors all played it like they got hit with electricity!
Bicks: A lot of the shock was like, there was that sense of energy — and then it was gone. I was surprised at how shocked people were because us, we were shocked that we were sending Carrie away.
King: New York is very treacherous sometimes: You're always at parties on terraces, where you think, I could fall off. The idea of falling … falling is really the word. Carrie Bradshaw falling into a very sad part of her life if she doesn't change it. Getting hit by a car? Not great. Falling into the subway? Not great. But falling from a great height? If one of our girls fell out the window, it wouldn't have been funny. Lexi was brought in as a target to see what happened to a single party girl who never committed to anything. She had to really fall from the highest height of New York society to the ground.
Johnston: It's almost like I was more recognized for that than even 3rd Rock. Me trying to walk through Chelsea the next year? Like, I had to do outgoing messages on gay boys' machines saying, "New York is over. O-V-E-R" [laughs]. It was insanity for the following month — month! Nobody saw it coming. I don't think the show had done that kind of thing. They certainly never killed anyone in front of you.
Bushnell: Shocking! I had no idea that they were going to take it that far! And I love that they did.
Candice Bergen (Enid Frick): It just seemed to me like a classic script. Even in the playing of it. I still remember exact lines of dialogue. It was so beautifully written, and weird.
King: Following that awful event, we have a very rare montage of quiet snow just falling in New York. We hadn't done winter on our show until the last season. And that is not stock footage. During that episode, we had a blizzard, and I had the cameramen go out and film exactly what we wanted. There was this sweet poetic pause for everyone to react to what just happened. And then you see the New York Post headline, "Splat!" when Charlotte's puppies are born.
Johnston: Michael Patrick King said, "Oh, I have extra copies of the Post I'll send you." [Feigns outrage.] He never did!
Bicks: Did anyone else take credit for that? 'Cause I think that was my idea. [Laughs.] I used to just love, when I went to work on the subway, seeing people reading the Post? As they say, you should only be in the paper when you get married and when you die. So for Lexi, it was probably a win.
Bushnell: That is a dry humor that is very uniquely New York.
Parker: The city does beat you up, and it asks a lot of you. And sometimes it's impossible to live up to its standards. Just taking the subway every day, I think, My God, can't we do this better, everybody? There is a sort of drumbeat that's relentless here in New York. But I still love it.