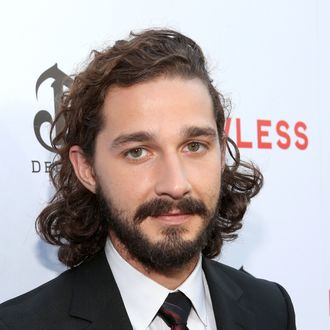 Photo: Christopher Polk/Getty Images
Shortly after Shia LaBeouf debuted his short film HowardCantour.com on Monday, people began to notice an eerie similarity between the actor's work and graphic novelist Daniel Clowes's comic Justin M. Damiano. How similar? As you can see in the film itself, specific-lines-of-dialogue similar.
"I've never even seen one of his films that I can recall — and I was shocked, to say the least, when I saw that he took the script and even many of the visuals from a very personal story I did six or seven years ago and passed it off as his own work," Clowes told BuzzFeed after they reported the story. "I actually can't imagine what was going through his mind."
In a series of tweets early Tuesday morning, LaBeouf apologized for using the Ghost World artist's work as the basis for his short film, which he debuted at the 2012 Cannes Film Festival:
Really, what is art anyway, Mr. Clowes? What really belongs to us? What is "real," when you think about it? Oh, wait, intellectual property theft. That is still real. Sorry. We don't know what we were thinking there for a second.
Update: It appears, LaBeouf might've plagiarized the apology as well. The top tweet above is quite similar to a comment in Yahoo answers from four years ago:
Merely copying isn't particularly creative work, though it's useful as training and practice. Being inspired by someone else's idea to produce something new and different IS creative work, and it may even revolutionalize the "stolen" concept.
This wouldn't be the first time LaBeouf used other people's words for an apology. Back in February, he used lines from an Esquire article in an apology e-mail to Alec Baldwin. Wonder whom he plagiarized his love of plagiarism from.