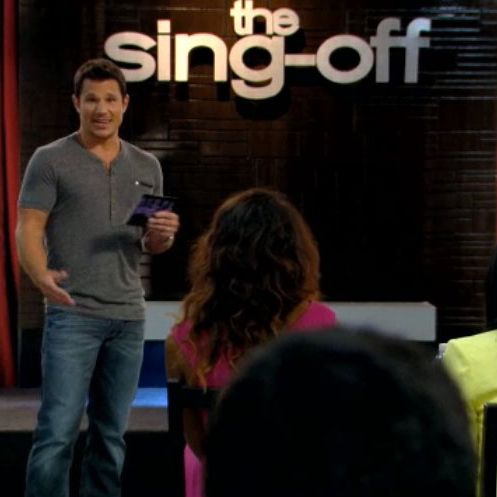 Nick Lachey mentors his crew.
We are down to the final four in The Sing-Off, and the opening numbers are better for it. There have been a lot of heavily populated vocal groups in this competition up to this point, and a lot of crowded-ass stages. The last few openers have had the feel of a massive Broadway musical where every cast member just got hired an hour ago. But tonight's version of Florence and the Machine's "Shake It Out" is tight and breezy and doesn't fill me with the combo platter of rage and ennui that they usually do. Plus, it's a tiny bit lighter on the choreography, which is a thing we can all get behind.
Also, now that there are fewer people to focus on, I can really devote some time to appreciating the Kristy McNichol hairstyle on Home Free's bass guy. That shit is delicious.
Tonight, the groups will sing songs chosen for them by the judges. And now that each judge has taken a turn being a mildly helpful guest mentor for the groups, it's Nick Lachey's turn. Man, that guy has had an interesting career. Remember those old NBC mini-series — The '60s, The '70s, etc. — wherein every major event of a specific decade would happen to a small group of second-tier movie actors? Like, Jerry O'Connell would solve a Rubik's Cube and get AIDS and tear down the Berlin Wall? Nick Lachey's career has basically been one of those. Dude has barely missed a trend in the last fifteen years: boy band, reality-TV husband whose marriage dissolves in front of paparazzi cameras, singing-competition host. I want him to invent a social network or leak some classified government documents just to complete the package.
His advice to the remaining groups is pretty vague (do well, don't be nervous, do wall push-ups to focus your energy, etc.) and he delivers it in the same late-night-radio cadence he uses onstage. It's like every mother warns: He made a face and it stuck that way. The opening package ends in a way that I truly cherish; he leaves the singers with, "I'm here to tell you dreams come true. We had a dream, and we made it come true. And to this day, our dream is still coming true." And then they cut to an interview with one of the singers from Ten, who says: "It just goes to show you that dreams come true." It totally does, if you really think about it.
Filharmonic: "Baby, I Need Your Lovin'," Four Tops
We might have reached the end of what these guys can accomplish on charisma alone. Oh, sure, they can sing, but they have a long way to go; their arms are too short to box with Boyz II Men. Their version of this Four Tops classic starts like a bunch of kids in a theme-park Motown tribute show, and ends like six children exhausted from a day at a theme park. The arrangement of the song doesn't really build toward anything, and Jewel laments the fact that she didn't get a climax, and we all pretend it was a spontaneous double entendre, and we laugh and laugh. Except Filharmonic, who are totally going home.
Ten: "Proud Mary," Ike & Tina Turner
Now, for the gospelly band of backup singers that is Ten, "Proud Mary" is maybe the world's least imaginative song choice. But imagination has never been this show's strongest suit, and sometimes the most obvious choice is the best. This is one of those times! Ten does the "nice and easy" spoken-word intro part, albeit very quickly, because they have to get the whole song done in under three minutes. It's a nice, easy softball for these guys, and it's dynamic and full and fun to watch. I want to go to a Ten concert! Shawn says he wanted more from it, but it is important to remember that Shawn is wearing suspenders, a paisley shirt, and a bow tie in three different shades of fuchsia, so subtlety might not be a thing he does.
Real honest question: Is Nick ashamed of 98 Degrees? Should he be? There have been plenty of 98 Degrees jokes throughout the run of this show, and he giggles at the mere mention of his former band. They're about to start another tour; but just how seriously are we supposed to take them? Are they 'Nsync, or are they LFO? You can't have it both ways, Lachey.
Home Free: "Colder Weather," Zac Brown Band
I'm conflicted about Home Free. On one hand, they're clearly talented, and country music lacks a vocal group like this one. On the other, they're already in good shape, as country-music labels sign anyone who even walks past a singing-competition audition — Kellie Pickler still has a thriving career, for Pete's sake — so they need this win a lot less than the other groups. Maybe because they know they don't need to sweat it, they take a real chance tonight. Beardy guy (the only non-hunk of the group) takes the lead, and as gorgeous as his voice is, all I can think about is whether I've seen him at my local comic-book store or at the Sunday gay bear beer blast they do at the Eagle in Silverlake. He'd fit right into both. Most refreshingly, the group does the whole number while sitting on a log. No cutesy dancing! No narrative! Just harmonies! They might already have the No. 1 country single.
Vocal Rush: "My Songs Know What You Did in the Dark," Fall Out Boy
Ben assigned this to them because "they've been singing old people music," and they needed to sing a song from their generation. But the trouble is that this song is a perfect example of what old people think counts as young people music. But they do what they can with it, by which I mean they make use of pyrotechnics. I've come around on this group; they're a kicky, fun, multiethnic gang of kids that I wish I'd known when I was in high school. So even when they lose their breath by the end, I find myself rooting for them. (I also find myself appreciating Patrick Stump, who cannot be outsung, even by a wildly talented gang of musical-theater kids.)
And so it is written that our Ultimate Sing-Off shall be Ten vs. Filharmonic, and they shall face off on the Clash's "Should I Stay or Should I Go." Ten's version is very Kirk Franklin, Filharmonic's is very — it must be said — 98 Degrees. Filharmonic should go, and they do. They will do a brisk street-fair business in Los Angeles. Don't cry for them.
Next week! The finals! And every group comes back, and there are a million special guests, and it will be like Ben-Hur, and I'll be watching it from the warmth and pre-Christmas tension of my parents' house. Happy almost holidays, everyone! Be safe out there this weekend.