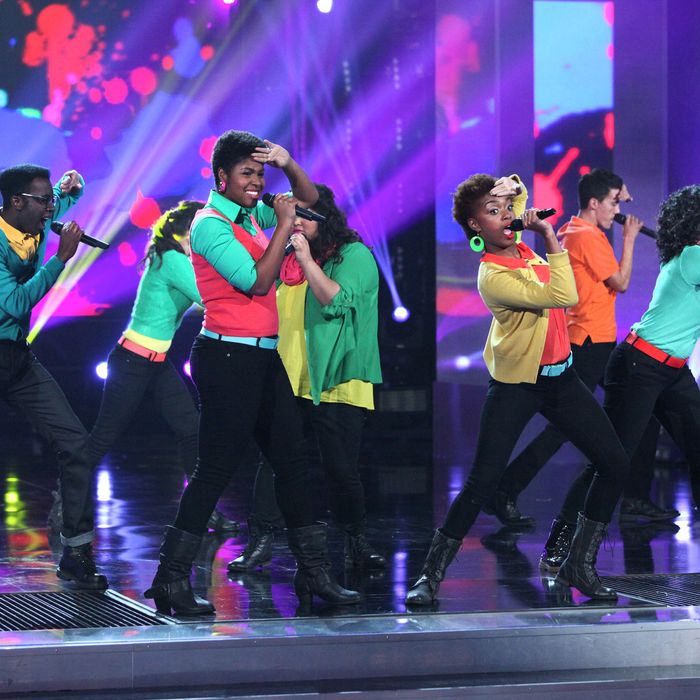 Tonight's episode of The Sing-Off requires the remaining nine vocal groups to perform "party anthems" — you know, as opposed to "solemn party marches" — and it opens with a medley of "Let's Get It Started," "Die Young," and "Don't Stop the Music" that highlights everything that doesn't quite work about the show. It looks and sounds like what you'd see on Idol and The Voice, and it's a poor introduction to a show that brings something altogether different to the table. To me, The Sing-Off is all about the interesting places you can go with the human voice, but the show's design and structure is an exact copy of every other singing competition on television, where the only place to go with your voice is Melismatown, USA. Let the other guys have the shiny floors and glittery sets. We want innovative song arrangements, chipper little harmonies, and matching sweater vests. A cappella will never be glamorous. Let's face that fact and move forward. Otherwise, it all just comes off like when ESPN tries to get the Scripps Spelling Bee kids to do comedy sketches.
If ever a show begged to be shot on film in a high-school auditorium, it's this one.
To the performances!
Vocal Rush, "Gonna Make You Sweat" by C&C Music Factory
Vocal Rush are all high school students, which means they can't be older than 18, which means the oldest possible member of the group was born a full five years after this song was released. Oy, fetch me a bicarb. Still, clearly at least one of these kids has been to a step aerobics class, because they know the song back to front. They're a little rushed, their youth and inexperience shows, and they're styled like a 1990 Benetton catalogue. But they sure are charming; give these guys a few more years and they'll go far in the a cappella world. How far is that in the world world? Beats the hell out of me.
Home Free, "Life Is a Highway" by Tom Cochrane or Rascal Flatts, depending on where you live.
The competition's country boys looked mighty out of place during that opening number, and their determination to add dance moves to their presentation is ill-advised. But here again, the design and layout of the stage seems to invite inadvisable dancing — there's so much space, it feels wrong not to explore it — so they inadvisably dance. Sound-wise, they're great (there's not a lot of riffing or curlicues), but God help me, you give five awkward honkies dance steps and it's all I'll ever notice. The judges eat it up, with pretty young Austin getting special praise.
VoicePlay, "Play That Funky Music" by Wild Cherry
VoicePlay are that a cappella group that gets in your face at your local outdoor mall when all you're trying to do is get to the fudge factory in peace. I am predisposed not to like them, but I'm keeping an open mind. Either way, they were in the bottom three earlier this week, so they have a lot of ground to make up. And they do exactly what a public nuisance a cappella group should do: take a few liberties with the song's arrangement, get a little vocally showy, act a little corny. The guys' choreography is basically a song-length riff on Chris Kattan and Will Ferrell's Roxbury guys. And just when I think these guys are the kind of guys who, when they are in a high-pressure situation, put a finger under their collar and go ll-LLL!, they get a tiny bit of criticism from Ben Folds and do exactly that. I've spent my share of time around improv comedy theaters. I know how these people work.
Street Corner Renaissance, "Do You Love Me" by the Contours
The older gentlemen of Street Corner Renaissance are a little bit out of place in this competition. They're a doo-wop group, pure and simple. No oral Foley artistry or beatboxing for these guys, and placed as they are in the running order, it's a relief. But though this song is more in their wheelhouse than One Direction, their whole thing can't help but come off a little thin. They lack the dazzle of a full a cappella ensemble, and though it's hard not to love them for it, this is a stage that demands dazzle. The judges give them high praise, but they're grading on a curve.
Element, "Raise Your Glass" by Pink
I don't know this for a fact, but I feel it (as a fact): Every single member of Element has a subscription to GOOP. These women have fine voices and their sound is full, but they're uniformly soulless and overly ingratiating, and when they talk of raising their glass, all you can do is wonder which açai beverage they're picturing. They need to go to the desert and do mushrooms and steal each other's boyfriends. Also, because there is no other way to say it, I will just say it: They are all wearing fancy hooker dresses.
The judges acquit themselves well tonight. Shawn Stockman is charming, Jewel is so delightful, I'm thinking about forgiving her for "Intuition," and anytime Ben Folds is about to say anything that might be construed as cool, he makes a face and does a goofy voice, as though he is worried about coming off like a slick television guy. Rest easy, rock nerd hero of mine.
AcoUstiKats, "Hey Ya" by Outkast
You know what you're getting when you look at these kids, and you're either buying it or you're not. There are an awful lot of them, and they burst with that college-boy energy, so they can get ahead of themselves with their clever arrangements and cutesy dance steps. But I'm finding them fun, for the most part. Their "Hey Ya" is a little too Girl Talk–y; just when you get a feel for what they're doing, they switch it up and take it somewhere new, so there's not much to hold on to. This might work on another song, but "Hey Ya" is as close to a second national anthem as America is ever going to have. And here's an ass-clenchingly awkward moment: Young Evan's mother is the choreographer, and when they point her out in the audience, Nick says "Acousticougar!" Nothing like suggesting that a young man's mother is trying to bone his friends to really put that kid at ease.
Calle Sol, "Livin' La Vida Loca" by Ricky Martin
On the last show, the judges told this Puerto Rican group to fill out their sound, so tonight the percussionist does some singing, leaving one of the female singers to pick up the beatbox slack. It's a smart move, and it pays off, which makes you wonder why they drop it and go back to their old sound for the chorus, which is the one part everyone knows best. Plus, all the hip work detracts from the singing; a few of them have obvious breath issues. The judges don't love it. Calle Sol are doomed and they know it.
Ten, "Hot in Herre" by Nelly
This group is my favorite of the bunch, but I will say: For a group full of backup vocalists trying to break out, it's a weird choice to perform a song with a rapped lead vocal. This song puts the emphasis more on the vocal tricks they can do, the ways they can pretend to be a full band. Still, it's fun, it's infectious, and for a brand-new group, they're out of this world. The judges love it.
Filharmonic, "This Is How We Do It" by Montell Jordan
Though these guys are not my faves, I think they exemplify what this show is going for, and my money's on them to win. They balance the showy, beatboxy elements of a cappella with the harmonies of a boy band, and each one gets a lead vocal. Sure, they're trying to do so much, they occasionally rush the beat and get a little off-key, but their charm is undeniable.
So our bottom two is AcoUstiKats and Calle Sol, who must face off in the Ultimate Sing-Off, which is a thing that I have no idea how it works or why it's happening. The two groups trade vocal lines, but the one with the most members is always going to dominate it, so I don't know what the judges and producers are hoping to get out of it (other than a pleasant memory of the Riff-Off in Pitch Perfect, which, come to think of it, would be a much more interesting way to end the show). The sing-off song is Kelly Clarkson's "Stronger," and Calle Sol is weaker, so back to Puerto Rico they go.
I'm still enjoying this show, but I'd love it if they'd do for the singing-competition genre what the Esquire Network's Knife Fight does for cooking: rub the shine off, boil it down to the essentials, dial back the theatrics. The Voice is already The Voice. The Sing-Off needs to take a cue from its contestants and judges and embrace its inner loser.