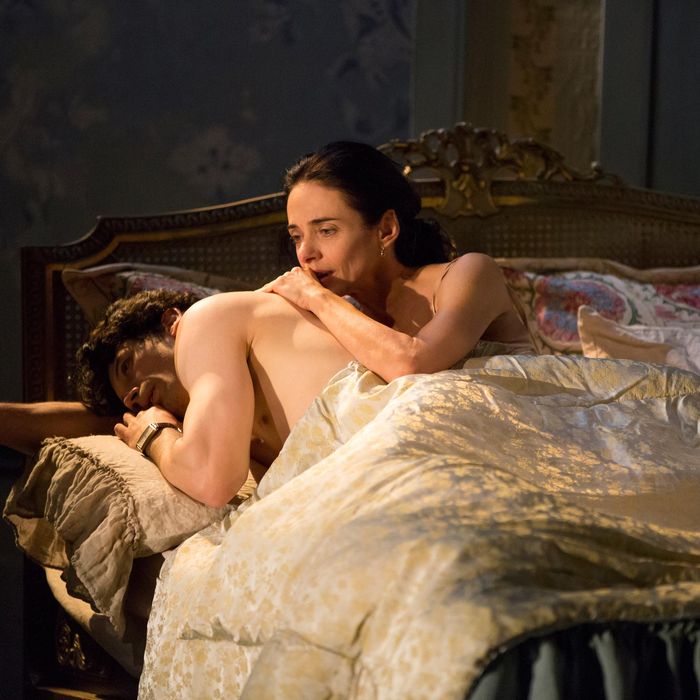 Chéri, at the Signature Theater.
Photo: Joan Marcus
When the title of a new theater work includes an accent aigu, and the advertising highlights the fact that the story has been adapted from Colette, perhaps it's unnecessary to underline any further the Frenchiness of the proceedings. But Martha Clarke's Chéri goes for the whole Camembert. Naturally, the Paris flat where the drama is set has French doors and casement windows; also a breakfast table dressed with croissants, coffee, strawberries, a pomegranate, and a neatly folded copy of Le Monde. We get it. And in case we somehow don't, Tina Howe (who provided the brief, mortifying text) imprints every other sentence with a "quelle horreur" or a "ça suffit," like Louis Vuitton logos on a valise.
An empty valise at that. Or perhaps I mean emptied. Chéri (1920) and Fin de Chéri (1926), the two Colette novels on which this production is based, are not classics for nothing. Their story is rich: As the first book opens, the title character (real name: Fred) and his lover, the beautiful courtesan Léa, are in the sixth year of a passionate affair that began when he was 17 and she 43. Now, Chéri's mother (who is also Léa's best friend) decrees that it's time for her son to marry properly — that is, for money. The affair must end. As the Belle Époque gives way to a considerably uglier era, and the first book to the second, their lives proceed along unexpected paths: his through lovelessness and war to despair; hers through pleasure to a stout and comfortable late-middle-age.
Colette never claws at significance, but tells her story in the brisk dialogic style for which she was beloved. She follows her own advice to young writers: "No narration, for heaven's sake! Just brush strokes and splashes of color!" Clarke and Howe, however, having had the audacity or perversity to quote that dictum in a program note, proceed to ignore it. The story is entirely narrated, by Amy Irving as Chéri's mother, sometimes as if providing captions ("There they are! Chéri and Léa, my son and my best friend") and sometimes Wikipedia-style. ("That unspeakable war has come and gone — 9 million killed, 21 million wounded.") Meanwhile, the ABT star Herman Cornejo and the retired prima ballerina assoluta Alessandra Ferri embody the two lovers in balletic interludes, choreographed by Clarke and set to piano music by Ravel, Poulenc, Debussy, and others. (Sarah Rothenberg plays the music gorgeously.) Never speaking, the dancers are reduced to the level of illustrations — woodcuts, I'd say, to judge from the acting. But at least they are very pretty ones, especially in the pajama-and-peignoir pas de deux that opens the show.
It's a case of diminishing returns thereafter: so much agony and ecstasy, so little fun. From the gap between Colette's wit and Clarke's earnestness emerges hours' worth of longueurs — a neat trick for a show that runs only 65 minutes. It's not that the different information-delivery modes of dance and drama can't profitably be joined or contrasted, but here, words and movement are equally trite. The combination is even laughable sometimes. When Irving's character gets catty about Léa — "She's let her hair go grey and has gained a few pounds … Well, considerably more than a few" — you look at the spectacularly beautiful Ferri, who at 50 has the body and line of a teenager, and wonder what Clarke was smoking. Gitanes, presumably.
Clarke, 69, is a founding member of Pilobolus, a MacArthur "genius," and the creator of the much-loved Garden of Earthly Delights. Howe, 76, was a Pulitzer finalist in 1984 and 1997 for her plays Painting Churches and Pride's Crossing. They're no slouches, and you can see why the story of a woman who achieves her fullest strength in letting go of youth would be one they wanted to dramatize. If only they had! Instead they strip-mined Colette for her themes, story be damned. When a sophisticated novel becomes a "timeless exploration" — quelle horreur!
Chéri is at the Signature Theater's Irene Diamond Stage through December 29.