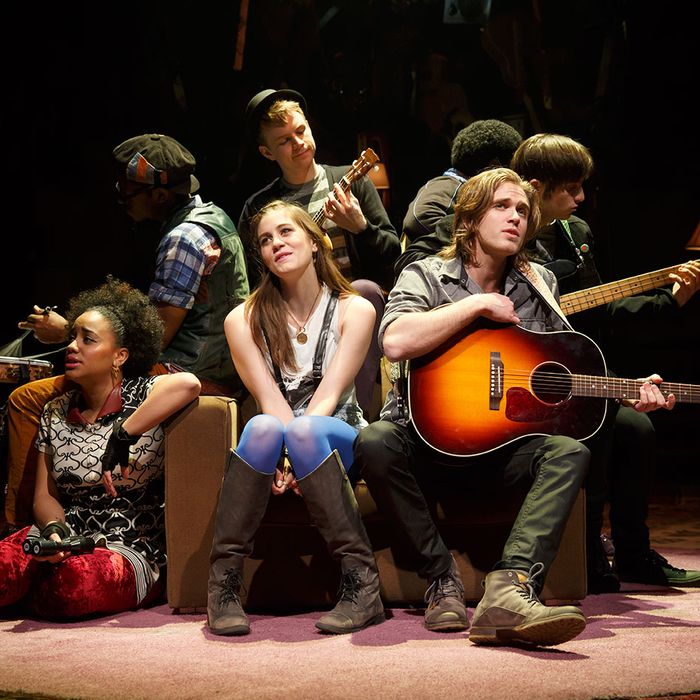 What's It All About?, at New York Theater Workshop.
Photo: Eric Ray Davidson
Ten years ago, a smarmy Burt Bacharach revue called The Look of Love icked its way to Broadway and closed amid much derision. Critics said that Bacharach deserved better than paint-by-numbers illustrations of the familiar standards, but I doubted he would ever get it. Though he was an incomparable pop hit-maker for 30 years, from the late fifties through the late eighties, the hits were odd both in and out of context. The context was partly the period in which they arose, the way they seemed to beat a sketchy path around the rock revolution. The context was also, unavoidably, Dionne Warwick, for whom so many of the songs were written. Warwick was a superb vocalist, making lovely sounds, but emotion was not her strength; while singing Bacharach's discursive melodies, she always seemed to be thinking about her grocery list or wondering where she left her purse.
Still, and possibly for that reason, no one else could have made so many of them hits. Her perfectly smooth technique sanded the edges off songs that, upon fuller inspection, turned out to be extremely unorthodox in their musical construction, at least for the pop market. They remain so now, which is why I wouldn't have thought any attempt to resurrect them, especially in a theatrical context, could succeed where The Look of Love failed. I was wrong; a new Bacharach revue called What's It All About? has not only figured out how to make the songs work onstage but how to make them sing with deep feeling that matches their surprising content. It's a revelation — and it's fantastic.
The show's subtitle is "Bacharach Reimagined," and "reimagined" is not too strong a word for what the show's moving force, Kyle Riabko, has done to the 30 or so songs (or parts of songs) he's pulled from the catalog. Nor for the way the director Steven Hoggett has staged them. Your first clue to the change is Christine Jones's delicious set, which is not the slick California bachelor pad you may imagine as the native locale for the Bacharach lifestyle. There are no hot tubs or martini shakers here. Instead, New York Theater Workshop's stage has been turned into a kind of rec room, heaped with tatty old furniture, musical instruments, crocheted area rugs, vintage curios (including 28 members of the audience) and stoop-sale lamps. (The exquisite lighting is by Japhy Weideman.) When the seven performers show up, they prove to be the opposite of been-there sophisticates. They seem like high schoolers piling into a basement to smoke pot and soliloquize about love as seen from the vantage point of its first disappointments.
Riabko is only 26 himself, but has been working professionally as a singer-songwriter, and opening for major acts, since he was a teen. (More recently, he appeared on Broadway in Spring Awakening and Hair.) He has done several very smart things with the Bacharach songs. First, he's stripped them for parts. This is possible because Bacharach, who trained with modern classical composers including Milhaud and Martinu, wrote in an unusually thorough style for pop; his songs are layered with lots of musical material, which Riabko delaminates and reuses as motifs throughout the show. (You thus hear bits of "Raindrops Keep Falling on My Head" or "Alfie" in various contexts well before you get their famous choruses, by which point, incredibly, they seem fresh.) And within each individual number, he has done a lot of reconstructive surgery. The tunes are lifted off their original arrangements and pinned to a sparer, indie-rock template. They are rarely, however, reharmonized; they remain pleasantly familiar. But to the extent that they are heavily revoiced and slowed down, they are pleasantly unfamiliar, too.
So are the performers. Though all of them sing, several have been chosen for other musical abilities as well: Daniel Bailen plays bass, James Nathan Hopkins keyboards, Daniel Woods guitar, and James Williams percussion. Most of the vocal solos are reserved for the two women (Laura Dreyfuss and Nathaly Lopez) and Riabko, whose beautiful, breathy head voice helps defuse the songs' innate swagger. But even at full volume, the show never shouts, or needs to; our ears have been retuned sufficiently to be able to hear large contrasts without blowing out the speakers. The natural highs of the songs feel human-sized.
This solves the problem of the jaded ear, but what of the heart? Warwick's flat affect generally suggested that listeners should not listen too carefully to the words or take anything too seriously. But what Riabko has noticed, and emphasized, is that Hal David's lyrics (and the others, too) are almost without exception gloomy. Riabko has obviously chosen the first number, "Anyone Who Had a Heart," to announce the show's theme of love rejected: "You couldn't really have a heart and hurt me like you hurt me and be so untrue." By setting this 1963 Warwick hit against a simple guitar accompaniment, he exposes rather than smoothes over the weirdness of the writing: the frequent shifts of meter, the modal instability, and, in the lyric, the odd-shaped phrases and long talky lines. Soon enough you start hearing all the songs this way; their peculiarities leap out at you. Just count the beats in these two famous lines:
Raindrops keep falling on my head 
But that doesn't mean my eyes will soon be turning red
And was there ever a leggier lyric than "On the day that you were born the angels got together and decided to create a dream come true"?
Of course, "Close to You" is another song about being near but not really confident of the one you love. ("That why all the boys in town / follow you all around.") With his choice and ordering of the numbers, Riabko develops this theme from relatively straightforward statements of frustrated desire through obsessive need, heartbreak, alienation, and regret. The titles of a sequence partway through the show tell the sorry story: "I'll Never Fall in Love Again," "Mexican Divorce," "I Just Don't Know What to Do," "On My Own." Finally, with "Alfie" in the eleven o'clock position, the world's most sung-about emotion is, if not redeemed, endorsed half-heartedly: "Until you find the love you've missed, you're nothing."
This could get morose quickly, but by casting young, Hoggett has made the implicit love-journey seem touching, not pathetic. He also uses his movement expertise (he first became known here for his choreography of Black Watch and Once) to dramatize what are essentially presentational, feeling-driven songs. It's amazing what can be rescued this way. In "Making Love," the drippy Roberta Flack hit from 1982, with lyrics by Bacharach's third wife, Carole Bayer Sager, Hoggett has Riabko lock Dreyfuss inside an embrace with his guitar behind her back, so that in strumming it, he seems to be strumming her as well. It's an amazingly intimate moment, especially given that this is a show without characters.
Songs and a wisp of a story suggested by a few salient props (a letter, a shirt) shouldn't be enough to make drama, and indeed some songs, like "What's New Pussycat," the unfortunately chosen encore, feel extraneous. (There's also an unnecessary welcome speech, easily scrapped.) But for the most part, Riabko and Hoggett do more with pop material than any previous revue has ever managed. And in the rare case where a Bacharach song is naturally theatrical, where it contains an actual action, like the ultimatum of "Don't Make Me Over," the result can be overwhelming. Lopez's solo rendition of that 1962 Warwick hit (supposedly based on Warwick's own complaint to the songwriters) is the show's heart-rending highlight:
Don't pick on the things I say, the things I do
Just love me with all my faults, the way that I love you
If it's not deathless poetry, it's still a powerful lyric, and reminds you that what anyone finds compelling in another person, or just in a song, is really beyond explanation. Which doesn't mean it's beyond redemption, as this stunning new (yes, new) musical proves.
What's It All About? is at New York Theater Workshop through January 5.