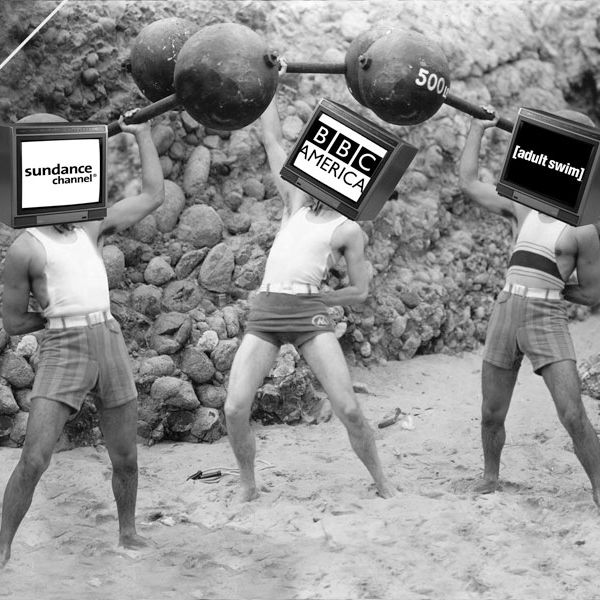 Photo: Photo: Getty Images
Yesterday, Vulture singled out five cable networks struggling with their identities, either because of ill-defined brands or poor programming. But it's not all doom and gloom in the land of cable. As we noted in the earlier post, it's actually been a great year for cable, with record ratings and a near monopoly on pop-culture buzz. You've likely read about the biggest milestones: the massive audiences for The Walking Dead and Duck Dynasty, the big numbers for TBS's reruns of The Big Bang Theory, the Emmy love for HBO and Showtime. But 2013 also brought triumphs for some networks that don't regularly make headlines or necessarily score huge ratings. Here's a look at three that quietly triumphed this year:
Sundance
Talk about coming out of nowhere: Before 2013, the channel, around since 1996, was mostly known for its association with Robert Redford's film festival and for airing quirky independent movies and documentaries. It had gotten a bit of ink last year for Push Girls, its unscripted series about five wheelchair-bound women, and it had dabbled with imported miniseries via Carlos and Restless. Mostly, though, Sundance had no reputation for scripted fare — until Top of the Lake, the March miniseries from Jane Campion, starring Elisabeth Moss. Critics kvelled, and Emmy voters later honored it with eight nominations. By itself, Top of the Lake would've given Sundance an auspicious first year. But the next month, the network debuted drama Rectify, which once again impressed many critics with its slow-burn intensity. And October saw the arrival of the French undead series The Returned, which, while not strictly speaking an original Sundance series, nonetheless bolstered the channel's new image as a home to challenging, provocative TV. While Netflix had an equally impressive bow this year in the same field, the last time a cable channel transformed itself so quickly was in 2007–'08, when Sundance sister net AMC debuted both Breaking Bad and Mad Men.
Ratings-wise, there's not much of a bar by which to judge Sundance. Until just a few months ago, it wasn't a fully ad-supported network and thus there's not an abundance of Nielsen data by which to judge the network (something else it shares in common with Netflix). But just as Mad Men wasn't a big ratings draw during its early years, Sundance doesn't need massive ratings to succeed, at least not in the short term. It's already accomplished something more critical: getting on the cultural radar. Viewers are hearing chatter about the channel and sampling its programs. And more important, as Sundance's owners begin negotiating agreements to either add or keep the channel to cable lineups, the good buzz will almost certainly translate into higher subscriber fees. Now Sundance just needs to keep churning out good shows.
BBC America
The Beeb planted its flag in the colonies all the way back in 1998, but for most of these past fifteen years the network's been pretty much a non-player in the American TV business. It was a great place for Anglophiles and expatriates to get a dose of U.K. telly, but little more. But that's changed dramatically over the past year or two. The surge in popularity for the latest incarnations of Doctor Who has helped bring new eyeballs to BBCA, with this year's mania over the transition between Doctors proving to be a Nielsen goldmine. BBCA also got a bit of attention for its original series Copper and Ripper Street, though neither was a hit and both lasted just two seasons.
The game-changer for BBC America, however, may turn out to be Orphan Black. The Canadian co-production, a sci-fi thriller about a group of misfit clones, was not a Nielsen monster during its first run last spring, drawing barely a million viewers to its premiere. But word of mouth on the show was extraordinary, with fans on Twitter rallying unbelievers to check out Tatiana Maslany's bravura performance playing multiple clones. Critics became evangelists, too: Maslany won the TV Critics Association award for drama achievement in August, beating out such nominees as Bryan Cranston and Vera Farmiga; today, she landed a Golden Globe nomination as well. Thanks to Doctor Who and Orphan, BBC America has seen its prime-time ratings increase 18 percent from last year. Its overall audience is still relatively small, however: In 2013, it averaged fewer prime-time viewers than Hallmark Channel or OWN. But at least now, BBC America has a foundation on which to build — and, most important, an identity.
Adult Swim
Yesterday we took Cartoon Network spinoff Boomerang out to the proverbial woodshed for its failures. But it's easy to forgive Cartoon for that sin because they've turned  another brand extension, Adult Swim, into one of the coolest channels on cable. A mix of live action and animation, the network has a slew of young adult hits, including Children's Hospital, Robot Chicken, and The Eric Andre Show. While it's unlikely any of its shows will draw the numbers of a Breaking Bad or even a Disney Channel movie (Adult Swim is very narrowly targeted, and its shows air later at night), within its universe, it's a supernova: Its late-night offerings, for example, regularly beat the likes of Leno and Letterman among viewers under 35. And while Adult Swim has been successful for years, 2013 saw it reach new heights: Last summer, it was cable's No. 1 network in prime time among viewers 18 to 34. For the year, it will rank No. 2 in the demo, second only to TBS. And older folks are discovering Adult Swim, too: Its ratings surged 20 percent this year among viewers under 50. Overall, Adult Swim is poised to end 2013 with its biggest overall audience ever. Memo to broadcast networks: There's an audience for quirky comedy.