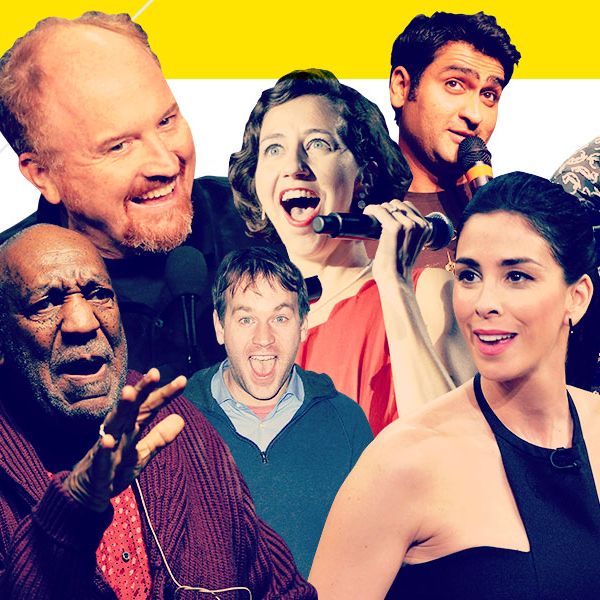 Photo: Maya Robinson and Photos by Getty
1. Mike Birbiglia, My Girlfriend's Boyfriend
Six years ago, Louis C.K. announced that he was going to release a new hour-long special ever year. Though it obviously has done wonders for C.K.'s career and creative output (see No. 5), it had a negative effect on stand-up by convincing people that releasing a special every year was what the best stand-ups did. This goes for both fans who demand new material and stand-ups — many of whom are not at C.K.'s level and released specials that could benefit from more time. But as Jerry Seinfeld told The New York Times Magazine, "I wanna see your best work. I'm not interested in your new work." Comedy should be an art like any other that can take time to craft and perfect. 
This is a point Birbiglia echoed on a recent episode of the "You Made It Weird With Pete Holmes" podcast. Birbiglia spent four years touring My Girlfriend's Boyfriend and it was worth it. My Girlfriend's Boyfriend (which premiered on Netflix) has a through-line story of how the comedian and his wife eventually decided to get married despite not believing in marriage, and it is such a worked-through, complete piece that is both moving and incredibly funny. When I told friends of my choice, some snickered, calling it a "one-man show" and Birbiglia an NPR-ready, Ira Glass–befriending storyteller. Though those things are true, to that I say: (1) Why must stand-up be just one, unambitious thing? and (2) My Girlfriend's Boyfriend feels like a stand-up special. Sure, there is a clear narrative theme and emotional arc, but it has a joke-per-minute rate to rival anyone on this list. He does great physical bits, crowd work (leaving the stage for a moment to point out a shoeless audience member), and has punch lines that hit harder because the viewer is emotionally invested.
Not unlike Annie Hall, Birbiglia intersperses the story with snippets from his earlier dating life. Besides releasing the best stand-up special, Birbiglia might've released the best romantic comedy of the year.
2. Kevin Hart, Let Me Explain
More than any special this year, Let Me Explain feels like an event. It's partly the setting (Madison Square Garden), the pyrotechnics, and Explain's theatrical release, but more than anything it comes from the diminutive Hart's oversize, once-in-a-decade presence. Like Eddie Murphy, he can sell jokes by the sheer force of his star power. But unlike Murphy, he's able to mix this with vulnerability and sweetness, whether he's talking about trying ecstasy to save his marriage but ending up having sex with a beanbag chair, or confessing his insecurity over the fact that one day his kids will have a stepdad. Let Me Explain, which grossed an insane $32 million in theaters, has an urgency about it. Hart is about to blow up in a big way, leaving him less and less time to dedicate to stand-up. Who knows when we'll get another Kevin Hart special? Let Me Explain will be one hell of a time capsule for a comedian at the height of his powers.
3. Kristen Schaal, Live at the Fillmore
Schaal spent months telling anyone who would listen how poorly her Comedy Central special taping went. This included an interview she did with Kurt Braunohler for Vulture. The reaction to her warnings was mixed: Some were enticed, some were annoyed. "Am I the only one who feels like I'm being manipulated into watching it to find out what the heck went wrong?" wrote one commenter. When the special finally aired, it was revealed to be a brilliant bit of meta-comedy: Everything went to hell halfway through, only to reveal the whole fiasco as an elaborate and baldly silly bit. Schaal did something really rare by creating an experience that subverted form yet was still completely satisfying. As an act of post–Andy Kaufman anti-comedy, Schaal effectively trolled the audience to make a joke out of how they took it seriously enough to be trolled in the first place. It cemented her position as one of the most unique comic voices in a very long time. 
4 (tie). Pete Holmes, Nice Try, the Devil, and Kumail Nanjiani, Beta Male
It feels right to pair these two Comedy Central hours together. Besides being best friends and starting in Chicago together, they, along with Kyle Kinane and Hannibal Buress (who both also started in Chicago with Holmes and Nanjiani), and John Mulaney, represent the Zeitgeist of modern stand-up. Nanjiani might be more cutting and Holmes a bit sillier, but they both exhibit the sort of versatility prevalent in today's youngish comedians who started out in alternative clubs. They mix traditional observational comedy with storytelling, improvised riffing, Louis C.K.–style confessional material, pop-culture references, armchair philosophy, and whatever else there is. It's the comedy of people who, with the Internet, were raised by the entire history of comedy, not just the generation that preceded them. 
5. Louis C.K., Oh My God
After 2011's Live at the Beacon Theater, which might've been Louis C.K.'s worst special since he decided to release a new special every year, he came back to HBO this year with the fantastic Oh My God. Though there are the hyperconfessional elements we've come to expect (calling his asshole "a bag of leaves that nobody tied up," for example), Oh My God features a refreshing return to the more absurd and conceptual style of his nineties material. There's a story where he pretended to be a homeless person squatting in the courtyard of the building he actually lives in, just to mess with a neighbor, or his description of the relationship between a super-old lady in his neighborhood and her super-old dog, both of whom have cloudy eyes. The result is special that stands out among his legendary run. 
6. Sarah Silverman, We Are Miracles
Sarah Silverman broke through so quickly in the late nineties because there hadn't been anyone like before: She was the patient zero for a specific type of persona, the, as she puts it, "very ignorant and yet very arrogant person" who couches shock and taboo in a specific mix of irony and cuteness. Now, eight years after she peaked with her 2005 stand-up film Jesus Is Magic, Silverman completely abandoned the persona because, she said, "if you're giving them what they're expecting, that negates the shock altogether." Instead, in her new HBO special, Silverman delivers her edgy, ballsy material (like her honest account of her porn search terms) in a much more genuine way. Filmed for an audience of 39, Silverman eschewed bigger laughs for better laughs. 
7. Marc Maron, Thinky Pain
Thinky Pain is a very loose 90 minutes (yes, 90 minutes!) of comedy. Which is not say it feels haphazard, as Maron has been working on many of the bits for years; rather, the Netflix special feels less like a performance than a one-way conversation with a funny person with a whole lot of feelings. Stylistically, it can be compared to the ranting, rambling first ten minutes of his WTF podcast, but with more focus and jokes. More than anything, it's a portrait of Maron turning 50, coming to terms with getting older, and his process. As he puts it, "In my mind, if I don't prepare and I pull this off, I'm a genius … And if I don't pull it off, I didn't prepare." 
8. Rory Scovel, Live at Third Man Records
Speaking of loose, Rory Scovel might be the loosest comedian working, and his set for Third Man Records (only available on vinyl; there was no accompanying TV special) captures that perfectly. For example, Scovel comes onstage pretending he's a German comic, only to quickly admit that he's actually a Southern, Christian comic (he isn't). He does material in that persona for about eight minutes more, only to then finally transition into his actual voice. Though the material is obviously worked through, it all feels so spontaneous because Scovel is constantly commenting on his own set and the audience's reaction. It's like he's doing improv (which he was trained in) and the scene is "Rory Scovel stand-up set." 
9. Bill Cosby, Far From Finished
It's been 30 years since Cosby released his last special, the career-defining classic Himself. But don't call his new Comedy Central special a comeback, as the Coz has been touring at a rate of a man half his age for years. Which is why throughout the 90-minute performance, Cosby comes off as crafty veteran. There's really something special in watching Cosby control an audience, slowly building stories over the course of up to twenty minutes, even if they are about the smallest of matters (like sneaking out of dinner with his wife to get cookies next door). Though it might not be the funniest special around, Cosby's performance is nothing short of masterful. 
10. Gabe Liedman, The Half Hour
Comedy Central half-hour specials, from back in the day when they were called Comedy Central Presents, are a bit weird. With commercial breaks, you're basically only seeing the comic for around twenty minutes, which is shorter than some opening acts go up for at a club. It's hard for a comic to really make an impression at that length. That's why Gabe Liedman's half-hour is such a joy. He has developed a comic persona not unlike if your high school best friend went to an Ivy League school then moved to Brooklyn and was super excited about stuff; he is so immediately engaging that the audience is happy to stick with him as he bounces from topic to topic, whether it is gay dating apps or Game of Thrones. Sometimes it's just a matter of being able to get the audience on your side. 
Honorable Mention: Baron Vaughn, The Half Hour; Iliza Shlesinger, War Paint; Roy Wood, Jr. Things I Think, I Think; Kurt Braunohler How Do I Land?; Anthony Jeselnik Caligula; Doug Stanhope, Beer Hall Putsch.