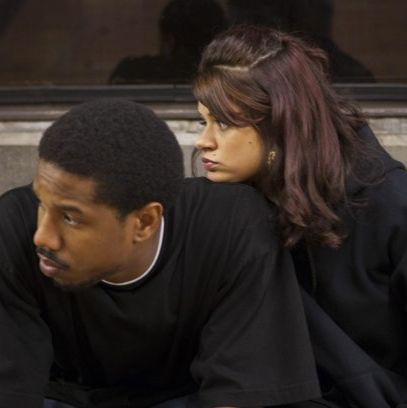 In this series, Vulture has been speaking to the screenwriters behind 2013's most acclaimed movies about the scenes they found most difficult to crack. What pivotal sequences underwent the biggest transformations on their way from script to screen? Today, writer-director Ryan Coogler discusses a key scene in Fruitvale Station, his fact-based drama about the last day in the life of Oscar Grant (Michael B. Jordan) before he was shot and killed by a BART police officer, leaving behind his grieving girlfriend, Sophina (Melonie Diaz). The scene is then excerpted below.
I have a bunch of tough scenes that fit the bill, but the scene that probably went through the most versions was the scene between Oscar and Sophina where Oscar confesses to losing his job. It was the very first scene of the shoot, this intimate scene between these two characters, and the first version I had written just didn't feel right when the actors did it together.
I tried some improv with Mike and Melonie, and that started to help, but I had to go back to the actual Sophina for inspiration, to ask her about what she and Oscar went through. Something she said to me and Melonie that was really helpful was, "Me and Oscar were homies. We were best friends before we started dating." She said that still, to this day, she finds herself wanting to text message him when she wants to share good news. Not everybody can say that about their romantic partners, that this person I love is also my absolute best friend. So when we went back and did the scene, they played it like Oscar was letting his best friend down, and the scene made more sense.
This scene is incredibly important, especially to Melonie's character. I always saw Sophina as the role that's closest to the position of the audience: She was the person who had the most riding on Oscar and was obviously the most intimate with him out of the three women in his life, the other two being his mom and his daughter. She can tell when he's not being truthful, or when something is eating at him, but she's really frustrated with him at the same time. There are so many important things she has to nail in this conversation.
I try not to be precious with my words at all, you know what I mean? Being both the writer and director gives you a lot of freedom to rewrite the scene constantly, and when you're dealing with actors, you're working with other talented artists like Michael B. Jordan and Melonie Diaz. You always want to make sure that it feels right for them.