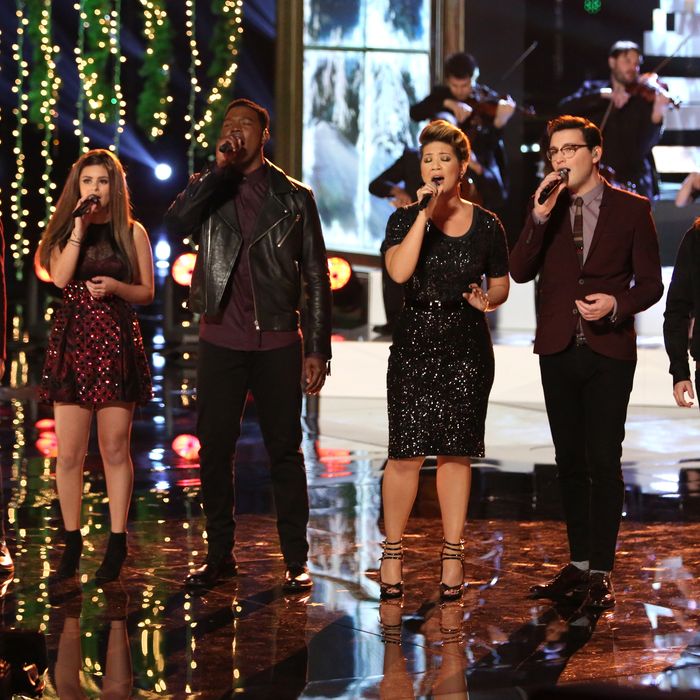 Despite all the celebratory and exclusively Christmas-themed music (apparently this show makes no allowances for religious plurality), a sad thing happened last night. Matthew was unfairly kicked off! America, you kill me.
Kelly Clarkson, "Underneath the Tree"
This was such a punishing song, wasn't it? I felt tired for Kelly as she was singing it. I do not think it will be a classic Christmas ditty in the coming years. Nevertheless, I loved her dress and I really found her adorable while talking to Carson Daly who kept referring to her as "family" even though she won the singing competition American Idol and not This Is the Voice. I mean, come on, Carson! No one who has ever won The Voice has ever become famous at all. It is one of the most charming things about the show.
Jacqui, Tessanne, Matthew, "You Got the Love"
They were all so flat on this it was embarrassing.  Matthew, you did not really go out with a bang. You did however go out screaming at the top of your lungs.
In other news, child prodigy and Fanny Brice impersonator Jacqui Lee was saved. It is not a joke that America really does privilege youth over anything else. It makes me want to accelerate the aging process in my own body.
Blake and Xenia, "Silver Bells"
I always find it especially sad when The Voice tries to revive the dead careers of contestants from seasons past. Because why? Xenia, who was on Blake's team in season one, sang another pointedly Christmas-themed song with him, with nary an intro or context. Hello and good-bye, Xenia! We wish you well.
Next, there were the confessionals. They were really boring this time. Nothing has been interesting since Matthew said he wet the bed until he was 7 in a confessional. (I really am sorry to see you go, Dennis the Menace!) Xtina said she would want to be a teacher if she were not a singer. Do you think she would be a good teacher? What if she taught first graders? Please weigh in below in the comments section.
After that, America's votes saved Cole Vosbury, which was pretty good.
James, Will, Cole, "More Than Words"
This was such an interesting performance, mostly because it really made me understand that Cole Vosbury is the best male singer of those who remain. He just IS everyone. I know you all like the hipsters, but let's think about this critically. James and Will routinely go off key and Cole never does. James and Will are always hamming it up and Cole never does. Cole is also far more of an emotional and dynamic singer than the other two and when they are all singing a modest song (like most pop songs usually are), it just becomes nakedly apparent. He sang the least of anyone (Adam's favorite, James, sang like the entire song), but every time he sang, it was a relief. It was also amazing when Carson was like, "I enjoyed [that song] way more than I would ever admit on live television." I agree, Carson!  That song is my jam and I am going to sing it at karaoke if I ever go.
Later, after Will Champlin gave one of the worst answers ever to the question "What did your coach teach you?" ("Find a middle ground."  Will, I think, now officially hates Adam), Tessanne Chin was saved! I am glad about this. She really is a great singer even though Adam is slowly ruining her life.
Everyone, "O Holy Night"
Okay, so I guess we are just not acknowledging any other religions or belief systems in America? Okay! As in most of the performances tonight, James's warbly voice was the star. I can't tell if I think James is overrated or I am annoyed at the blatant favoritism and want justice. 'Tis confusing.
After this, Will Champlin lived to die another day, banjo or no banjo! After which it was down to Matthew Schuler and James Wolpert. I actually think there was no contest here. Matthew should have won. He just has a better voice. Xtina, however, did a woefully inarticulate (not to mention self-centered) job of defending him. She kept saying, "I want to make more music with you" and I don't understand how that is going to compel America's votes; I really, really do not. Then Adam was like, "James is God on earth today" and that actually did compel America's votes. So there you go.
And that's our show! What do you think of Matthew's elimination? Justice in our time or a sorry miscarriage of justice?