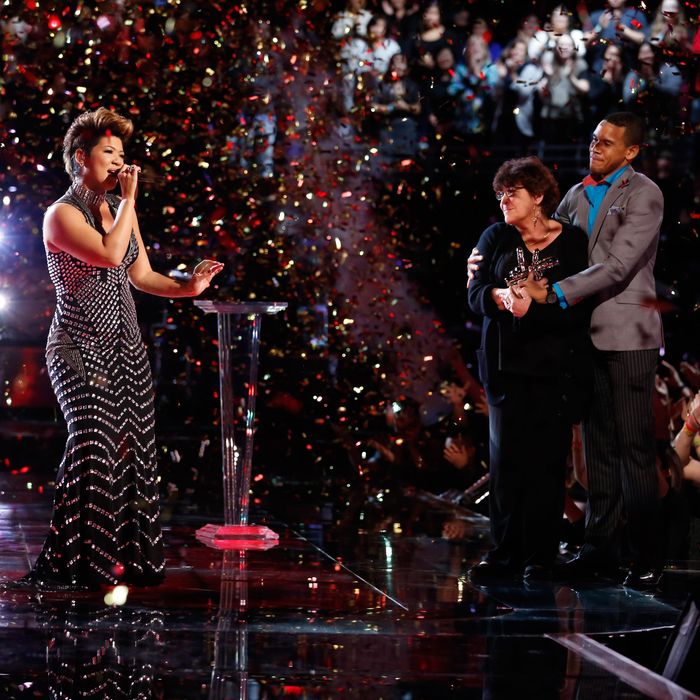 Friends! What a finale! For the first and possibly last time on this show, justice was served. Tessanne, who always was the best person on the show, won! Celine Dion was there! Shelbie Z. danced the night away in two ball gowns. Carson Daly took everyone to Whoville for vacation and gave them a Kia.
Everyone, "Tonight Is the Night"
The top twenty decided to sing this song, and honestly, it was really good to see them all. I had forgotten many of them. Preston Pohl? He was there. Stephanie Anne? She was also there.

Mathew, Caroline, Cole, James, and Jacqui, "Bohemian Rhapsody"
This performance was such a hot mess. James missed a super-obvious cue and so did Caroline. The middle harmony was too loud. Apparently, only Cole Vosbury can sing any song with any regularity. I do happen to love this feature of the show because it allows me to speculate about the real-life cliques that dominate behind the scenes. Like, Jacqui hangs out with the gentler (slightly) cooler cohort of the young people, which is not totally surprising.
This hot mess was followed by a really intense hot mess in which Adam Levine made fun of his sexiest man alive cover by making weird faces while, in the background, "I'm too sexy for my shirt" played over and over again. I'm sure the producers of This Is the Voice wanted me to think of Adam as charmingly self-aware, but all I could actually think was that Adam Levine looks exactly like Carson Daly! Is Carson Daly the Sexiest (Dead) Man Alive?
Tessanne and Celine, "Love Can Move Mountains"
This was just so awesome. I totally love Celine Dion and she really killed it here. I would have cried like Tessanne if I had to sing with her! The thing I like about Celine is that she is a total diva (of course), but she's not ungenerous and she really allowed Tessanne to shine alongside her. They actually have a similar kind of vocal talent.
One Republic, "I Lived"
What the hell is with your obsession with One Republic, Voice? Are they paying you? I genuinely would like to know. Anyway, Ryan (the cute one who was also a judge on The Voice) was super off-key during this performance. And, after a brief respite, the hot mess continues!
After this, there was some weird segment about Cee Lo's use of poetic language and big words, during the course of which, Blake asked Cee Lo to tell him a word he didn't know and Cee Lo said "stupendous" and Blake looked extremely flummoxed.
Preston, Ray, Mathew, Nic Hawk, Josh, "Treasure"
I sort of wish every single one of these neo-soul guys had sung "Treasure" in their actual auditions. Things could have been different!
Johnny, Cole, Will, Caroline, Austin, "Wagon Wheel"
So apparently, Will hung out with only folksy, quirky people while he was on The Voice. All of these quirksters sang "Wagon Wheel" together and messed up a bunch of times. And it's "Wagon Wheel"! They probably sing it in a bar every night. How much rehearsal time do they carve out for these group "friend" performances? Like one hour before the show?
This was followed by a strange series of scenes in which Christina rudely out-sang people she was rehearsing with.
Paramour and Jacqui, "Ain't It Fun"
I liked this performance because it seemed very age appropriate for Jacqui who, at Xtina's strange bidding, usually has to sing these old songs that were written 50 years before she was born.
Stephanie, Kat, Shelbie Z., Amber, Tamra, Gray, "My Life Would Suck Without You"
Loved Shelbie's dress in this! It was awesome. Also, Amber was really underrated. She should have gone further.
This was the lead-in, however, for one of the best segments in all of This Is the Voice history — and it did not even take place within a Starbucks! Basically, the Sexiest (Dead) Man Alive took Tessanne, Will, and Jacqui on what looked like a super-boring trolley ride through a backlot. Then they stopped at a Grinch Who Stole Christmas display in the backlot in which a man dressed up as Jim Carrey as the Grinch raved about Christmas as everyone, even the Sexiest (Dead) Man Alive, looked super uncomfortable. But this was just a preamble for everyone getting a Kia Motorcar! Everyone looked really excited about this, even though Will Champlin is the son of a famous rock star and thus probably has a Mercedes at home. Yet he gamely played along and insisted he wanted the Kia SUV. But the Sexiest (Dead) Man Walking gave it to Tessanne because the "roads are bad" in Jamaica. I don't even know.
Celine Dion, Ne Yo, "Incredible"
Celine and Ne Yo together! Why didn't anyone ever think of this before? "It's good to see professionals on the stage," said my friend who was watching The Voice with me. 

Will Champlin and Aloe Blacc, "Wake Me Up"
My three observations from this performance were (1) Aloe Blacc, what a great voice! (2) Where is Avicci? How can this be his song if he is not there? (3) Will should have actually sang this in the competition instead of Bryan Adams, but he was on the path to destruction by that point and nothing could save him
Preston, Olivia, James, Gray, Tessanne, "Hold Up"
So, Tessanne had kind of a random group of friends on The Voice. They are all vaguely her age, I guess? But they also all have big voices, so this was by far the best group performance of the night. It was spirited, on-key, and no one horrifically messed up.
Lady Gaga, "Do What You Want With My Body"
This was weird, right? While I was happy with the exclusion of R. Kelly, who should never perform in public again, I hated the way this song was orchestrated (the song is not well-known enough to do a disco remix yet) and Christina Augliera tried to rudely out-sing Lady Gaga! According to the Daily Mail, they are actually enemies?
After that, the winner was announced! And despite Jacqui's contention that Xtina made her a "better person" (I don't believe this), Tessanne still won and tearfully sang a song I had never heard before. Do they teach everyone the song or did Tessanne know she was going to win beforehand?
And that's our show! I've enjoyed every moment with you guys, I must say. You are such great analyzers of Adam Levine and the Sexiest (Dead) Man Alive. Thanks for all your comments and I look forward to next season when Sense, Sensibility, and Usher Raymond return!