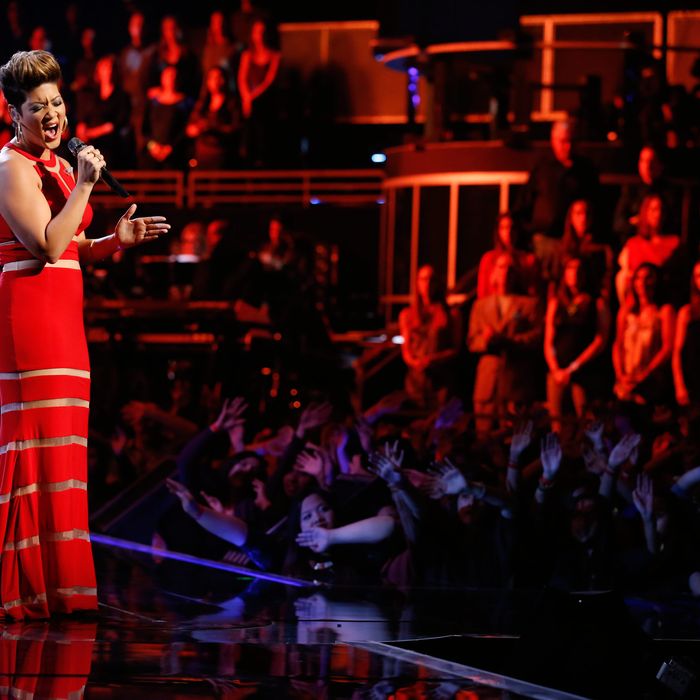 Unlike the trials and tribulations of Voice seasons past, I actually feel like this particular finale is a toss-up, as opposed to a mitigation of lesser evils. I actually don't know who should win. But we all know who Adam wants to win (a person who is not Will Champlin).
Judges, "Pour Some Sugar on Me"
You know who sounded really good on this? Blake. Like, I might actually buy an album of him singing Def Leppard songs as a Christmas gift for all my family and friends. Everyone else sounded how they usually do — Xtina yelled and purred like a madman having a fit, Adam sounded like someone was strangling him, and Cee Lo made beeping sounds.
But here is a weird thing: Carson Daly said that people from the actual band Def Leppard were performing with the judges (the Voice producers always do understand the Zeitgeist), but where WERE they? Was that a Def Leppard member on the drums wearing Union Jack headphones? Or was that just a random guy? Please let me know in the comments section.
Next, all three of the finalists had to sing the songs they first blessed the Voice stage with. Everyone did this to varying degrees of success.
Tessanne, "Try"
Tessanne sounded a little weary on this, don't you think? Of course she was great — she is Tessanne — but she also seemed a little nervous and the performance was kind of one-note. She was just trying to get through it. I guess if I knew I was going to have to sing "I Have Nothing" in, like, an hour, I would also be saving myself. That song is athletic.
Will, " Not Over You"
Despite, the fact that the last couple of notes of this song were horrid, this wasn't a terrible performance. Or maybe I just find this song sort of moving. There is a table set for two, but he is only one person!
Adam's comment to Will, however, was a sort of master class in passive aggression. It was glorious to watch. Basically, his point was that Will is not naturally talented but just a "hard worker," and so he said things like, "Will works too hard. He works so hard sometimes it's a little stressful." Or "He wouldn't be here today if he hadn't worked as hard as he did." And finally, my personal favorite was when he started to discuss how there were so many "reasons" for Will to "second-guess [him]self" during the competition, but declined to really specify what those reasons were.
Jacqui Lee "Back to Black"
Xtina is really leaning into this whole "Jacqui is my doppelgänger thing," which is fine. It is the only way to get a true diva like Xtina on your side, so kudos to Jacqui for keeping this narrative going. I will say that of all the people in the last round, Jacqui has improved the most since her first audition. This performance of "Back to Black" was ten times better than her first one, and Xtina really has taught her a lot. The triumph of youth vs. experience!
Also, Jacqui's crying mom was featured really prominently in this episode, and since she is my favorite character on the entire show, I think I'm going to have to give this round to the teen favorite
Advantage Round 1, Team Jacqui
The next round of battles featured the initiates singing duets with their judges/coaches. Let the psychological games begin!
Adam and Tessanne, "Let It Be"
This was pretty lame. I actually hate this song — it goes on for nine years and the lyrics are terrible. I have a feeling Adam thinks he sounds really good on Beatles songs. He always sings them whenever he has a chance, but it didn't give much for Tessanne to do. I was anti-this as a concept and as a reality.
Jacqui and Xtina, "We Remain"
Wow. This was an incredibly awkward thing from start to finish. It was super embarrassing to watch Xtina in the recording studio with Jacqui and then it was super embarrassing to watch when Xtina touched Jacqui's hair during the actual performance. What WAS that? It was like watching a robot sweep hair off of an Amazon box. Also, Xtina made Jacqui sing a song that she actually sings for the Hunger Games soundtrack, told Jacqui that very few adult vocalists could even sing the song at all, and then proceeded to do all the best parts of the song herself and give Jacqui some of the low harmonies.
Will and Adam, "Tiny Dancer"
This was my favorite of the duets. Will and Adam's voices actually blend together very well, and they both sounded great on "Tiny Dancer" because they were trying to out-sing each other in a competitive yet "supportive" way.
Advantage Round 2: Team Will
Jacqui, Tessanne, Will, "I'll Be There"
This was fine. I think I fell asleep during it briefly when they all started riffing.
Tessanne, "I Have Nothing"
I generally think that Whitney Houston should be off limits to reality-TV contestants. No one can actually sing her songs well and every attempt is a strained attempt. But Tessanne really did prove me wrong. Her voice sounded gorgeous on this, so athletic and awesome. It was a different performance than Whitney's, it didn't have her lightness (in opera terms, it's a bit like comparing Beverly Sills and Maria Callas or something), but it was equal in its power and conviction. It actually gave me chills.
Will, "Everything I Do, I Do It For You"
If you thought Adam's passive aggression would end when Will eventually got down to the wire, you were wrong! During this performance, Adam told the audience that he liked Will because "he's better than people realize," which is a neg if ever I heard one.
However, I did see why Will could be annoying to coach. In rehearsal, Adam tried to make him stop putting melisma on everything and Will insisted on "putting his own stamp" on this song and putting melisma in it, which was dumb. Melisma is not "putting your own stamp" on anything. Quite the opposite. It is usually a way to sound very generic.
Will did a forgettable job on the actual song. It will not stick with me. In his comments, Adam said, "Regardless of the outcome … this is a huge, massive victory," which is basically telling Will's poor bespectacled soul he will not win this dumb contest with no real winners! It was so bad that Blake was asked to chime in and say a normal thing. Blake just said, "I always look forward to Will," which was nice. That is what niceness is.
Jacqui, "And I Am Telling You"
I actually thought this was awesome. This was a great forum for Jacqui's powerful yelling and there was something oddly moving about a reality-TV contestant screaming "you're gonna love me" into your television.
Advantage Round 3: Tessanne
And that's our show! Who do you think should win? Who is Carson Daly's favorite?