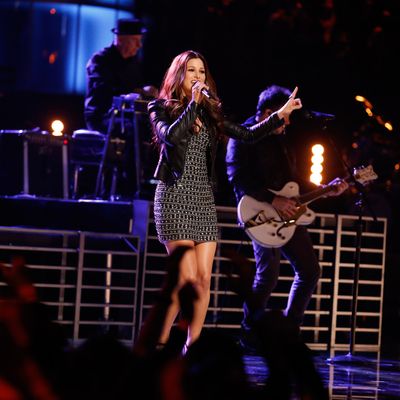 Wow! I am legitimately surprised. Cole Vosbury was eliminated from "This Is the Voice" and Will Champlin will move on to the final round. I really thought Cole would have a chance to take the whole thing. But then, I also thought the Swon Brothers would take the whole thing last year. I am terrible at predicting things. Why even try?
The Swon Brothers, "Later On"
Speaking of which, oh, Swons, how I missed you! I literally forgot how much the Swons meant to me until Big Swon started singing a jaunty little tune in his boorish sort of way and Lil Swon just mouthed the words but made no sounds. It was just like old tymes. And remember when Lil Swon wrote on his guitar and gave it to the audience? That was so nice of him. The song was kind of okay, too. Like "My Kinda Party" but slower and worse and sung by the Swons.
Next up we had Voice Confessionals, in which several people proffered their thoughts on the Regency hymnal "12 Days of Christmas." This provoked much "humorous" twaddle about the word partridge and also illuminated the fact that Blake thinks the mom from The Partridge Family is hot. He is a predictable man.
In a shocking twist, The Voice decided to do some of their eliminations right away and James Wolpert was summarily dismissed. Obviously Adam was horribly sad and gave Ol' Blue Eyes a hug. Tessanne even cried, which was really kind. She is so genuine and I want her to win.
Michelle Chamuel, "Go Down Singing"
This was a typical Michelle song about being a weirdo, but it made me remember how much better she is at dynamics than almost anyone else on the show right now. Apparently, it is quite difficult to go from singing loudly to singing softly within the same song. No one here can do it well except Michelle. Also, Usher is in Panama now? This is what Michelle told us last night on live television.
Later, Tessanne Chin was saved, which was unsurprising. "Bridge Over Troubled Water" was No. 1 on iTunes yesterday morning. Adam's mother even showed up and hugged Tessanne because of it.
Cassadee Pope, "I Wish I Could Break Your Heart"
"Has entertainment gotten worse?" a friend asked me while we were watching Cassadee Pope sing this song, and I had to admit that perhaps it has. For example, Cassadee Pope is the most successful person The Voice has ever spawned. She already sang "Wasting All These Tears on You" and won a very fake-looking "gold"-record award in honor of the modest success of  it. But still, I feel like her new song lacks the urgency of the last one had. It might actually be a worse song? It's all downhill from here if that's true.
Danielle Bradbery, "Never Like This"
And now the true winner of last season, Danielle Bradbery, returned triumphant to sing her Swon song (see what I did there?) on The Voice. This song was rather dark, but kind of catchy. I enjoyed the "ooohs" at the end of the verses a lot. Of anyone, I think Danielle has the best chance of succeeding. She is now the face of Sketcher's Sneakers!
Oh, look! Jaded vaudevillian Jacqui Lee moves on to the Final Rounds! I'm so happy for her. Baby, take a bow!
You know what was weird? When that bizarre Winter Olympics montage came on set to the tune of "My Day" by Danielle Bradbery. I couldn't really understand what it was about. Pictures of Danielle in a horrible dress singing to a packed audience were interspersed with pictures of Olympians doing wintry things. Was Danielle an Olympian? Was she merely singing to the other Olympians in hopes that they did better? Only time will tell.
Finally, viewers, we got down to the wire. It was Will Champlin versus Cole Vosbury. Honestly, I was convinced that Will was going home. Not only was he super flat the night before, but Cole sang a country song, and as last season proved so well, a country song is the key to success on this show. Yet, this maxim was proved untrue when Cole was kicked off! Has country music lifted its death grip over America? Where ARE we?
And that's our show! A question: Was this elimination fair or unfair? And does Carson Daly miss the Swons? I think he does.