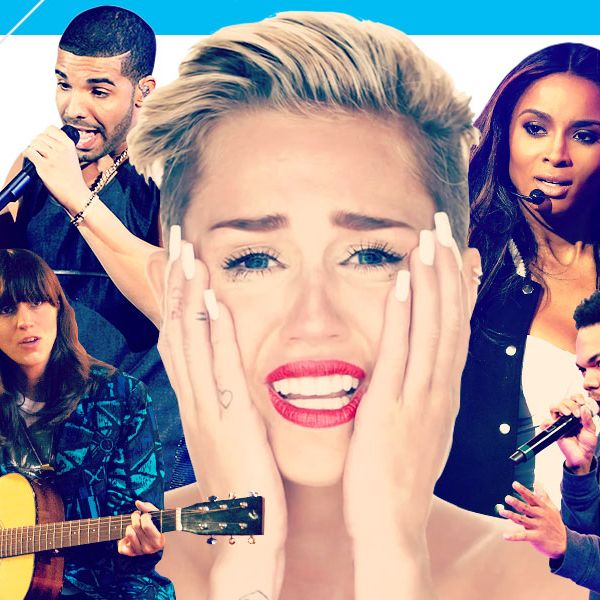 Photo: Maya Robinson and Photos by Getty
You have read all the critical opinions on Yeezus and HAIM; you have argued over all the best-of lists. But what is List Season without a chance to proclaim your own strongly held opinion? Exactly! It is time for you, the reader, to choose your favorite song of 2013. Here are some Vulture picks to get you started.
Kyle Buchanan: "Hold On, We're Going Home," Drake
Forget the dumb video (I wish I could! Drake, you really let me down there), because this song is a shimmery, insinuating, flat-out gorgeous number and one of the year's major highlights. I remember this came out in August just before a trip I took with friends and I freakin' terrorized them with it all weekend. Every single opportunity I got, I was all, "Don't you want to hear the new Drake song again?" like I was Drake's mom sidling up to someone at Tower Records. Those were words I never thought I would say in public, but you know what? Drake deserved it. "Hold On" is a spooky masterpiece.
Amanda Dobbins: "Wrecking Ball," Miley Cyrus
Among other things, Miley Cyrus's "Wrecking Ball" is my most functional song of 2013. It drowned out car horns, distracting work conversations (sorry, friends), and my own unwanted thoughts or feelings, sometimes. It is a loud song about loud heartbreak from a loud celebrity, and I love it for that. But the key to "Wrecking Ball" is actually the pause — that break that Miley takes before the first chorus drops and your chest-beating Celine Dion impression kicks in. You can hear everything in that pause — regret, and hope, and the actual human hiding inside the three-ring Miley circus. (Just watch her SNL performance. She's there.) I still hold my breath every time I hear it.
Joe Adalian: "Touch," Daft Punk featuring Paul Williams, and "Rhinestone Cowboy," Paul Williams
Among the many amazing tracks on Random Access Memories, "Get Lucky" (justifiably) got all the airplay. But my favorite track on the album was the song that leads into it, "Touch," co-written and performed by seventies pop-culture icon Paul Williams (he wrote "The Rainbow Connection," "Evergreen," and a zillion other hits from the Me decade). The simple lyrics combined with Williams's pleading voice combine to produce an emotional wallop: "If love is the answer, you're home." It's an eight-minute masterpiece that doesn't feel a second too long. Adding to my love of the song: I saw Williams perform it live in concert this year. At one point, he forgot the lyrics and had to call them up on his phone. It was more endearing than embarrassing. Tied in my mind for song of the year is another effort from a seventies soldier: Williams's stripped-down rerecording of his classic "Rhinestone Cowboy." The song has always had a tinge of wistfulness and regret ("There'll be a load of compromisin'/On the road to my horizon"). But in this new take (from the stellar See You There), any bravado of the original is gone. It's now more a lament than a boast. And the knowledge that Campbell, fighting Alzheimer's, is fading away only adds to the song's power.
Jesse David Fox: "Good Ass Intro," Chance the Rapper
There's just so much personality in this song. Dude's a real sillyhead. Released two weeks after his 20th birthday, the track bubbles over with a youthful spirit that embiggins even my old-man heart. He raps about drugs, lab partners, and Jay Leno, while sounding like the most fun blend of Andre 3000, Lil Wayne, Kanye West, and Wyclef. No song made me smile more.
Margaret Lyons: "Electric Love," Bob's Burgers
My favorite song of 2013 is, by a light year, "Electric Love" from the "Topsy" episode of Bob's Burgers. I cried the first time I heard it! The song tells a romantic version of the (true) story of the time Thomas Edison electrocuted an elephant named Topsy  — "They'll say 'aw, Topsy' / at my autopsy," sings the elephant. On the show, Megan Mullally and Kevin Kline sing the Topsy and Edison parts (as their characters Gayle and Mr. Fischoeder), but the Stephin Merritt cover is pretty good, too. I like the harmony; I like any song that has a choral group involved (I went to many, many Polyphonic Spree shows back in the day); and I like that the character Gene is supposed to have written it.
Lindsey Weber: "Body Party," Ciara
Because going with "Just Give Me a Reason" might be seen as "trolling," the song that got me the most excited this year is Ciara's "Body Party." Not only does it sample my actual favorite song of all time, Ghost Town DJ's "My Boo" (it's not the first to do so! Don't think that this alone makes it a shoo-in!), but it also is a bona fide Ciara comeback track (must love an underdog) and details the start of the Future-Ciara love story ("he reads"). Not to mention that it's a perfect song — all warped and sexy, equally breathy and catchy.
Gilbert Cruz: "I'll Never Be Happy Again," Eleanor Friedberger
I love old movies and maybe Eleanor Friedberger does too? She somehow manages to take lines of dialogue from three classic movies (Charade, North by Northwest, and Nothing Sacred) and turn them into the backbone of an aching song of broken love. The coup de grace, though — "Love is an exquisite kind of pain / And oh since I saw you / I'll never be happy again" — is all hers.