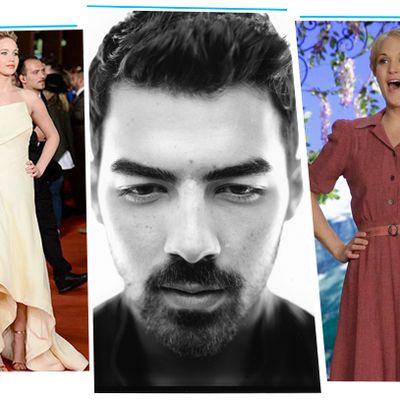 Every week, Vulture faces the big, important questions in entertainment and comes to some creative conclusions. This week, we remembered Paul Walker, questioned whether Jennifer Lawrence wasn't just pulling a Katniss on us, and griped about MFA programs. You may have read some of these stories below, but you certainly didn't read them all. We forgive you.
Q: Was it just me or were there some weird moments in Catching Fire?
A: It wasn't just you. Kyle Buchanan catalogued all of the unintentionally erotic moments as well as every single time Peeta screwed something up (poor Peeta).
Q: How did Jennifer Lawrence become America's sweetheart?
A: We're beginning to wonder if Jennifer Lawrence isn't just pulling a Katniss on us.
Q: How will Paul Walker be remembered?
A: Bilge Ebiri writes, "The tragic, awful, sudden death of Paul Walker reminds us that there are some actors who may not make a huge impact on you at the time, but whom you realize you'll miss a lot when they're gone."
Q: Scandal?!
A: We know!!! You can read our horrified recap here. We asked showrunner Shonda Rhimes if she ever gets worried that she's gone too far, but nope, just like our heroine Olivia Pope, she trusts her gut. For something more lighthearted, here's a slideshow of every one of Mellie's outrageous awesome hairdos.
Q: How was the live televised version of The Sound of Music?
A: The show was a ratings hit for NBC, and studio executives may be shifting toward similar "event" programming. As for the production, they changed some things for modern-day broadcast, such as cutting "I have Confidence" (sad face) and adding more Nazis (more sad face). In Vulture's recap of the performance, the high was Audra McDonald singing, and the low was Carrie Underwood talking.
Q: Who will write the big tell-all now that the Jonas Brothers have broken up?
A: Joe Jonas is probably first in line. In the latest issue, he told us how he lost his virginity when he was 20, has totally dated fans, and that Miley and Demi first got him stoned.
Q: Who are the Oscar contenders?
A: The New York Film Critics Circle gave a big boost to David O. Russell's American Hustle naming it Best Picture. As for another Oscar contender, whispered attacks may be eating away at 12 Years a Slave and its director, Steve McQueen.
Q: What about the latest Coen brothers film, Inside Llewyn Davis?
A: David Edelstein writes that it "is an exquisitely crafted tale of woe with heartfelt early-sixties folk music — and an overarching snottiness." There are a lot of cameos, including Justin Timberlake and Girls' Adam Driver. Showtime is going to air a concert bringing together performers from the movie along with Joan Baez and Jack White.
Q: Should I get an MFA?
A: According to Jerry Saltz, the prohibitive cost and weird, insular thinking of top-tier institutions might not be worth it: "Not only is it time to rethink the most expensive M.F.A. programs, it's time for applicants to bite the bullet and consider the enormous benefits of less expensive, less sexy-sounding schools that will leave them with much less debt."
Q: Baby, it's cold outside and all I want to do is watch TV. But it's mid-season hiatus. What do I watch?
A: This is what's new on Netflix for December.