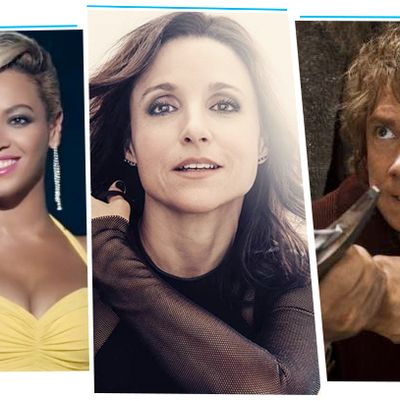 Every week, Vulture faces the big, important questions in entertainment and comes to some creative conclusions. This week we listened to Beyoncé's surprise album, Beyoncé, forecasted the Oscars, and published our "Best of" lists for the year. You may have read some of these stories below, but you certainly didn't read them all. We forgive you.
Q: Beyoncé dropped a new album?!
A: Overnight, Queen B broke the Internet with the surprise release of an "exclusive visual album" of fourteen tracks and seventeen videos titled, naturally, Beyoncé. To grasp the ambition of the occasion, just take a look at all of the title cards for each track. Jody Rosen marveled at how she managed to keep such a massive production under wraps for so long. As for the music, he wrote: "My overall feeling, after a couple of listens: on balance, a very fine record."
Q: Is the second Hobbit installation better than the first?
A: It is. Bilge Ebiri writes, "Much of the bloat is still there, but The Desolation of Smaug, the second film in the Hobbit trilogy, is a real improvement – filled with inventive action set pieces and dramatic face-offs that we (finally, at long last, hallelujah!) care about." If you blocked the first one out of your mind, here is a primer before you see the second one. If you're one of those Middle Earth know-it-alls, then try your hand at our quiz on The Hobbit.
Q: What about American Hustle? Is it as good as everyone says it is?
A: David Edelstein writes that the actors just "let loose" (their hair?) in their performances, making the movie like "a slot machine that never stops spitting quarters." You might, however, be wondering what exactly Abscam is (it stands for Abdul scam). We've got you covered. As for why there's another movie whose title begins with "American," we don't really know, we just have the list.
Q: How is Saving Mr. Banks?
A: According to David Edelstein, it's "interminable" and prompts him to wonder, "When did Emma Thompson become so uninteresting?" The Golden Globes and the Screen Actors Guild also declined to mention the film in its list of nominees for Best Picture/Best Ensemble. Maybe the movie would have been better if it had plumbed Walt Disney's dark side.
Q: Speaking of awards, how did the SAG and Golden Globe nominations change the outlook for the Oscars?
A: The SAG nominations were mostly expected, while the Golden Globes sneaked in some pleasant surprises (Julie Delpy for Best Actress in a Comedy!). In terms of Oscar predictions, the biggest losers are The Butler and the aforementioned Saving Mr. Banks.
Q: Now that we're coming close to the end of the year, isn't it time for some "Best of" lists?
A: You know it. Our critics sound off on the best movies, TV shows, books, art shows, plays, albums, and songs of the year.
Q: What else is there? I love lists!
A: We've got the best entertainment photography, best and worst movie posters, and the best movie franchises, TV shows, and book series that bowed out this year.
Q: 2013 was a big year in controversy. Who was the most controversial?
A: Tough call. There was Miley and Kanye and that episode of Girls. Also, let's not forget about Sharknado.
Q: What about the people that just produced solid work?
A: In our Year in Culture issue, we profiled Julia Louis-Dreyfus for her turns in Veep and Enough Said, director Steve McQueen on 12 Years a Slave, Timbaland on Jay Z and J.T.'s albums, and Rachel Kushner on her novel, The Flamethrowers.
Q: So Spider-Man is going the way of The Avengers franchise?
A: Yep. Eyeing the bagloads of money The Avengers franchise has been making, Spider-Man is trying to do the same. Kyle Buchanan thinks that they might be ruining "what could be a perfectly fine and lucrative stand-alone franchise."