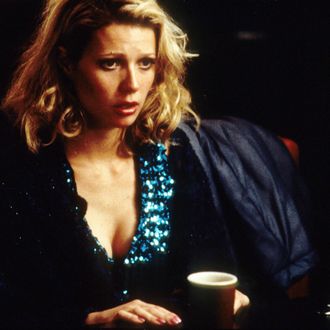 Hard Eight
Photo: Metro-Goldwyn-Mayer
At the beginning of (and throughout) every month, Netflix Streaming adds new movies and TV shows to its library. Here is a quick list of several that you might be interested in. (Some of these were added halfway through, or near the end of, November, but we're going to include them in this roundup anyway, since you may have missed them.) Feel free to note anything we've left out in the comments below.
Turbo FAST (December 24): Announced earlier this year, Netflix has finally set a date for the TV version of this summer's animated film Turbo. Five episodes of the new animated series will debut on the streaming service on Christmas Eve and several more will roll out over 2014. Veep's Reid Scott will voice the title snail, taking over for Ryan Reynolds. Watch a trailer for Turbo FAST here.
Hard Eight: Paul Thomas Anderson's first movie features several of the collaborators — actors John C. Reilly and Philip Baker Hall, musicians Michael Penn and Jon Brion, and cinematographer Robert Elswit — that he would later work with on films like Boogie Nights, Magnolia, Punch-Drunk Love, and There Will Be Blood. But it also stars Gwyneth Paltrow and Samuel L. Jackson in a story of an old Vegas gambler and his young protégé.
All About Eve: "Fasten your seatbelts. It's going to be a bumpy night." That's from this movie. That's Bette Davis, as aging Broadway star Margo Channing, getting her drink on and settling in for a night of party drama. All About Eve is a bona fide classic film and Netflix has far too few of those, so don't skip this one.
Targets: "It was [Boris] Karloff's last American film; it was the director, Peter Bogdanovich's, first." So writes Matt Singer in his essay on this film, released in 1968, that tells the parallel stories of an aging horror movie star and a budding mass murderer.
The Haunting: This is the 1999 Jan de Bont–directed, Liam Neeson–, Catherine Zeta-Jones–, Owen Wilson–starring remake of the 1963 haunted house classic. I'm mostly including it here as a warning to you not to watch this movie should you come across it while browsing Netflix. Watch the original. Yes, that's something people say all the time about remakes and originals, but truth is truth, and it applies here.
Blackfish (December 12): Our critic David Edelstein called this documentary about killer whales and Sea World "brutal, haunting, and necessary." And this week, it made it onto this year's Oscar documentary shortlist. It's played on CNN a couple of times, but there's no excuse to miss it now. One of the year's most infuriating, memorable movies.
Crystal Fairy: In his review from earlier this year, Vulture's Bilge Ebiri wrote, "The film, clearly shot on a dime and maybe even improvised by director Sebastian Silva and a talented cast, stars Michael Cera as Jamie, a young American making his way through Latin America hanging out, partying, and sampling drugs." As Kyle Buchanan wrote following the film's Sundance premiere, Silva shot the film in twelve days. Cera delivers an anti–Arrested Development performance.
New TV seasons of:
The L.A. Complex (seasons 1 and 2)
Glee (season 4)
Touch (season 2)
Lilyhammer (season 2)
American Horror Story: Asylum (December 7)
White Collar (season 4, December 7)
Futurama (season 10, December 10)
The Cleveland Show (season 4, December 10)
Family Guy (season 11, December 17)
Also Available:
Prince Avalanche
Berberian Sound Studio
Our Nixon
Not Fade Away (Dec. 14)
I Am Love
Hannibal
Beach Blanket Bingo
Winnie Mandela
Cry-Baby
Paradise (directorial debut of Diablo Cody, Dec. 15)
Lovelace
Apocalypse Now and Apocalypse Now Redux:
Dances With Wolves:
My Week With Marilyn
Bad Lieutenant
The Endless Summer
Once Bitten
Robin Hood and The Sword in the Stone
Tetro
In the House
A Shot in the Dark
The Two Jakes
Kalifornia
Black Sunday
Star Trek IV: The Voyage Home
Star Trek: Generations
Star Trek: First Contact
The Iceman
The Ghost and Mrs. Muir
Prison Girls
Coffy
Bandits
Holes
Resident Evil: Apocalypse
The Guilt Trip (Dec. 28)
The Iron Lady (Dec. 30)
As I Lay Dying (Dec. 31)
Are you a streaming addict? Do you love TV shows and movies? Vulture wants to chat with you! E-mail feedback@vulture.com with your name and age to be contacted for a brief user interview.