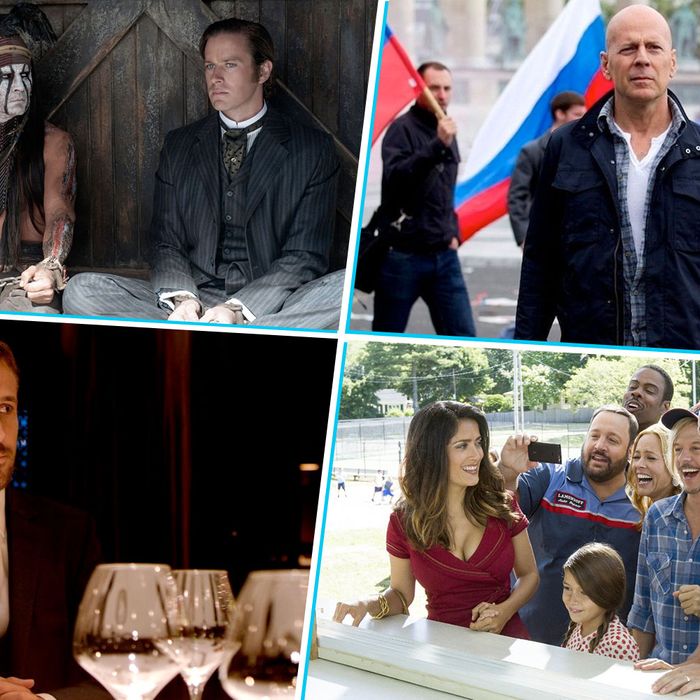 Photo: Disney, Twentieth Century Fox, Bold Films and Columbia Pictures
A year in movies is often split between stunning works of art and jaw-droppingly awful films. For example: 12 Years a Slave hit theaters on the same day as Sylvester Stallone and Arnold Schwarzenegger's wait-this-actually-happened? team-up Escape Plan. So as Vulture celebrates the finest films of 2013 (you can see critic David Edelstein's top ten here), so must we celebrate the worst. Welcome to the seventh edition of our annual worst-movies roundup, as voted on by critics, where soon-to-be-forgotten misfires earn a last turn in the spotlight.
This year, Vulture polled film critics on the year's most torturous moviegoing experiences (some publications submitted collective ballots). Those responses, combined with a number of notable worst-of lists published elsewhere, added up to 42 lists, which were tallied to produce the final ranking of the ten worst films of 2013. It was a tight race, with critically maligned mainstream disasters (Gangster Squad, R.I.P.D., The Hangover Part III) rubbing shoulders with polarizing auteurist efforts (Paul Schrader's The Canyons, Terrence Malick's To the Wonder) just outside the bottom tier. Below, see the official ten worst of the worst for 2013, then peruse all of the individual critic ballots.
10. The Internship
Someone thought audiences were ready for a love letter to Google, someone thought it should be a Wedding Crashers reunion for Vince Vaughn and Owen Wilson, and someone thought Night at the Museum director Shawn Levy was the guy to make it happen. That someone was so very wrong. Per the folks of The Dissolve, "It was meant as a great leap forward for the integration of advertising and entertainment, and instead, it was a giant shimmy backward."
9. The Counselor
The first original movie script from Cormac McCarthy was never going to be light fare — remember, he's the man whose imagination birthed Anton Chigurh — but the author's pedigree combined with a star-studded ensemble had The Counselor buzzing with awards consideration months in advance. Then it arrived. Time's Mary Pols calls it "portentous" and "foolish," while Alynda Wheat of People says it's downright offensive: "Forcing viewers to sit through two hours of pseudo-academic word vomit, just to see a few cool ways of separating people from their heads, is nearly as brutal and inhumane as devising cool ways of separating people from their heads."
8. Oz the Great and Powerful
The Wizard of OZ is beloved for its Technicolor charm and whimsy. The degree to which Sam Raimi's prequel and/or reboot and/or cash-in was not beloved may be its most epic quality. Despite an all-star cast of award nominees and winners (James Franco, Rachel Weisz, Mila Kunis), the Spider-man filmmaker couldn't hook critics with his tricked out, CG-heavy fantasy. The misfire may be on Franco's shoulders, whom Slate critic Dana Stevens calls "curiously sour" — he spends most of Great and Powerful smugly floating through conversations with a talking monkey voiced by Zach Braff.
7. Only God Forgives 
Drive was hailed as one of the best films of 2011, triggering hopes that Ryan Gosling and director Nicolas Winding Refn could be the latest in a long history of sublime actor-director pairings. The followup was an event film for the art-house crowd, but this time the reaction was completely opposite. Despite a sleek style and Refn's signature, splashy violence, critics found little meat on Only God Forgives' bones. Michael Koresky calls the film "abject garbage," dismissing its "Oedipal 'themes,' Kubrickian pomposity, and a script that sounds like it was written by your annoying 12-year-old cousin who just started watching R-rated movies." The movie dug under the skin like few others in 2013 — Ed Gonzalez of Slant calls it out for "flagrant misogyny" and "cultural condescension." Maybe a second viewing of Drive is in order?
6. The Lone Ranger
"It just has to be here," cries Vulture's own David Edelstein, who notes the noble intentions of turning a classic serial Western into a seven-figure Hollywood blockbuster. Director Gore Verbinski and star Johnny Depp hoped to rekindle their Pirates of the Caribbean success, but Edelstein said they "mix slapstick hijinks with the massacre of Native Americans and come up with Bury My Heart at Wounded Knee: The Disney Ride." Most other critics agreed, although a few were willing to defend Verbinski's roller-coaster ride (including Vulture TV critic Matt Zoller Seitz over at RogerEbert.com). On top of bad reviews, Lone Ranger wound up a financial failure, and producer Jerry Bruckheimer notoriously blamed the critics. The Newark Star-Ledger's Stephen Whitty shrugs off the suggestion in his own "worst" list: "If only we could take the credit."
5. After Earth
"I'm not sure I've ever seen a film in which the text and subtext — both concerning an effortlessly gifted father who presses his less-talented son to follow in his footsteps — were so completely in alignment," says The Atlantic's Christopher Orr of Will Smith and M. Night Shyamalan's sci-fi dud. Both on financial and entertainment levels, After Earth stands as one of 2013's biggest disaster movies. Anne Thompson of Thompson on Hollywood says: "I watched After Earth silent on a plane and didn't miss a thing."
4. The Big Wedding 
"Are you a baby boomer who enjoys third-rate sex farces, late-period Robert De Niro, pseudo-incestuous overtones, and being pandered to?" asks the AV Club. And that's only the beginning of  the site's survey takedown of The Big Wedding, a movie that appalled critics across the board with its crass ethnic and gender stereotypes. But there's a silver lining for this rom-com travesty: No one is blaming it on co-star Katherine Heigl.
3. Movie 43
The Farrelley Brothers–produced anthology film wasn't aiming for greatness, but with a sprawling A-list cast and respectable directors at the helm (Peter Farrelly, Elizabeth Banks, Griffin Dunne, James Gunn, and Brett Ratner, to name a few) something better than "repulsive" should have been possible. After suggesting he'll never be able to unsee Hugh Jackman's "neck balls" or Halle Berry making guacamole with one of her breasts, the New York Post's Lou Lumenick says that "the aggressively awful all-star sketch comedy was the first movie to get minus four stars from me. It's replaced Gigli as the gold standard for bad movies." 
2. Grown Ups 2
Adam Sandler's films are regular contenders in Worst of the Year polls (he's had three movies make our list over the last two years). He's back again with Grown Ups 2, a movie that took many critics' top spots, while being avoided completely by those who felt Sandler's annual inclusion was becoming repetitive. "The Adam Sandler Death of Cinema Fun Factory chugs along with a movie that feels even more tossed-off and despicable than Jack and Jill or That's My Boy," says Alonso Duralde of the Wrap. "Between the shameless product placement, the thoroughly lazy writing and performing, and its simultaneous excoriation of and participating in bullying, it sits comfortably at the very bottom of the 2013 barrel."
1. A Good Day to Die Hard
Most critics knew that Bruce Willis's fifth turn as the renegade cop John McClane was never going to live up to 1988's Die Hard, but John Moore's bombastic Russian was much worse than a mere pale imitation. Kyle Smith of the Post laments that A Good Day to Die Hard  is "boring, blaring and as ugly as Chernobyl" and that by the time Willis "tosses out another 'Yippee-ki-yay,' you just want to say, 'Bruce, give it a rest.'" The Dissolve claims it "perverts the original film's virtues" by turning the hard-to-kill McClane into the modern definition of a superhero. Much like Sandler's continued reign, we may see Die Hard return to this list in the future: After earning big bucks across the globe, a sequel is reportedly in the works. Obviously.