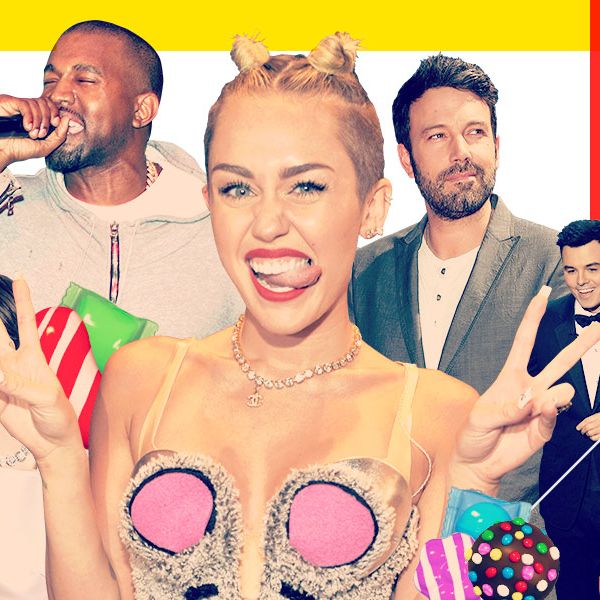 Photo: Maya Robinson and Photos by Getty
Every year brings us movies, music, and TV shows, new books, new artists, and new plays. But there are also new scandals and obsessions — fresh hubbubs that themselves become a form of entertainment. And 2013 was a banner year in that arena. Let's look back at some of this year's "lightning rods," the events and ideas and people we couldn't stop talking about.
Miley Cyrus
What happened? What didn't? There was no escaping Cyrus's reach this year. She's someone who has been the center of controversy for much of her career, but her polarizing performance at the VMAs in August — a hyperactively sexual and racially problematic extravaganza that our music critic Jody Rosen said "gave minstrelsy a modern, careerist spin" —  took the cake.
Will we, as a nation, ever be able to move on? Not really. More than the flap over her back-baring 2008 Annie Leibovitz photos or any of her other "scandals," this is the performance that's going to follow Miley Cyrus forever.
Kanye West
What happened? He released a new album, he became a father, he launched a massively theatrical tour, and he debuted a genre-defining new video; he beefed, sort of, with Jimmy Kimmel and shored up his spot among fashion's elite. It's not just what West says and does, though, that makes him a lightning rod: It's the responses those things generate. West is a jumping-off point for discussions of racism in America — think of how often you've heard his tweets or interviews called "rants," then think of how often that term is applied to things white stars say.
Are we over it? Nope. Kanye will continue to be world famous for the foreseeable future, and America has, you know, not cured its racism yet.
Seth MacFarlane
What happened? He hosted the Oscars and said a lot of misogynistic garbage.
Is it still a thing? Misogyny? Yeah. On the Oscars? Probably less so in this coming ceremony, since Ellen DeGeneres is hosting again. Seth MacFarlane? His new Fox* sitcom Dads was excoriated for the har-har racist jokes in its pilot; while the writers subsequently stopped going to that well as often, the show's season was just cut down by three episodes, which doesn't bode well for a renewal. But considering Ted made $549 million worldwide in 2012, yeah, MacFarlane's still gonna be a thing for a while.
Girls
What happened? Girls is a show that seems to generate discussion no matter what, but two episodes in particular this season seemed to get people chattering: (1) In which Lena Dunham shacked up with Patrick Wilson for a two-day sexfest, a hookup that struck some as unrealistic, and (2) in which Adam had a questionably consensual sexual encounter with his girlfriend.
Is America over it? Yeah, most of the Girls feelings now are directed toward anticipating season three, which will no doubt generate its own "controversies," because God forbid young women ever demonstrate any kind of sexual agency.
Ben Affleck
What happened? He's going to be Batman. Not everyone is happy.
Will we ever feel peace again? It's going to be a while, considering the movie doesn't open until 2015. If Affleck then turns out to be great in Batman vs. Superman, there will be a round of "how could we have ever doubted him?" stories, much like happened with Michael Keaton. If it's a fiasco, expect a chorus of "listen to fans!" and "did Daredevil teach you nothing?"
"Accidental Racist"
What happened? Brad Paisley and LL Cool J released a song about racism. It was not very good. Paisley stands by it, though.
Is it still a thing? Nope. Be honest: Before this article mentioned the song, hadn't you completely forgotten it?
Candy Crush
What happened? Everyone — everyone! — started playing Candy Crush, the psychotically addictive match-three game. If you don't ever cheat and don't ever spend money, it's basically impossible to advance.
Will life ever be normal again? It depends. If you do not cheat and never want to pay for extra moves on difficult levels, you will eventually get stuck for so long that the spell will be broken. But if you do cheat or pony up for lollipops so you can keep on going, you will die playing this game.
A New Doctor on Doctor Who
What happened? The Thick of It star Peter Capaldi was named the twelfth Time Lord, and while some think it's a great idea, others think he's a little too old. And some were hoping the new Doctor wouldn't be another white dude.
Can we expect balance to ever be restored to the universe? Yes. Just the image of Capaldi's scowl in the recent anniversary special sent fans into spasms of joy.
Anne Hathaway
What happened? "It came true!"
Are we over it? Yes. Backlash to the backlash! Time to be pro-Hathaway again.
Saturday Night Live
What happened? Somehow the show still doesn't have any female black cast members. But they did hire five white cast members going into the season — which the show itself tried to poke fun at.
Is it still a thing? It's still a thing — and it will be for a long time. Whenever SNL finally does get around to hiring another black female cast member, she's going to be under a ridiculous amount of scrutiny.
Sharknado
What happened? For a hot minute, everyone cared that Syfy makes terrible, bizarre movies.
Does it still matter? Not even a little.
Jonathan Franzen
What happened? He hates the Internet. But then again, he hates a lot of things.
Is it over? For now, until he writes another thing about how loathsome everyone/everything is. Probably in about two years.
Amanda Bynes
What happened? At first it seemed like she just wanted Drake to murder her vagina. But then her behavior became increasingly erratic and strange, and she was placed on a psychiatric hold.
Is it over? Bynes is out of rehab, so that chapter appears to be over. But the cycle of celebrity mockery that turns to faux-contrition when that celebrity turns out to be severely mentally ill rather than just nutty will go on forever.
Jimmy Kimmel
What happened? He "pranked" everyone with that "twerk-fail" video. You say prank, I say lie.
Does this change anything? Well, it makes it hard to believe anything Jimmy Kimmel says or does.
Ronan Farrow
What happened? The 25-year-old Farrow was long known as the only biological child of Mia Farrow and Woody Allen. But in a Vanity Fair profile in October, Mia Farrow said that Frank Sinatra was "possibly" Ronan's father. ¡Escándolo! (Ronan responded with the excellent Twitter joke, "Listen, we're all *possibly* Frank Sinatra's son," making him instantly seem funny, cool, and above all that gossipy bull.)
Does it matter? Ronan has an MSNBC news show in the works, which has nothing to do with paternity. But come on, the guy looks nothing like Woody Allen.
* This post has been corrected: Dads is on Fox, not CBS.