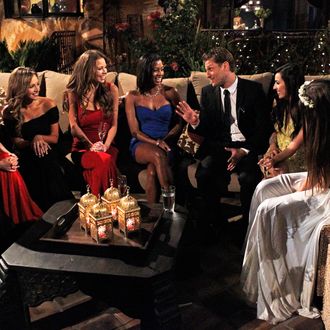 As soon as it was announced that Juan Pablo Galavis would be the star of the eighteenth season of The Bachelor, I was elated. I admit it: I had "Juan Pablo fever." I am not ashamed to confess that my big corazón deeply longed for a Latino bachelor. "Why?" you ask. Because a Latino would bring some much-need oomph to this joke of a show. Apparently, sexy Juan-Pablo (calling him JP would lessen his Latino flare) was blond enough for ABC to choose the 32-year-old Ithaca-born, Miami-based Venezuelan as the first Latino Bachelor. It's a big deal.
Despite being dismissed fairly early on last season on The Bachelorette, Juan-Pablo "generated more excitement from fans than anyone in the entire history of the show." Host Chris Harrison proclaimed that fans love Juan Pablo partly "because he is a hunky soccer player that has an accent, making everything seem just a little more romantic." Actually, Chris, that's exactly why. Still, "El Baa-ch-ee-lor" didn't really make an appearance last night. Yes, he danced a couple of salsa steps here and there, but they were so cursory he didn't even break a sweat. And there were several running-without-a-shirt scenes, which I appreciated. (Especially the ones not featuring his faux-hawk.) But more than anything, it was the hopeless ladies that induced several cringe-worthy "ay dios mío" moments. (In that I actually did put my hand over my forehead and said "ay dios mío" each time).
1. Before the lucky ladies were brought out, Chris said that because "Juan Pablo fever reached epidemic proportions," The Bachelor received an overwhelming number of responses, resulting in a larger casting pool. Producers upped the ante and brought in more women. More women?! More than the usual 25? Could there possibly be 50? No, that would be ridiculous. Maybe 35? Yeah! That sounds like a good solid number. This year's Bachelor features a whopping … 27 women.
2. We're pretty used to the fact that most of the women featured on the Bachelor are between the ages of 22 and 27. It's that ripe age when women are fresh out of college and stepping into new careers. Most of them are professional somethings: legal aid, nanny, massage therapist. However, some of them are not quite ready to be boxed into a job, but they still need some sort of title. Flower-crown-wearing Lucy, 24, steps out of the limo to greet Juan Pablo in a white, long, flowy gown and no shoes. Profession, per subtitling, "Free Spirit"! Cassandra, 21, a stunning brunette, says hello to Juan Pablo, and nothing else. Profession: "Former NBA Dancer"! Then Molly shows up. A light-brown-haired dog with a white bandana. An actual dog stepped out of the limo. Kelly, Molly's owner, a statuesque beauty in a red dress, followed her furry pal and told Juan Pablo, "Molly wanted to come along." Profession: "Dog Lover"!
3. Early on, we met Clare, who initially seemed like a level-headed hairstylist. She talked about the difficulty of losing her father, and, how, before he died, he left her with a message on a DVD for her future husband. It was all very sweet. However, when she stepped out of the limo to make that crucial first impression count, she was sporting an enormous belly, claiming to be seven months along. "I know you have a daughter," Clare says, giggling, "and I know you want more, so I thought … " Very funny, Clare! I flinched along with Juan Pablo. She fessed up to the unfunny joke, and yet Juan Pablo proceeded to feel the fake baby bump anyway.
4. Every season there's always one crier, one over-the-top drama queen. For the most part, the top weeper doesn't reveal herself until a few episodes in. This season we met her immediately. Lauren H., 25, a professional "Mineral Coordinator," was left at the altar. Her prospective spouse called off the wedding a couple of weeks prior to the big event. So she was a bit vulnerable, but clearly stated to Juan Pablo that she was over it. Having said that, she proceeded to cry during the entire meet-and-greet party. It was a big ol' mess. I really did think she would last a couple of episodes, at least to provide some psycho story line, but evidently Juan Pablo doesn't want any weirdos. He gave her the boot. She exited the house babbling something along the lines of: What will become of me? Again, she's 25! Or so she says.
5. There was one moment that left Juan Pablo speechless. (He doesn't say much in general, but he makes a lot of sounds like "aww," "mmm," and "ooh.") When Sharleen, the 29-year-old opera singer from Canada, stepped out to meet Juan Pablo, he was very taken by her classy look: sporting a Grecian gown with her hair in a fancy updo. He said she was elegant with mundo. We're thinking world translates to cultured. And although Juan Pablo met some ladies with intriguing stories, like the single mom, the insecure crier, and the Kardashian lawyer, he gave the first impression rose to Sharleen. Didn't see that one coming. Neither did Sharleen, apparently. When Juan Pablo arrived to give her the rose, her first reaction (instead of the usual freak-out) was an extremely uninspired, "Seriously?" "Will you accept this rose?" he asks. Sharleen's response, after a long pause, was an emotionless: "Sure. Yes."