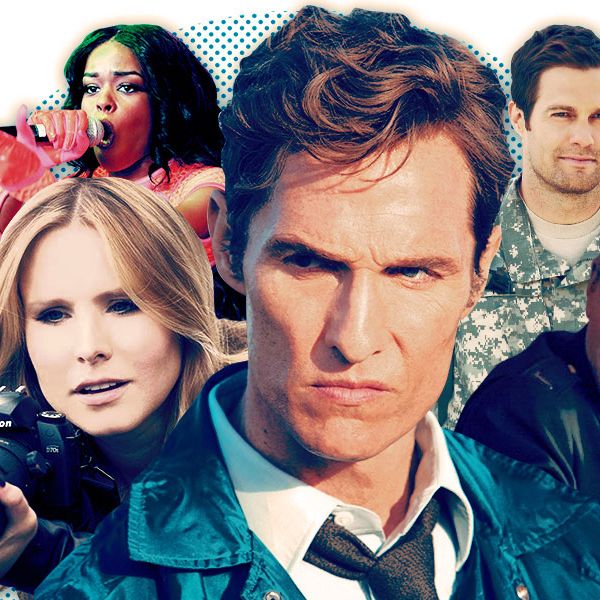 Photo: Maya Robinson and Getty, HBO, Getty, and Columbia Pictures Rob Thomas Production and
It's a new year and you might already be overwhelmed by all the amazing pop culture that the next 360 days hold in store. Hundreds of new TV shows, movies, albums, and books to possibly consume, all while still catching up on that 2013 stuff you've fallen behind on. (Spike Jonze's Her — which totally counts towards last year — hasn't even come out in most of the country yet!) But instead of previewing the year in total, it seemed more manageable to just take a look at the next three months. Here are twenty things to get excited about through the end of March. (Note: TV recommendations only include brand-new series, not returning shows.)
TV
Helix (Syfy, January 10)
In the new, highly anticipated series from Battlestar Galactica mastermind Ron Moore, a group of CDC scientists are flown out to an Arctic research base to investigate a creepy, constantly mutating disease. If they didn't bring a flamethrower, they have learned nothing from The Thing. Billy Campbell co-stars, mercifully free of his ties to Bockmail.
Enlisted (Fox, January 10)
Basically, Stripes: The TV Show. An insubordinate supersoldier (Geoff Stults — Kate's single-dad boyfriend on Ben and Kate) is punished by being sent back to America to head up a rear-deployment troop of archetypical misfits, which includes his two brothers. Standouts: Suburgatory's Parker Young as the relentlessly upbeat (and hapless) sibling, and Keith David (The Thing — see above) as the base's brusque commander prone to brandishing his prosthetic foot.
True Detective (HBO, January 12)
Drawling kinsmen Matthew McConaughey and Woody Harrelson are reunited in a very un-EdTV miniseries as Louisiana cops investigating a serial killer. It's more than just a procedural; McConaughey continues his dramatic swing away from good-time-guy roles as a nihilistic, haunted detective whose darkly philosophical intensity clashes with his new partner, Harrelson's self-declared family man who prefers life to be easy. (Or at least for no one to complain when he complicates it.)
Broad City (Comedy Central, January 22)
Producer Amy Poehler helped bring this web series to cable, in which two broke twentysomethings (Ilana Glazer and Abbi Jacobson) live as large as they can in New York with their crappy jobs — which means not very large at all. It's like a more straight-up-comedic Girls.
The Red Road (The Sundance Channel, February TBD)
There's a Top of the Lake feel to this six-episode series (the pilot of which is directed by James Gray). An investigation into a missing college student is the inciting incident, but there's a lot more going on: tensions between a largely white town and its neighboring Native American community; a bad accident that only exacerbates the troubles; a policeman's struggle to keep his family together with his possibly mentally ill wife; and a menacing ex-con (played by Game of Thrones' Jason Momoa) who returns to his tribe to make trouble for everyone. And the showrunner is Friday Night Lights and Parenthood veteran Bridget Carpenter, so you know you're in good hands.
MOVIES
The Monuments Men (February 7)
This movie about a ragtag group of art historians who went into Germany toward the end of WWII to save art that was being destroyed by the Nazis was originally scheduled for an award-friendly December 18 release, before it got pushed into 2014. Director/star George Clooney explained that the move wasn't because the movie isn't good, but that they were never "chasing Oscars" and were instead hoping to make a movie with broad appeal. Oscar-bait or not, it doesn't matter, because we'd watch its cast — Clooney, Matt Damon, Bill Murray, Cate Blanchett, Jean Dujardin, Bob Balaban, Hugh Bonneville, and John Goodman — in pretty much anything.
Robocop (February 12)
Last time we were excited for a remake of a dystopian sci-fi movie from our childhoods, we got 2012's Total Recall, which seemed to exist solely to allow director Len Wiseman to once again cast wife Kate Beckinsale as a badass. So we should probably be very wary of this remake, which places The Killing's Joel Kinnaman in the main role as the once whole-human, now half-robot justice machine. But honestly, Robocop's on this list because of Michael Keaton in full devious guy mode. The success of this movie depends solely on how much screen time Michael Keaton gets.
The Grand Budapest Hotel (March 7)
Sprawling star-studded cast, wry humor, beautiful and intricate production design, Bill Murray — it's a Wes Anderson movie! Which means you're either totally jazzed or completely uninterested. We're totally jazzed. Can we convince you to see this? Ralph Fiennes is a new addition to Anderson's regular crop of actors. That help?
Veronica Mars (March 14)
Fans of the TV show, which was sadly canceled in 2007, flocked to Kickstarter to help fund this movie's production. They will all see this movie. We will see this movie. Why isn't this movie out already?
Nymphomaniac part 1 (March 21; March 6 on VOD)
There's a palpable buzz surrounding Lars von Trier's Nymphomaniac (much more so than for your average foreign art film) stemming from a certain blend of legitimate and ironic perviness. What we know is that the five-hours-plus long film (thus the two parts) will feature movie stars (Shia LaBeouf, Uma Thurman, Charlotte Gainsbourg, and more) and many sex scenes in which the parts of body doubles actually having sex are digitally imposed onto those stars pretending to. The film's trailer and clips, which all quickly made their way around the Internet, promise an extreme sexual explicitness that it's hard not to be curious about, even if you're nervous to talk to anyone you know about it.
MUSIC
Against Me!, Transgender Dysphoria Blues (January 21)
This will be Against Me!'s sixth full-length album and its first since 2010's White Crosses, their biggest yet. It will also be the first since lead singer Tom Gabel came out as transgender and began her life as Laura Jane Grace. As the title suggests, the album will try to capture her unique experience and, as the first single, "FUCKMYLIFE666," proves, the band will be doing it with its signature blend of kickass Americana punk rock.
Katy B, Little Red (February 3)
In 2011, before every single Top 40 song had a drop, Katy B released Out of the Furnace, an energetic pop-dance hybrid that seemed to anticipate (or inspire, probably) 2013's dubstep obsession. Now Katy B is back with a second, "more emotional" album — though if "Crying for No Reason" is any indication, feeling and shimmying are not mutually exclusive.
Beck, Morning Phase (February 14)
Over twenty years into his career, Beck's release of a new album is always an exciting prospect, if only because you never know which Beck will show up — tropical-Beck, trippy-Beck, or funky-Beck. His upcoming twelfth album, Morning Phase, should be exciting for fans of sad-Beck, as the press release has described it as a "companion piece of sorts" to Beck's 2002 mellow, melancholic classic Sea Change. You can hear that, below, in the lush, terrifically sad live version of the Morning Phase track "Wave."
St. Vincent, St. Vincent (February 25)
Ever since her 2007 debut Marry Me (yes, it's an Arrested Development reference), St. Vincent (a.k.a. Annie Clark) seemed like indie music's Most Likely to Succeed. With her subsequent two releases (2009's Actor, 2011's Strange Mercy), she got closer and closer to pop crossover, developing radio-ready melodies while maintaining a weirdness when it came to her song's instrumentations. Her self-titled fourth album marks her major label debut, and if the catchy first single, "Birth in Reverse," is any indication, she's ready for the spotlight.
Azealia Banks, Broke With Expensive Taste (March)
Will this actually happen in March? The smart money says … no. (Banks's debut album was originally scheduled for fall 2012, and it was delayed again as recently as Friday). But one of these days, the immensely talented — if continually frustrating — Azealia Banks will release a new piece of music, and if it is half as good as "212," then we will be thrilled.
BOOKS
I'll Take You There: Mavis Staples, The Staple Singers, and the March Up Freedom's Highway, by Greg Kot (January 21)
Scion of the Staple Singers, one of America's most important soul, gospel, and R&B singing groups, Mavis Staples started singing as a young teenager, helped provide the soundtrack for the Civil Rights movement, and has kept her career going well into this century. She was present for some of the nation's most traumatic years, and hopefully Chicago rock journalist Greg Kot can show where the life and history intersect, because hers has truly been a fascinating one.
Annihilation, by Jeff VanderMeer (February 4)
The first in the dystopian "Southern Reach trilogy," Annihilation tracks the tale of an expedition sent to explore a mysterious area that has destroyed the eleven previous groups that have ventured in. The other two books — Authority and Acceptance — will be released later this year. Just in time, too, because we were running low on dystopian trilogies.
Bark: Stories, by Lorrie Moore (February 25)
When her last novel, 2009's A Gate at the Stairs, was released, it had been eleven years since Lorrie Moore had put out her widely acclaimed short-story collection Birds of America. That she had released a novel at all was a slight disappointment to many who consider her to be one of America's best short-story writers. Well, here it is — a fresh batch, eight tales. Stretch them out as long as you can.
Boy, Snow, Bird, by Helen Oyeyemi (March 6)
Fairy tales are ever ready to be retold and reinterpreted. Oyeyemi (Mr. Fox) takes one of the most famous — Snow White — and sets it in New England in the fifties, as Snow Whitman and her light-skinned black family try to pass as Caucasian.
Every Day Is for the Thief, by Teju Cole (March 25)
In Teju Cole's 2012 book Open City, a young Nigerian grad student walks around New York, offering rambling and beautiful observations about the city, America, and how he fits into it all. Every Day, about a young Nigerian who goes back home after time away, was written in 2007, but is only now being released in the U.S. If he can do for Lagos what he did for Manhattan, it'll be very easy to fall in love with this novella.