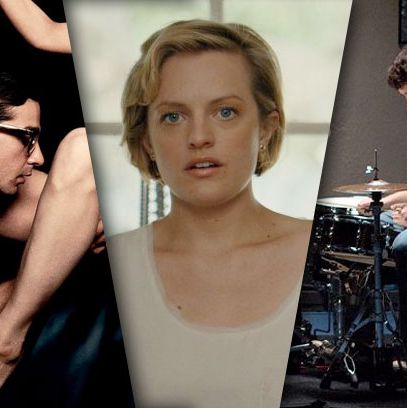 The 30th edition of the Sundance Film Festival wrapped up this past weekend, but its effects will ripple onward: Some of the better movies you'll soon see in 2014 debuted there over the last two weeks, and plenty of far-reaching cinematic trends were on view in Park City, too. What can we learn about the year in film to come from what we just saw at Sundance? Here are eight takeaways (some of which are decidedly R-rated).
The Mad Men cast is taking over Sundance.
Your favorite actors are in the middle of filming Mad Men's very last season, but it's good to see that they've begun laying track for their post-AMC careers: This year's Sundance lineup was filled with forays from Mad Men actors journeying into independent film, from John Slattery directing his co-star Christina Hendricks in God's Pocket, to Teyonah Parris shaking off staid Dawn with a crack-up role in Dear White People, to Elisabeth Moss proving herself to be quite the belle of the Sundance ball (after last year's Top of the Lake coming-out party) with memorable turns in both The One I Love and Listen Up Philip.

Indiegogo may be surpassing Kickstarter.
Several of the movies at Sundance this year had their closing credits padded by hundreds of crowd-funding contributors, but the really intriguing development was that Indiegogo (which helped finance the award-winning Dear White People and the Roger Ebert documentary Life Itself) appeared to have the edge on its most high-profile competitor Kickstarter (famously used by Zach Braff to raise money for his film Wish I Was Here). When Dear White People director Justin Simien was asked in a Q&A why he chose the former over the latter, his explanation was simple: Indiegogo lets you keep all contributions no matter what, while Kickstarter requires you to meet a certain quota first. For indie filmmakers, every extra little bit helps.

You've had the wrong idea about Nymphomaniac.
Did you know that Lars von Trier's sex epic is actually the funniest movie of the young year? At least, the first installment brought waves of knowing laughter when it secretly screened at Sundance; yeah, there's plenty of explicit sex, but it's mostly used to arouse laughter instead of … well, you know.
Dirty vaginas are the new comic frontier.
Within the first few minutes of the female-driven comedies Obvious Child and Wetlands, both films defiantly dive into new gross-out territory: Obvious Child's Jenny Slate delivers a monologue on how wet and crusty her panties become after a full day's use (we get visual confirmation of that factoid later in the film), while Wetlands heroine Carla Juri gleefully rubs her nether regions all over a public restroom's deeply unclean toilet seat. "My mother told me it's really hard to keep a pussy clean," explains Juri in voice-over … and she ain't kidding!

2014 is going to be the year of the sorta-musical.
With big studio musicals currently all the rage (and this year is no exception, since Into the Woods is due this winter), it's only fitting that Sundance should have its own unique crack at the format. We already want to download the entire soundtrack to Frank, where Michael Fassbender and his rock band write some of the most deliciously oddball songs we've ever heard, and fans of Jenny Lewis and Jonathan Rice will thrill to the tunes they cooked up for Anne Hathaway's Song One. God Help the Girl, written and directed by Belle and Sebastian's Stuart Murdoch, is by far the most traditional sorta-musical, but characters rarely just burst into song. It's the story of three young kids who sweep through bingo halls and city parks while starting dance parties and trying to form a pop band. The three of them galavant like the Beatles in Help! — really, it's the embodiment of what flashes through Murdoch's head when he's writing songs — and isn't that already wild enough of a fantasy?

When in doubt, script a car accident.
After a first few days where nearly every Sundance movie employed a startling car accident as a plot point (including Whiplash, Lilting, Frank, The Voices, Laggies, and Song One, among many, many others), we were moved to make sure that our own insurance rates hadn't skyrocketed by proxy. We appreciate a good vehicular jolt as much as anybody, but can't we mix it up, filmmakers? People in hot air balloons have accidents, too! (Don't they?)
Couples compel, but not in the way you'd think.
Traditional love stories just don't seem to cut it anymore in independent film: The romantic comedy genre came in for a skewering with David Wain's parody They Came Together (starring Amy Poehler and Paul Rudd), while the film that hewed closest to the meet-cute format, Obvious Child, found its conventional comic romance complicated by the heroine's date-crimping desire to get an abortion. Instead, the real love stories on view at Sundance were platonic, like Bill Hader and Kristen Wiig's brother-sister dynamic in The Skeleton Twins, the snarky friendship between Steve Coogan and Rob Brydon in The Trip to Italy, or the psychosexually charged grooming that goes on between J.K. Simmons's martinet of a music teacher and Miles Teller's pliable young drummer in Sundance award winner Whiplash.
Movies about movies can be moving (instead of self-congratulatory).
When Hollywood tackles itself in a film, the result can involve a lot of back-patting and inside jokes, but two great films at Sundance bucked that trend. The Roger Ebert documentary Life Itself was no mere hagiography, but in letting us know the famed film critic in a way we'd never been privy to before, his love of film shone brighter than ever. Meanwhile, the beautifully shot Kumiko, the Treasure Hunter, from sibling directors David and Nathan Zellner, takes on a plot that seems initially absurd: A young Japanese woman (Rinko Kikuchi), inspired by her VHS tape of Fargo, treks to North Dakota in search of the briefcase full of money that Steve Buscemi buried at the end of that film. The story is based on the debunked urban legend surrounding a real Japanese woman found dead in a North Dakota field, but the Zellners choose to film the legend, with Kumiko as a brave adventuress traipsing through the snow in a glorious poncho made from a hotel bedspread. They explore the question, "What if life played out like it does in the movies?" and the answer, of course, is that it would be wonderful.