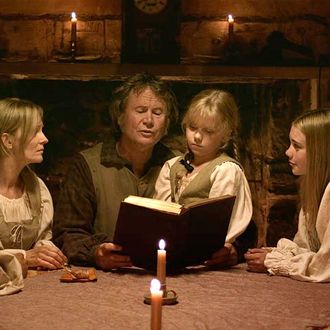 By far the strangest and most surprising Oscar nomination of this year's batch is Best Original Song nominee "Alone Yet Not Alone" (otherwise known as the haunting theme from Alone Yet Not Alone), which popped up alongside expected favorites "Let It Go" (from Frozen) and U2's "Ordinary Love" (from Mandela: Long Walk to Freedom), while bumping known entities like Lana Del Rey's Great Gatsby song. Tens of bloggers rushed to Google the film, trying to figure out what the hell it was: Turns out, it's exactly the opposite of "hell" — the movie is an evangelical-voiced work of historical fiction about a family captured by the Allegheny Indians during the French and Indian War in 1755.
This is the trailer:
Given no discernible major theatrical release and produced by Enthuse Entertainment, a production company that claims to create "God-honoring, faith based, family friendly films that inspire the human spirit to seek and know God," the film (which appears to have the production value of something you see playing on a loop at a museum) comes with a Church Study Guide and is based off of a book by Tracy Leininger Craven, who wrote the first draft at 9 years old. On the film's website, the author describes the story: "Despite all obstacles, they do not forsake their faith in Jesus Christ and never 'lose the song of their heart.'"
The "song of their heart" (quotation marks hers) is the nominated title song, written by Bruce Broughton and Dennis Spiegel and sung by prolific quadriplegic evangelical Joni Eareckson Tada — who has herself written over 40 books. As for Broughton, he was previously nominated for Best Original Score for 1985's Silverado and is certainly known by his peers: He's a board member on the American Society of Composers, Authors and Publishers, and is a former governor of the Academy of Motion Picture Arts and Sciences, the group behind the Oscars. Furthermore, Deadline's Pete Hammond reports, "…He is obviously well-connected and well-liked within the organization and I am told he started making phone calls to colleagues urging them to consider the song. Call it the most grass roots of campaigns."
So, there, that answers your question as to why this random-seeming movie was just nominated for an Oscar. May we one day get justice for Lana Del Rey.