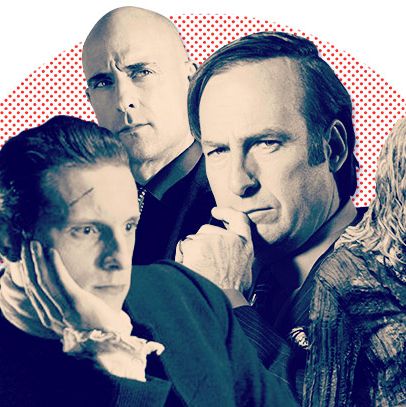 Photo: Maya Robinson and Photos by AMC
There were many reasons for AMC executives to be very happy about how 2013 played out. The Walking Dead was once again the No. 1 show on all of TV among viewers under 50. Breaking Bad experienced a massive audience surge in its last season, and the show's final batch of episodes was greeted mostly with critical raves. Mad Men had its detractors, but ratings remained solid. What's more, AMC locked in deals with the brain trusts behind Dead and Bad to produce spinoffs of both shows in the years ahead. And yet, despite all of these positive developments, AMC did hit some speed bumps. Low Winter Sun was rejected by critics and viewers, and won't be back. Former Walking Dead showrunner Frank Darabont sued the network. And while Breaking Bad went out on top … it still went out. To find out what's next for AMC after a momentous year, we rang up network chief Charlie Collier and programming head Joel Stillerman to chat for an hour about how they plan to build on their early successes, the threat from upstarts like Netflix, and why it's unlikely Talking Dead will be joined by Talking Don anytime soon.
Within the course of a few weeks last year, you announced plans for Better Call Saul and the Dead spinoff, and then you revealed that Mad Men would have its final season split over two years. Coming at the same time that Low Winter Sun was tanking and Bad was ending, it did suddenly seem as if AMC were on the defensive, that the network that had three big home runs early on was suddenly worried about the future. Do you worry that you came off looking almost a little desperate?
Collier: If you're in my chair, and Vince Gilligan wants to explore what makes Saul Goodman the best/worst lawyer in the world? You say yes. And if you have the No. 1 show on television — not just on cable, but television — and the guy at the core of the show and who literally created the source material [Robert Kirkman], says, "I think there's more story to tell." You say yes. Those two decisions were such no-brainers. Those were simple decisions. I understand your question, but: You're in my chair, you do those.
And extending the Mad Men final season over two years?
Collier: On the Mad Men decision, I take so seriously the things that consumers don't see, which is the way we elevate the shows to support them to their fullest. Make no mistake, Mad Men is all about Matt Weiner, and his great writing team and their vision. Our job, and [the job of] the team that you don't see, is to take that phenomenal material and elevate it in a way that allows you to look back at a series and say, "My God, that was an event." And so when we split Breaking Bad into two, it was a momentum play that we thought would allow us to set up Breaking Bad for the Hall of Fame in a way that that show deserved. And I think the fan response and the popular culture response validated that decision. The motivation with Mad Men is to build that anticipation again. In a very different way, because it's a very different vehicle and a very different passionate audience. But I think our job is to support it, and elevate it, and put that show in the Hall of Fame, [too].
So what's the status of Better Call Saul and the spinoff of The Walking Dead?
Stillerman: Both are in the very, very early stages. Saul is actually a little farther along. That show is committed and on the books now. The writers' room is open. Broad strokes — probably no news here: It is a prequel, it explores what went into shaping the incredibly compelling and idiosyncratic and funny and somewhat tragic character of Saul Goodman. I think the other thing that's really great about Saul: Vince and Peter Gould, who are partners on the show, talk a lot about really reinventing the tone of what it means to be a drama. There have been a number of dramas on the air that have had comedic elements. But I think they really want to push the envelope in terms of what it means to take you on an emotional roller coaster ride, and make you laugh, and break your heart and stretch the boundaries of where you can go emotionally within the context of a drama. Saul's obviously a very funny character, and there's going to be a lot of comedy in that show. But they felt at the end of the day that it was best crafted as a drama, and that would give them the latitude storytelling-wise and character-wise to really go into a sort of unprecedented range of emotions.
Collier: They're not just [creating] a spinoff. I hate the connotation, because they are really trying to create something original out of a great character. It's so much more than a spinoff. When you hear them talk about it, they really are going back to the drawing board taking the time to invent something.
And The Walking Dead follow-up?
Stillerman: That show is not as far along. Robert has some things on his plate. He continues to write every issue of the comic and hasn't finished season four of The Walking Dead, which he is very intimately involved with and will continue to be. That's really in the incubation stages. The one thing that I'll share is just an anecdote that Robert shared with us. He has such a specific vision that he laid out really clearly in the first issue of the comic book. And I encourage anybody who's interested in the show to go read the note that he wrote in the first issue of the comic. His motivation for telling that story was so clear and so powerful, and it served as such a great north star for the show. We kicked around a few ideas, but primarily what he's working on is, what is the idea that gives [him] as clear a mandate to make another version of this show as [he] had for the first one? What is going on [now] is a more philosophical discussion over why there should be another version of the show. Once we answer that, we'll zero in on the specific creative.
It's not 100 percent green-lit yet.
Stillerman: It's in development.
Collier: What we want to do is not diminish the mothership. What we want to do is find something that everyone involved feels as passionately about as being a unique vehicle and unique enterprise as compared to the original series. We'll take our time, and we'll do it right.
There's so much more competition in the "quality TV" space. Your own sibling, Sundance, made lots of noise last year with Top of the Lake. Netflix is in the game. Do you have to change your strategy in response? Do you become more indie or more mainstream?
Collier: From day one, we said we wanted to be premium television on basic cable. We want creators to bring us their passion projects. And we wanted to be eclectic by design. So the through line is not to be one or the other; the through line is, we're going to be original. And when we're at our best, we're creating worlds that are truly original … in the sense that you have not seen it before, and we're going to dive into things in a different way. The through line between The Walking Dead and Mad Men and Breaking Bad and Hell on Wheels — even some of the shows which didn't connect as well, like Rubicon or Low Winter [Sun] — is that there are aspects we're shooting for that are original. Of course, if Kirkman comes to us with a spinoff, we're going to do that. But the strategy hasn't changed at all.
Stillerman: Are we falling into more of a network mentality? I would say definitively, "no." Those opportunities around Breaking Bad and Walking Dead were ones I don't think any programmer would pass up. But while we were putting those in the works, we were also doing what we always do best, which is taking enormous swings on projects that live off the basic principles of our brand, which are unexpected, unconventional, and looking for the passion of the audience. [The Revolutionary War spy drama] Turn and Halt and Catch Fire [which is about computer innovators in the eighties] are the next two shows which will debut on this channel, and if anybody feels like those fall into a formulaic or fear-based or network-esque programming strategy, I'd love to hear that rationale. Because they are as out of the box and original as television gets. And, as Charlie said, that's always been the game plan.
So having the No. 1 show in all of TV doesn't make you want to create more No. 1 shows? You've proven you can beat the biggest networks out there, so is there a pressure to keep launching massive shows?
Collier: Never, even with The Walking Dead, did we go into it looking to build something broad. That was never what we were shooting for. What we were looking to do was super-serve a passionate audience — one that had come to our network for fifteen years for Fear Fest. One of the things Joel first did when he got here was to make a list of the top movies which reached a certain demo, and lo and behold, he found Westerns and horror were at the top. We go into a Halt and Catch Fire with a different expectation than we might an on-the-nose genre piece. But we're not looking to be broad. We think we'll do best when we serve a really passionate audience. And then, if we do it really well … they tend to broaden out because it's great entertainment.
Stillerman: If you wake up in the morning and your goal is to create the next No. 1 show on television, the chances of you breaking real new ground conceptually or taking chances creatively are diminished significantly.
Is it tough competing with the very deep pockets of a Netflix or HBO? It used to be that the trade-off for the creative freedom of cable was less money for producers to spend. Now some outlets offer the hands-off approach and the big budgets.
Stillerman: We're responding to that competition by continuing to be a home for people's passion projects [and] continuing to nurture great talent. We have some incredible people on the roster who are going to bring us the next generation of AMC originals … With respect to budgets, we can say with complete conviction, we put our money where our mouth is when it comes to our originals. The proof is on the screen.
I've been told you can't talk about the whole Frank Darabont situation because of the legal situation. But there have been reports of clashes with Matt Weiner. There were difficulties with Sony getting the final seasons of Breaking Bad together. There's this sense that AMC has had rocky relations with its showrunners, or that financial considerations outweigh the creative. Does this irk you?
Collier: Far more often than not, there is harmony. It's just not as good copy. The showrunner role is one of the hardest roles in our business — this need to create excellence on every level, both from a business and creative point of view. When things have gone public and have been less than good — what we're trying to do is [figure] out what's in the best interest of the show. If [reporters] wrote about everything equally, they'd see that the vast majority of our relationships have been productive and that far and away our batting average with these people has been better than the industry standard. [And] I love that Vince is back for more. It speaks to the relationship and the way we've worked together. And the same with Robert Kirkman.
Some critics think that the age of the cable TV antihero died with Walter White. Do you agree? Will there be less of them on AMC?
Stillerman: I won't predict the end of antiheroes. There's not much of an upside for me on that in the long haul. But I will say you're going to see a significant tone shift over the next couple of years on AMC. Not because we're looking to respond to the "end of the antihero" movement, if that's a thing. But just because of our quest for breaking new ground and to trying to reinvent ourself. If you look at Turn and Halt and Catch Fire, neither one of those feel as dark as a show like Low Winter Sun. Turn is really a classic story of heroes who risk everything. And there's a number of things in the pipeline — Better Call Saul and a pilot we just green-lit, Knifeman [about an eighteenth-century grave-robbing surgeon] — that are going to be on the very funny side of the drama spectrum. We love that on our air. We've never aspired to be a place that was oppressively dark; we just wanted to tell great stories, and those come in a lot of different shapes and sizes. If you look at the next batch of AMC originals, you're going to see a radically different kind of storytelling and a radically different tone.
Nothing you've done in the reality world has done the sort of ratings, or gotten the buzz, of your scripted fare. Why are you still in the space?
Stillerman: We do it because we think there's an opportunity to expand the success we've had on the scripted side creatively into that genre. And we think we can continue to expand our brand and our business. Comic Book Men has been a success for us; it's a show that has a very loyal core audience. I think we feel there are some great stories to tell and rich worlds to explore.
The Killing had a female co-lead. Will AMC ever have a show where a women is at the center?
Stillerman: We don't rule it out. There are probably a few things in development that are an ensemble with women. I can't think of anything off the top of my head that has a female lead or co-lead, the way The Killing does. But that's not by design.
There's so much to talk about after every episode of Mad Men. Why doesn't it have a postshow, like Talking Dead? Will that change next season?
Collier: Right now we have no plans for it. We do everything in partnership with Matt. We've talked about it. Right now, and we agree with him, we don't think we have a need to change what we've done. The depth of analysis you can get on other platforms is pretty impressive.
You've green-lit two period dramas with Turn and Halt. Period stuff is all over TV now, from The Americans to The Goldbergs. What's the appeal?
Stillerman: From a creative point of view, period is fun. It's an opportunity to let the craftspeople, the costume design and production design, take you [where] you might not otherwise be able to go on in a contemporary show. And it still feels a little special, even though you do have a few more period pieces in the market, not the least of which is Downton Abbey. I just think that on an old-fashioned level, TV not only makes you think and moves you emotionally, it also takes you on a journey. And period is great way to do that. It also instantly adds a sense of scope and scale to a show. You feel like you're going somewhere you can't in your real life.