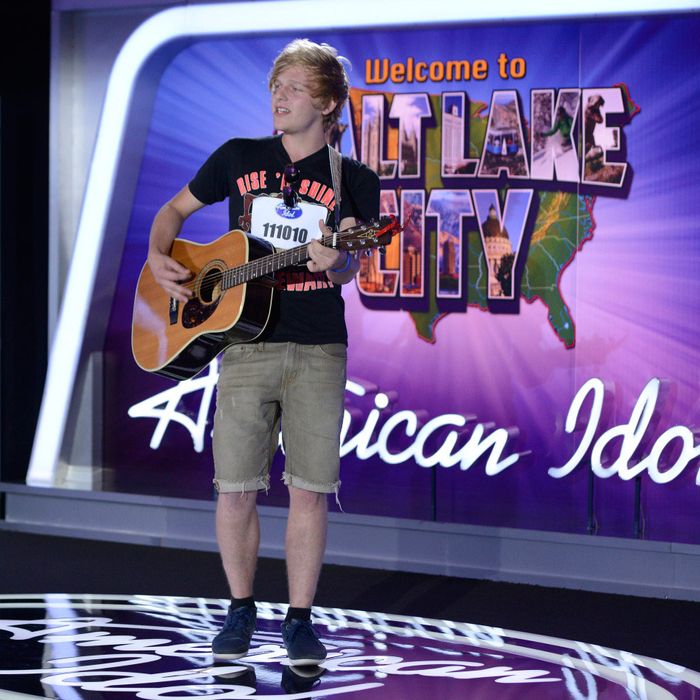 American Idol 13's Salt Lake City auditions
Photo: Michael Becker / FOX
I have just spent two entertaining, uplifting hours in front of my television, and I don't know what to do with myself. It's shocking enough that American Idol has started treating its auditioners with respect, but now it seems their magnanimity extends to their viewing audience. I've spent so long having my time wasted and my ears assaulted that I come to each new episode with crossed arms and a furrowed brow. It's time I changed my tune. It's not just a new Idol; to quote Gwyneth Paltrow in Shakespeare in Love, "It tis a nyeww wuuuuhlllld."
We're in Salt Lake City, and this is the last week of auditions! Can you believe it? Idol used to spin its wheels at this stage of the game, giving us four hours a week of belters and oddballs until what seemed like mid-April. But season thirteen is wrapping it up in six breezy episodes and getting us to Hollywood with the quickness. Let's see whom we'll be meeting there.
Sixteen-year-old Austin Wolfe blasts right out of the gate with Imagine Dragons' "Radioactive," an unexpectedly popular audition choice this season. It's a little fluttery, as the trend dictates, and although it doesn't do much for me, Harry says she's giving him a Hayley Williams effect, and the judges unanimously send her through.
Kylee Adamson is an 18-year-old lumberjack with a sweet face, and we're all immediately rooting for her, and it's such a relief when she ends up being good. Everyone's good! Everyone's sweet! Everyone has a hard-working, white-toothed Mormon energy! Smiley Tessa Norman, singer-songwritery Keith Sanders, handsome Michael Simeon, all through.
Just in case you didn't sense a more generous spirit guiding this judging panel, Harry, Jen, and Keith each give brief interviews where they stress that each young auditioner is a real person with feelings and friends, a real person who deserves respect. They're basically speaking for the new producers here, stating a rewritten mission statement through sound bites. I love it. The Simon Cowell era is over.
Alex Preston is from New Hampshire, and while there are a lot of music-genius weirdos with acoustic guitars this season, I'd say he's one to watch. He sings an original, and his soft tone is so unique, it actually takes me a good minute to decide whether I like him. That's a good thing, I think. He's through!
Samantha Calmes comes in wearing a fanny pack, which is the most baller thing ever. She is a glorious, joyful goof with a gorgeous voice, and she too sings an original, but this one has kind of a spoken-word intro. (Spoken-word intros in the live shows: Could you even handle it?) Harry asks her to sing something else; she chooses the theme from The Jeffersons; and it is the exact right thing. I personally think her spirit is a tiny bit better than her voice, but she's through.
And then there's a montage of people with great names: Ella Duke, Phaya (pronounced FI-yah), Evan Sharp, and (I swear) Julie Awful, who was picked up by the "iconic Idol bus," which travels the blue highways of America looking for diamonds in the rough. LeBryant Crew found his way to the SLC auditions the same way. Laurel Wright sings an original song and wins three CMA awards before we get to the commercial break. They're all going to Hollywood. (Probably by bus.)
DJ Bradley looks like a non-ginger Ed Sheeran, and his brooding loner persona comes dangerously close to making him look like he doesn't give a shit. It's a close one, but the judges decide to give him another chance. It is not at all close for Kenzie Hall, who is 16 and looks like a cheerleader and affects a little growl in her voice on John Mayer's "I'm Gonna Find Another You." Kenzie is catnip for the judges. She'll go far.
Paisley van Patten had a recording contract as a teenager, but she boozed her career away and now she's sober and back for a second chance. Of course, just before her audition, her fiancé broke up with her because she's pursuing Idol. I'd advise her to choose one sob story and stick to it. She sure seems like a little bit of a drama queen, but her voice is nice enough, and I have a feeling she'll stir things up in Hollywood.
Speaking of Hollywood, this season is so long on singer-songwriter types with guitars, all I know is we're going to be hearing some inventive versions of "Hit Em Up Style."
You know who's great? CJ Harris is great. He's an African-American classic-rock guy from the sticks and he's still mourning his father and his girlfriend is named Britney Slappy, and he sings an Allman Brothers song, gets a golden ticket, and cries immediately. There's seriously no way for me to like this guy more.
Unless his name were Tiquila Wilson. Tiquila sings in her church, wears three Tammy Fayes' worth of makeup, and works at a funeral home. "So I sing for the dead," says she. "Oh! So does Harry," says Keith. Shade! She does a gospel-choir version of Adele's "Someone Like You" and has what you would imagine Mo'Nique's singing voice to be. Harry asks whether the people in her church will have a problem with her singing secular music, and she says she doesn't care. "Of course I'm gonna promote God," she adds. God for sure needs a better street team, so this is a good thing. She makes it through, and during her celebratory moment, a stranger puts a sandwich in front of her mouth, and she bites the shit out of it. Go get 'em, Tiquila Wilson.
Not everyone makes it through, it just seems like it. Chase Thornton is a male model and busboy who just might be our only true goofball of the night; he opens his curiously unhandsome-for-a-male-model mouth and Tiny Tim's voice comes out. Jessica Bassett has the same kind of Cranberries-lite voice the judges seem to be loving, but for some reason she's sent home to practice for another year. Carson Henline looks like the kid who played Pugsley in the Addams Family movies, and his voice will really be something when it matures a bit. Ally Roundy does the requisite "At Last," yet doesn't make it through. Everyone takes the disappointment well. It's all so nice.
Dexter Roberts is a dog trainer and farm hand. He's a great big lug, and then he opens his mouth and it is beautiful what happens. Jennifer can't believe he can play one rhythm on his guitar and sing another. Briston Maroney is the great grandson of some country recording artist, who he only knows as "Gramps." (Really? You didn't want to look that up at any stage in your life?) He plays his family's guitar that's been passed down through the generations, and when he sings the Rolling Stones' "You Can't Always Get What You Want," it sounds exactly like the guy from Jack's Mannequin, which I was not expecting at all. They're both going to Hollywood.
Did you know that Keith Urban himself was on one of these shows in his native Australia? I didn't either, but here he is, singing Air Supply's "All Out Of Love" on some early-'80s talent show. And just as the old Aussie judge did for him, Keith doles out some difficult advice for young Johnny Newcomb, who auditions with Pearl Jam's "Last Kiss." Keith tells him he looks scared, and it's not just because of the pressure, it's because he hasn't matured enough to know what he wants to sound like yet. Harry says he's impressionable and needs time to grow, yet somehow he gets a golden ticket.
Also barely skating by is Carmen Delgina, the daughter of Wonder Mike from the Sugar Hill Gang. She has a gift, but it's spotty and inconsistent. The judges beg her to practice before Hollywood Week begins, and then Wonder Mike comes in and raps a little and kind of steals his own daughter's thunder. Incidentally, what's funnier: that the first big rap song had a huge long verse about eating dinner at your friend's house and the chicken is overcooked, or that white people were still afraid of it?
We end the show where we started, with sweet Casey Thrasher from Tuscaloosa. He's 23 and he has two kids, which frightens me worse than any horror movie I've ever seen. But he seems like he's got a good head on his shoulders. Turns out he asked for a picture with Keith outside the CMA Awards last year and told him that he'd "be doing his best to make sure you see my face again." Luckily Keith was nice to him, because here we are. He does Brooks & Dunn's "Believe," and while it's not perfect, it is packed to the brim with emotion, and you can't help but root for the guy.
You can't help but root for most of these people. They're unique, they're emotional, they're diverse. That's what's going to make Hollywood Week so difficult; these people have spirit, and spirit is a hard thing to judge and quantify. But we'll deal with that next week.
Next week! Tomorrow is the last of the auditions! And it's only one hour! Idol, I think I'm falling back in love with you. Don't fuck this up.