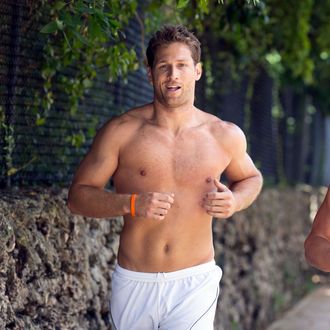 Galavis.
Photo: Splash News
Here we go again! The Bachelor's current bachelor, Venezuelan former soccer player Juan Pablo Galavis, took a page out of Duck Dynasty star Phil Robertson's book on Friday evening, when he told a TV Page reporter why he doesn't think that a gay or bisexual man should be given a chance to hand out roses. "I don't think it's a good example for kids to watch that on TV," he explained in response to a question about the idea of a non-straight guy starring on the show. Things got worse from there.
"Obviously people have their husband and wife and kids and that is how we are brought up," Galavis continued. "Now there is fathers having kids and all that, and it is hard for me to understand that too in the sense of a household having peoples … Two parents sleeping in the same bed and the kid going into bed … It is confusing in a sense. But I respect them because they want to have kids. They want to be parents. So it is a scale … Where do you put it on the scale? Where is the thin line to cross or not? You have to respect everybody's desires and way of living. But it would be too hard for TV."
Just to hammer his homophobic point home, Galavis concluded by noting that he has "a lot of friends like that." And, over the course of his rich relationships with his many gay pals, Galavis has noticed something: "They're more perverts, in a sense." ABC might try to blame that one Galavis's imperfect English, but his message is pretty clear.
Update: And the statements are in. ABC and Bachelor production company Warner Horizon Television's joint remarks were straightforward and did not try to make apologies for Galavis: "Juan Pablo's comments were careless, thoughtless and insensitive, and in no way reflect the views of the network, the show's producers or studio," they said. Meanwhile, Galavis took to Facebook:
People,

I want to apologize to all the people I may have offended because of my comments on having a Gay or Bisexual Bachelor. The comment was taken out of context. If you listen to the entire interview, there's nothing but respect for Gay people and their families. I have many gay friends and one of my closest friends who's like a brother has been a constant in my life especially during the past 5 months. The word pervert was not what I meant to say and I am very sorry about it. Everyone knows English is my second language and my vocabulary is not as broad as it is in Spanish and, because of this, sometimes I use the wrong words to express myself. What I meant to say was that gay people are more affectionate and intense and for a segment of the TV audience this would be too racy to accept. The show is very racy as it is and I don't let my 5 year old daughter watch it. Once again, I'm sorry for how my words were taken. I would never disrespect anyone.

Sinceramente,

Juan Pablo Galavis.
Obviously, saying that gay people are "more affectionate and intense" in a way that makes their activities "too racy" for TV audiences to accept is not very different from calling them "more [perverted.]" Try again, dude.