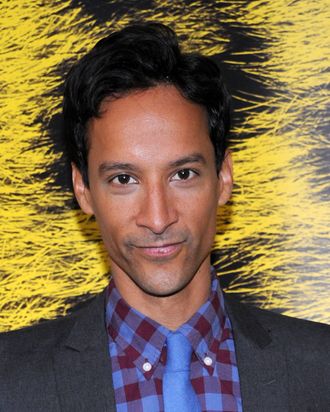 Danny Pudi
Photo: Pier Marco Tacca/2013 Getty Images
Abed would be so proud. Last night, Danny Pudi went from playing the TV-obsessed Abed on Community to officially joining the ranks of Sundance film directors, debuting Untucked, a short sports documentary he made for ESPN's "30 for 30" series. (It'll air on ESPN's website in March.) The short explores the origin and influence of the hip, trendsetting uniforms that characterized Marquette University's basketball team in the seventies under coach Al Maguire, particularly the controversial "untucked" or "tails-out" jersey — the school's name was printed on the bottom so it couldn't be tucked in — designed by the team's star forward Bo Ellis and worn during the school's first and only championship win in 1977. After the screening, Marquette alumnus Pudi publicly apologized to his mom for having chosen to go to that school based mainly on its legacy of really cool basketball fashion.
Untucked screened with six other shorts, including one directed by Rose McGowan and another from director Janicza Bravo, Gregory Go Boom, in which Michael Cera plays a paraplegic who leaves home for the first time to truly dark effect. But Pudi was far and away the one director everyone in the audience wanted to meet. "Excuse my Handerpants," said one man, reaching out to shake Pudi's hand while wearing fingerless gloves that looked like tighty whities. Pudi didn't hesitate, having not registered his fan's handwear. "Oh my God! I need someone behind me whispering, 'That guy has underwear on his hands,'" Pudi said when I explained what he'd missed. "Then again, once, a guy tried to shake my hand at a urinal while he was peeing. That was the one time I was like, 'I don't know … ' But then I did it anyway." Below, more from Pudi (who was there with his wife, Bridget Showalter — his freshman sweetheart from Marquette!) on being a Sundance director, how he's coping with Donald Glover leaving Community, and what he looks like while skiing.
How does it feel to have fans coming up to you as an indie filmmaker?
Uh, it's strange. The great thing about, I guess, my life in the last couple of years has been that I'm getting accustomed to strange shifts and things happening that I don't really understand and just rolling with it. So this was truly a surprise. Because I never really thought this would really happen. I just didn't.
Coming to Sundance or making a movie?
Making a movie or Sundance! There are a lot of surprises here.
So did ESPN's "30 for 30" approach you for this project?
It was really a conversation that we had on Twitter. I was raving about one of their films, it's called Benji, and [ESPN Films director of development Dan Silver] reached out to me. He was like, "Would you ever want to talk about maybe directing a short?" I was like, "Yes!" And this was like a passion project for me because I love college basketball and I've always been really into the crossover of fashion and basketball and how it's now it's kind of gone into this whole other world. And this was a peek into a time I thought was so interesting, because the more you dig into this story, this team, they were so unusual. Their press photos were like in medieval garb or with these tuxedos. They were just such a wild group. The fact that the coach just let a player design a jersey because he wanted to, and he truly wanted to major in fashion design. For me that was just a fun story to explore. And because I went to Marquette I have a place in my heart for it.
You said the reason you went to Marquette was their cool jerseys back in the day?
Well, it was one of the reasons. I graduated high school in 1997, which was the twenty-year anniversary of the '77 championship team, and I remember seeing them wear the untucked jersey as a commemorative thing and thinking, That is just bonkers! But it was like the dopest, the coolest thing ever, and I was like, "I want to go to a school where the jerseys are untucked." And I always wanted to go to a place that had this sort of sports atmosphere because I'm very, uh, un-athletic, so I was like, "I want to be able to live that life vicariously somehow."
You wear the jersey in the credits. What was it like for you to put it on?
It was awesome. Thankfully, Marquette was awesome about everything and they gave me access to a lot of things, so I got to try on all the jerseys, which to me was amazing. One, I look very tiny. I look like I need to eat a lot in these jerseys. You can see all my bones, my clavicles. I look unhealthy and I look like I shouldn't be by a basketball court. But it was incredible to put on these authentic jerseys that they have still encased in the Al Maguire Center. It's truly like a fan being given access to something that they've always dreamed of, like the Hall of Fame.
What did Bo Ellis say about your legs?
"You have bird legs."
That's weak trash talk. He could come up with a better insult.
Oh yeah, come on! I've been called way worse. Way worse.
You have any basketball skills?
I got a little bit. A little bit. At Marquette I was once chosen to shoot a basket at halftime for free pizza for a semester and it was a three-pointer and I swooshed it. It was the luckiest shot of my life. I took off all my clothes and I humped the court and then I won seven Papa John's pizzas!
How are seven pizzas supposed to last you for a whole semester? 
It was sort of a lie. They were done in two days. By the time I got back to the dorm, they were already called in and all my buddies had devoured them.
You want to do more directing?
I think so. I think so.
You want to move out of acting?
No, I've kind of always loved doing everything, so it's a chance for me to explore something else. But I've always had a curiosity about getting into directing. This was just nice because I had an opportunity to do something in a way — I wouldn't say "safe" — but it was a way to explore something that was near and dear to my heart. So that's cool. And in some ways, I didn't go to school for film. Or acting. [Laughs.] So I always feel like I'm learning as I'm doing. It was exciting.
Donald Glover did some music for your doc. Was making this movie your way of coping with his leaving the show?
Completely! As soon as Donald told me he was leaving Community, I said, "I'm doing a sports documentary where I'm just going to be crying and crying. I'm using your music, by the way, Donald."
Not really.
No. It did help, though, because I was buried in editing for the last couple of months — with that transition.
You locked yourself in an editing room and only listened to Donald's music?
I was like, "I need a piece of you in everything! From now on, everything I do will have a piece of Childish Gambino in it!" No, but I'm happy for him. He's doing cool stuff. That's the exciting thing about our show, too. It forces me and everyone to be inspired to do other stuff. Because everyone is: Me and Jim and Donald and Alison and Joe. Everyone is working on other things and it's a great atmosphere to be a part of, a creative atmosphere.
Are you going to start dressing differently now that you're a filmmaker? Black turtlenecks?
You do not want to see me in a turtleneck. I look like a giraffe. My neck is long enough. We don't need to isolate it. We don't need to show it off anymore than it's already here. Um, I don't really know what that means [to dress like a filmmaker]. I was really worried about how I should dress today, so I overdressed. I was like, "What do I wear to one of these things? I don't know!" And then people show up in flannels and ski coats and I was like, "Oh! I coulda showed up in that!"
You look nice with your sports coat. You did well.
It's kind of my inner mom in my voice telling me to tuck my shirt in. "Tuck your shirt in!" Did you see how I worked the movie back in there?