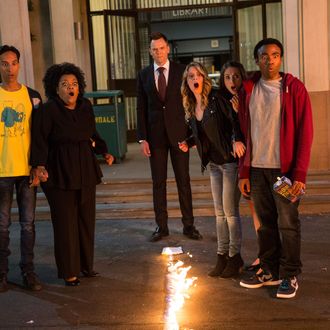 Community returned to NBC last night and, not surprisingly, not a whole bunch of people watched. The two episodes which aired from 8 to 9 p.m. averaged 3.4 million viewers and a 1.3 rating among adults under 50. That's down 32 percent from last February's return (among viewers under 50), and the lowest rated Community season premiere yet. Also, the show didn't build momentum throughout the hour: The 8:30 p.m. episode actually lost viewers versus tune-in for the first half-hour.
The glass half-full way of looking at the numbers: Community still did better than NBC's other Thursday comedies. Sean Saves the World and The Michael J. Fox Show both dropped to what will likely be series' lows once final numbers come in, averaging a puny 0.8 among adults under 50. And the 1.3 rating scored by Community matches the show's May finale ratings. It's also worth remembering that Community tends to do much better once DVR data gets figured in. Still, given that this was the much-hyped return of series creator Dan Harmon, and considering Community tends to deliver its best ratings with its season premieres, last night's numbers don't auger well for #SixSeasonsAndAMovie.
Elsewhere on the ratings front Thursday, ABC's drama dud factory continues to churn out flops. Following last fall's Lucky 7, Betrayal, and Once Upon a Time in Wonderland, the network last night debuted the spy drama The Assets to crickets. The show averaged a mere 0.7 among adults under 50, which appears to be the lowest-rated drama debut during the regular season for any of the Big Four networks. (In total viewers, the drama averaged 3.8 million viewers, so a decent number of older viewers did check out the show.) What's more, The Assets managed barely half the demo ratings of FX's thematically similar The Americans, which debuted to a 1.2 in the demo last January.