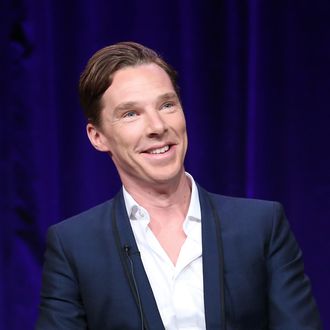 Cumberbatch at the 2014 Winter TCA tour on January 20, 2014.
Photo: Frederick M. Brown/2014 Getty Images
Disappointing Cumberbitches everywhere (probably), Benedict Cumberbatch and Andrew Scott did not lock lips at any point during the filming of Sunday's season-three premiere of Sherlock. One of the episode's many scenarios laying out how Sherlock might have survived the Reichenbach fall alleged that Sherlock and Moriarty were in cahoots, a deal sealed with a near-kiss. "We didn't actually kiss," Cumberbatch told a journalist Monday at the TCA press tour. Executive producer Steven Moffat said otherwise. "We got the idea to do it from the palpable chemistry between Andrew and Benedict. We cut it right before the kiss. And the sex." Cumberbatch promised it was no big deal. "It was like fist-bumping," he said.
In happier news, Cumberbatch is keeping his busy dance card open for plenty more Sherlock. "I'm going to keep going with it," he said. "I play enough other mad people to vary the palate of what I'm scrabbling around in my head as a storyteller … I love [playing Sherlock]. I find it very invigorating."