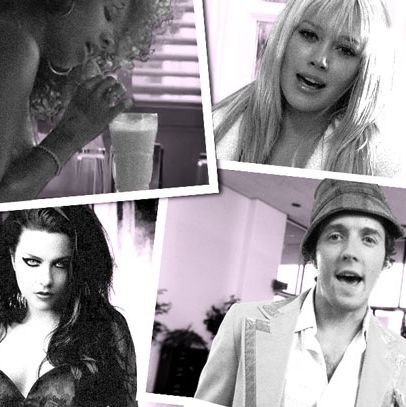 It was the wardrobe malfunction that introduced the world to the phrase wardrobe malfunction, and I never even saw it. I missed all of Super Bowl XXXVIII, actually. I'd been in New York visiting old friends, my flight home left around 5 p.m., and live television on airplanes was still rare. When I landed at LAX, I was like Rick Grimes in the first episode of The Walking Dead, waking to a world that was fundamentally different and deeply irritating. Yes, Nipplegate happened ten years ago this week, so I decided that for this edition of my "Somewhere in Time" column — in which I look back at the pop culture we were loving at different points in the past — I will revisit what we were listening to when Janet Jackson stole our innocence. Here are the top 40 singles from January 31, 2004.
40. Kid Rock, "Cold and Empty"
If you're familiar with Kid Rock's oeuvre, you might expect this song to be about the searing pain of finding your Igloo cooler devoid of Coors Light. But no, "Cold and Empty" is a rare moment of navel-gazing from a guy who has spent the past fifteen years forcing the world to gaze at his navel. I wish I could say the countrified song signaled a more mature Kid Rock, but it's from an album also featuring a track titled "Cadillac Pussy."
39. Sarah Connor, "Bounce"
An Austrian robot came from the future and murdered my memory of this song. But if you're looking for a mash-up of Mary J. Blige's "Family Affair" and an afternoon in your town's worst gay bar, you really can't do better.
38. Kimberley Locke, "8th World Wonder"
After coming in third on season two of American Idol, Kimberley Locke released this single, which debuted at No. 1 on the Billboard Sales chart — except who cares, because the guy playing her boyfriend in the song's video is Charles Divins, who went on to play Chad on Passions. You remember Chad: He was Julian's son, except he was really Alistair's son, and he went out with not only Whitney but also her sister Simone, but only when Simone was pretending to be Whitney, and then he had an affair with Valerie, who was really Vincent, who was really Chad's nephew, who then became pregnant? No, this really happened. I miss the shit out of Passions.
37. Black Eyed Peas, "Hey Mama"
Never forget: There was promise in Black Eyed Peas before they went full Jock Jamz. This cut, from their transitional Elephunk album, perfectly bridges the gap between early, conscious BEP and later, bar mitzvah BEP. Remove it from its context, do your best to forget that "My Humps" is one year away, and move your booty, mama.
36. Baby Bash featuring Frankie J, "Suga Suga"
This is a song that happened (and asked the all-important question, "Suga, suga, how'd you get so fly?"). Want to talk about Passions some more? Good! Remember that time Charity was trapped in an ice cave by Kay and then Zombie Charity took her place? I'm not saying I support what Kay did, but it was smart planning, allowing her to keep Miguel for herself while preventing Charity's good witch powers from coming to full bloom. Too bad Zombie Charity ended up falling for Miguel too, right? And also too bad that Zombie Charity tried to use her zombie powers to get Miguel to kill little Timmy before that tiny bon vivant could free the real Charity, only to no avail, and then she died — and then the actor who played Timmy died in real life on the same day his TV death aired? Again: No, really.
35. Clay Aiken, "Invisible"
Listen: I was too young to go to Studio 54 in 1978. I've never been in the Comedy Cellar on one of those nights when Louis CK drops by. But in September 2008, I was finally in the exact right place at the exact right time: at my laptop when Clay Aiken came out of the closet. And I hate to be this guy, but if you didn't visit a Claymates message forum that weekend, you really missed out on something special. Heartbroken woman after heartbroken woman, asking for and offering support and information, acting out the five stages of grief with animated emoticons. My favorite, which I will remember until the day I die: "I am getting rid of all my Clack [note: Claymates call their Aiken paraphernalia "Clack" — a portmanteau of Clay and crack], even Merry Christmas With Love. No more will I listen to him sing 'O Holy Night,' now that I know he desires unholy nights." Here's hoping she's come around in the time since. Thumbs-up smiley guy!
34. Bubba Sparxxx, "Back in the Mud"
Apparently, Mr. Sparxxx has been releasing new material steadily for the last ten years and did not, as I assumed, move into a Snuffy Smith comic strip.
33. Maroon 5, "This Love"
Never forget: There was promise in Maroon 5 before they became Satan's girlfriend's ringtone. Shortly after moving to Los Angeles in 2002, I went to the Viper Room to see Peter Stuart (formerly of Dog's Eye View, who we will get to here one of these days, I promise). His opening act was an underrated local band who were in the process of funking up their sound and changing their name from Kara's Flowers. Their pretty young lead singer took the stage in a tight "Thriller" T-shirt and toned, tattoo-free arms, and said "Hello, we're Maroon 5," and then they tore into a criminally enjoyable set of songs that would later comprise Songs About Jane. The crowd fell in love instantly. In the middle of the show, Moon Zappa turned to me, drew a question mark in the air with her finger, and then pointed to the stage, as to say, What is even happening here? In that moment, I knew two things: 1) We would be hearing much more from Maroon 5, and 2) I would never have a story with more Hollywood signifiers all in a row than this one. Now it's ten years later, Maroon 5 is best known for "Moves Like Jagger," and Adam Levine looks like a New York City subway car from the seventies. Nothing gold can stay.
32. Hilary Duff, "Come Clean"
Also known as the theme from Laguna Beach: The Real Orange County! Written by Kara DioGuardi, and sung by Lizzie McGuire! It's one trucker hat away from being the most early-aughts thing that ever happened.
31. Usher, "Yeah!"
That thing where the Internet is just a giant outrage machine with no off button is a relatively new phenomenon; just ten years ago, Ludacris said, "If you hold the head steady, I'm-a milk the cow," and nary a think-piece was written about it. True story.
30. Widelife, "All Things (Just Keep Getting Better)"
Also known as the theme from Queer Eye for the Straight Guy, the show that made you have to follow the words "I'm gay" with "and before you ask: no, I don't know which sconce you should go with." This week, as we analyze Macklemore's every macklemove and review each other's reviews of HBO's Looking, I'm reminded of the talks we had during Queer Eye's heyday: "Why must we always be portrayed as these tired clichés?" we moaned. Ten years has taught me this: Some visibility, even the kind that makes you cringe a little, is better than no visibility. (But for real, I still don't know what to tell you about your hair.)
29. Jagged Edge, "Walked Outta Heaven"
I couldn't tell you a single thing about this song or this band, but a quick Wikipedia scouring reveals that Jagged Edge has a member named Wingo Dollar$, who may or may not be a scratch-and-win lottery ticket.
28. Nick Cannon featuring R. Kelly, "Gigolo"
Nick Cannon was the male Mandy Moore of the aughts. Popular culture spoke with one voice and said: You're likable and multi-talented; just keep doing things until we find a place to put you. We're still looking.
27. Pink, "God Is a DJ"
You know how sometimes on the Sirius station '80s on 8, they'll say "Here's another lost hit from the eighties," and you get really excited to hear something you'd forgotten, and then the song they play ends up being, like, "Uptown Girl"? "God Is a DJ" is a legitimately lost hit. It is Pink at her finest, and it's not even on her greatest hits album. (And it's not even Pink's best lost hit! That would be "Feel Good Time," which you can't even find on iTunes.)
26. Simple Plan, "Perfect"
Passive-aggression in song form. Simple Plan is a French-Canadian pop-punk quintet, four-fifths of whom have delicious, almost-fictional-sounding French-Canadian names: Pierre Bouvier, Sébastien Lefebvre, David Desrosiers, and Chuck Comeau. And then their lead guitarist is named Jeff Stinco. You need to be strong to be a Jeff Stinco in even the least French-Canadian of circumstances, but these are dudes who survived titling their debut album No Pads, No Helmets … Just Balls.
25. Twista featuring Kanye West and Jamie Foxx, "Slow Jamz"
I don't have any strong feelings about "Slow Jamz," but Vulture senior editor John Sellers sure does, so I'm going give him a guest verse here. Sellers: Not to slight Kanye and Twista, but the best aspect of this song has always been Jamie Foxx's name-checking of Luther Vandross, the singer Wanda Wayne once unsuccessfully bid $1,037 and some pesos on in a charity auction on In Living Color. Back to you, Dave.
24. Jay Z featuring Pharrell, "Change Clothes"
There was a Super Bowl around this time that involved the Rams, and my St. Louisian parents went to it; my mother likes to tell the story of meeting Jay Z there. Dutiful MTV-watcher that she had become during my tenure, she saw the Roc-A-Fella jacket, put two and two together, and decided she simply must say hi. So she tapped him on the shoulder, asked if he was Jay Z, identified herself as my mom when he answered in the affirmative, and had what she describes as a lovely little conversation. "Oh, he was darling," she says. It wasn't until a couple of years ago that I even thought to ask where exactly this conversation took place. "In the line for the hotel shuttle," she told me. I now refer to this story as That Time My Mom Met a Black Guy.
23. Murphy Lee featuring Jermaine Dupri, "Wat Da Hook Gon Be"
A hip-hop track about making a hip-hop track. Meta! Just like [title of show], except boring (and more creatively spelled)!
22. Mya, "Fallen"
Mya ended up being the Jeff Stinco of that Moulin Rouge "Lady Marmalade" remake, didn't she?
21. Nickelback, "Someday"
Passions also had a minor character who was a chimpanzee. Precious was the nurse to Beth's batty elderly mother, who was named Edna, because the writers were in a hurry. (Here's Edna. Bear in mind: This is Edna at a two.) Anyway, the monkey had a crush on Luis, the same guy Beth liked. So there was some tension there. Between a woman and a chimp.
20. Jason Mraz, "You and I Both"
I went to college in the nineties, so irony and skepticism are fused to my spine. My eyebrow is forever arched, my tongue lives in my cheek. Jason Mraz has a clear, high tenor and the smirk of the only straight kid at musical-theater camp. He wears hats and flip-flops at the same time. He combines yacht-rock balladeering with the lightest, whitest reggae, and then adds scat-singing and puns. Puns! He is a sexy, stoner-y syringe of sincerity straight to the heart, and every part of me wants to hate him, but I cannot. It's actually a pretty good litmus test for how serious you are about wanting to fight snark: Sure, I hear you say you want to be more positive, but can you sit down and listen to Jason Mraz's Waiting for My Rocket to Come all the way through?
19. No Doubt, "It's My Life"
You get the sense that Gwen and the boys were just trying to direct people to the original, which is a noble thing. So will I.
18. JC Chasez, "Some Girls (Dance With Women)"
Not bad, but everyone knows "Blowin' Me Up (With Her Love)" is the crucial Chasez jam.
17. Kylie Minogue, "Slow"
Not bad, but everyone knows "Wow" is the crucial Minogue jam.
16. Britney Spears, "Toxic"
This is probably the crucial Spears jam.
15. Mary J. Blige featuring Eve, "Not Today"
I have completely forgotten this jam.
14. Good Charlotte, "Hold On"
This was the thing about Passions: You really only needed to watch it once a month. They were so terrified of confusing even one viewer that in every single scene, the characters would explain in detail what had happened before and what was about to happen, and everyone would address each other by name so you'd always know who was who. There was so much exposition packed into each episode that they only had time for about fifteen seconds of action. People would stand there, just having interrupted the big wedding, holding the folder with the paternity test results, for weeks at a time — even though the truth would destroy them all. Passions was a real hoot, as long as you never tried to watch two episodes in a row.
13. Outkast, "Hey Ya!"
Never heard of it.
12. Alicia Keys, "You Don't Know My Name"
Did Alicia Keys win Best New Artist, or did they just go ahead and give her a Lifetime Achievement Award that year?
11. Eamon, "I Don't Want You Back"
The most controversial song that you couldn't sing from memory if I put a gun to your head. For those who have forgotten, which is all of us, the full title of this track is "Fuck It (I Don't Want You Back)," and it inspired an answer song called "F.U.R.B. (Fuck You Right Back)" from Eamon's purported ex-girlfriend, Frankee — but they both made the whole thing up. It was the "Diane in 7A" hoax of song. Eamon's opening salvo was full of expletives, sounded like it was recorded in a mall kiosk, and went to No. 1 in nine countries. We've been stupid for longer than you think.
10. Fuel, "Falls on Me"
Fuel. Staind. Disturbed. Cold. Trapt. The aughts were a great time to take yourself way too seriously. I remember the lead singer of this band having a wonderful name, and I wracked my brain for a full hour before I finally looked it up: Brett Scallions. (My best guess was Kirk Sprinkles, which I think you will agree is much better.)
9. Linkin Park, "Numb"
Thanks to Linkin Park, you could be a petulant teenager well into your thirties.
8. Kelly Clarkson, "The Trouble With Love Is"
It was a tense time, this pre–Max Martin Kelly Clarkson moment. We knew she had the pipes, but would the material ever get there? (It got there.)
7. Beyoncé, "Me, Myself and I"
Beyoncé has had enough hits to release a Least-Great Hits compilation. This would be track one.
6. Christina Aguilera, "The Voice Within"
This teen-Celine ballad wouldn't have been out of place on Christina's first album, and I think she and Glen Ballard wrote it as a hedge, just in case the public didn't like all the "Dirrty"-style shenanigans on Stripped. The public liked it just fine. (So did SNL, in a sketch that perfectly illustrates the UCB comedy style of "heightening the game.")
5. Sheryl Crow, "The First Cut Is the Deepest"
A couple years after this, Sheryl Crow played a fundraiser for a Catholic children's cancer hospital in St. Louis, and the then-Archbishop actually told Catholics not to attend the event, because Sheryl supports stem-cell research and is pro-choice. Treating allies like garbage: It's not just for gay people.
4. Evanescence, "My Immortal"
Not bad, but everyone knows the Kidz Bop version of "Bring Me To Life" is the crucial Evanescence jam.
3. Jessica Simpson, "With You"
Did they release this song to radio, or did it just go right into the sound system at a Chico's?
2. Kelis, "Milkshake"
One of the aughts' unquestioned classics, even though we still haven't determined whether it's about boob-shaking or handjobs. I guess we'll never know for sure, but I am certain of this: The Red Hot Chili Peppers will expose their breasts this Sunday and nobody will bat an eye.
1. Outkast featuring Sleepy Brown, "The Way You Move"
Outkast is reuniting to play every festival this year. Coachella? Yes. Governor's Ball? Check. Your town's Strawberry Harvest Festival? They'll be there. Oh, and the press release announcing their tour plans concludes with: "Stank you smelly much." Welcome back, Outkast.