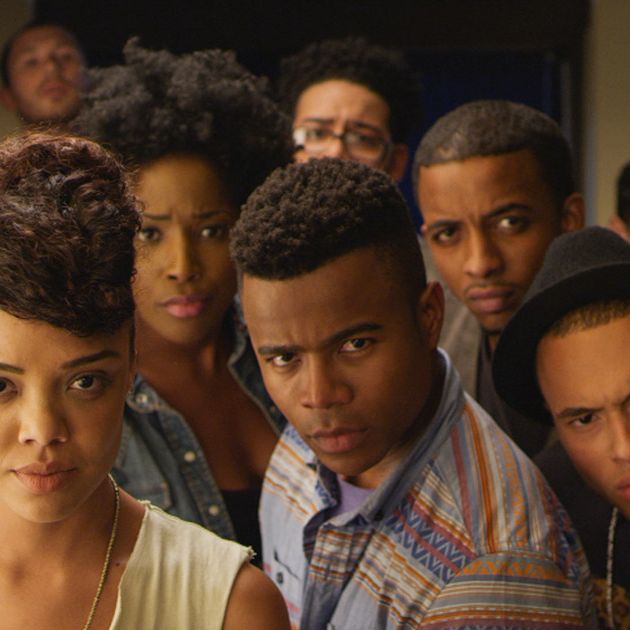 "For all the white people in the audience, on behalf of all the black people in the world, you most definitely have permission to laugh." That's the disclaimer first-time director Justin Simien has been issuing before every Sundance screening of his biting satire of racial politics, Dear White People, which he also wrote. Laugh they did. And judging from a post-screening Q&A that consisted entirely of people standing up to give personal testimonials and lavish effusive praise on Simien, the cast, and the crew, DWP is most definitely a front-runner to take home the festival's Audience Award.
The title refers to an incendiary radio show at a fictional Ivy League college, Winchester University, hosted by a militant revolutionary, biracial film student named Samantha White (Tessa Thompson), who believes Gremlins is about white people's fear of black urban encroachment, because the little monsters go crazy for fried chicken and freak out when their hair gets wet. She broadcasts edicts to the campus like, "Dear White People, the minimum requirement of black friends needed to not seem racist has been raised … to two. Sorry, your weed man Tyrone doesn't count." Or, "Dear White People: Please stop touching my hair. Does this look like a petting zoo to you?"
At the start of the film, Winchester's administration has passed a randomized housing policy that threatens to break up the power base that comes from most of the black students living in the same residence. In retaliation, Sam and her black power clique ban all non-residents (mostly white people) from entering the premises — and egg them if they so much set foot in the doorway. Not everyone in the house embraces Sam's radicalism, though. There's Troy (Brandon P. Bell), the clean-cut son of the Dean (Dennis Haysbert), who's dating the white daughter of the University president and doesn't want to rock the boat too much lest it ruin his chances of running for office later. And Coco (Teyonah Parris, a.k.a. Dawn from Mad Men!), the dark-skinned girl from inner-city Chicago, who wears a long, straight weave and is trying to appear sophisticated and mainstream enough to get on TV. And the gay Lionel (Tyler James Williams from Everybody Hates Chris), the aspiring reporter with a giant Afro who watches from a distance, trying to figure out where he fits in. The only things that bring them together are hating on Tyler Perry movies and pure outrage when a group of mostly white students throw an "African-American"–themed party complete with watermelon and blackface. The invitation asks guests to show up ready to "liberate their inner Negro."
As soon as the credits rolled, featuring photos from actual college parties with white students in blackface, audience member after audience member stood up to rave about the movie and tell their own stories of going to PWIs (predominantly white institutions) and having their hair petted or being called "articulate." The frustrated moderator had to beg that someone, anyone, ask an actual question. A woman from Goldman Sachs stood up and said she thought the movie ought to be shown at corporate sensitivity training. Then she turned to Simien: "I just have to ask you, where did you come from?!"
Simien laughed and replied, "Houston, Texas." The great thing about Sundance is the sense of discovery, that at any screening you might be among the first people in the world to witness an exciting new voice in film. For many of my fellow reporters, seeing Simien be one of those new voices is doubly exciting because for six years he worked on the other side of the fence as a publicist for Focus Features and Paramount, and as a content producer for Participant Media. (I never worked with him.) He started writing the script in 2007, right after graduating from Chapman University. Then a year and a half ago he made a concept trailer for the movie that was provocative enough to get him noticed by CNN.
"I was like, 'You know what? This is the opportunity,'" he told me after the screening. So he quit his job, finished the script, and started an IndieGoGo campaign to raise money (most of the major financing comes from Code Red Films). To test out the tone of the satire, he started a Dear White People Twitter account, posting jokes to it and gauging people's reactions. All the characters, he says, "are aspects of me at certain times." He included a black gay character because "being a black queer character myself, I really felt like I needed at the heart of the story a character that wasn't on a side, and just being a black gay male and feeling not always at home with my people because of that, whether they be gay or black — that was my experience. Basically, I entered college Lionel and I left Sam."
His ambitious goal was to pay homage to black films that mix humor with social commentary, like Do the Right Thing, Hollywood Shuffle, and School Daze. But, he made clear to the audience, he has no personal beef with Tyler Perry; the rants are lifted from debates that kept coming up in his group of friends. "Tyler Perry has found an audience and they respond to him and they love him and he feeds them exactly what they want, and the fact that a black man can do that in this industry is a very good thing," said Simien. "But there are more stories; there are other shades of black … In our industry, there should be room for all kinds of stories because there's lots of people that are looking for themselves onscreen and they can't find themselves."
A Howard University student in the audience asked Simien what he saw as the call to action for anybody who'd seen the movie. "Talk about it," said the writer-director. "Have a conversation. I don't like films that tell you exactly what's what. Racism is wrong, we all kind of know that. What's interesting to me is films that ask questions, and I think the characters are all sort of figuring out who they are, so I hope it leads you to have conversations with your black friends, your white friends, all kinds of people about what you thought and how it made you feel." Producer Effie Brown jumped in: "Facebook, Twitter. Also, the Audience ballot, that would be a great call to action." Everyone burst out laughing. "Just gonna be real about it."