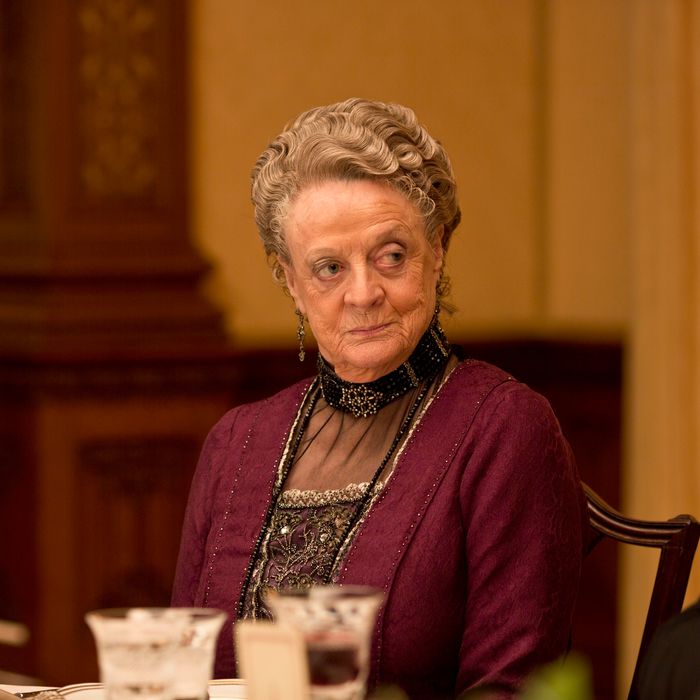 Photo: Nick Briggs/Carnival Films
It has been three long, war-and-burn-victim-filled years since the first season of Downton Abbey, so let us briefly remember what happened back then: Lord Grantham, Earl of Downton, had three daughters, none of whom could inherit his large fancy estate. His intended heir died on the Titanic, and so a distant relative named Matthew Crawley shows up to claim his title. Matthew and Lord Grantham's daughter, Lady Mary, fall in love (but not before she sleeps with a Turkish diplomat); Mary becomes slightly less bitchy than she was before. The Dowager Countess says funny things, and the youngest daughter shows a mischievous interest in activities below her station. Meanwhile, downstairs, a new servant shows up; Thomas the footman and O'Brien the ladies' maid cause all sorts of trouble; and there is a war brewing. If this all sounds familiar, it is because once you change a few names (and erase the Turkish diplomat), this is very much like the episode you watched last night, the first of season four. This formula might seem lazy — it might even be a little lazy — but consider how often we solve major problems (usually related to a cable box) by the very same logic. Downton Abbey is just hitting the reset button. This could actually work!
Granted, it requires making peace with the death of Matthew Crawley, a cruel and unplanned twist that sets all of season four's major plots in motion. Julian Fellowes certainly did not kill Matthew off for such noble reasons, but let us give him credit for recognizing the opportunity after the fact. Matthew's death reopens the inheritance question and turns Mary back into a grieving monster (remember: she was mourning the original heir back in season one). It causes all sorts of financial problems for Lord Grantham to fume about. And crucially, it makes way for more suitors, which is the reason we all loved season one in the first place. It was thrilling to see Matthew and Mary get together, but plot-wise, their marriage was a dead end. (Sorry.)

The reinvention applies across the board: Lady Rose and her flapper antics replace Sybil and her politics; Edna and her evil smirk replace O'Brien and her evil glare. There are new-fangled inventions and downstairs love triangles (Team Daisy, always). Happiest among the new plot points is that Bates has been freed from prison and is returned to his rightful place as a thorn in Thomas's side. The action is back at Downton, instead of in prison or Ireland or anywhere else that the show's ridiculous side plots took us.

Too often, a television show has no idea what it's good at, or — in the case of a crowd-pleaser like Downton Abbey — what its viewers actually want to watch. The third season of Downton, with its jail scenes and shocking deaths, was deeply frustrating in this respect. So even if we can't have Sybil or Matthew back, I am happy to see Downton revert to a show about inheritance, and courtship, and whether or not well-meaning servants can find love. Those stories are why I started caring in the first place.