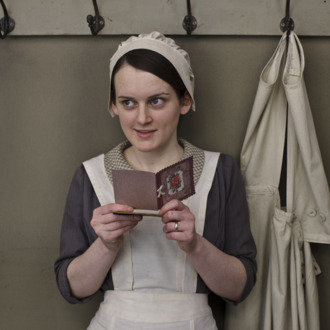 Golly! Downton Abbey drew a stunning 10.2 million viewers for its season-four premiere on PBS last night, making it the most-watched drama series premiere in PBS history. It's also a big 22-percent leap from last January's season-three return, which attracted a then-record 7.9 million same-day viewers. And according to preliminary Nielsen data from PBS, it seems likely the strong Downton debut will allow PBS to tie CBS as Sunday's most-watched TV network from 9 to 11 p.m. It's logical that the same-day numbers would spike, given the cliff-hanger-y nature of last year's finale, which saw — spoiler alert if you haven't yet caught up — Matthew die a bloody death just moments after the birth of his new son. But if British viewers are any indication, Downton may have also just hit its high mark.
In the U.K., where Downton kicks off in the fall, the season four premiere averaged 9.6 million viewers on British network ITV. Just as it was here, the numbers represented the show's biggest-ever audience for a season opener. And in a hopeful sign for PBS, viewership built a bit over the next few weeks. But then viewers across the pond seemed to grow a bit chillier toward Downton. Ratings trended down and, overall, viewership for all regular season four episodes of Downton in the U.K. dropped to 9.5 million, compared to 9.7 million the year before. And this year's Christmas special — what we here in the States will see as the season finale — also declined from 2012 and lost to another period drama, Call the Midwife (as well as some U.K. comedies). None of these figures are awful, mind you. And once DVR data gets added in, the overall audience surges over 11 million British viewers. But at least in the U.K., Downton ended season four without any new influx of viewers.

Still, ITV and PBS have already ordered the fifth season of Downton, so the small declines are sort of academic. Of more concern: Creator-writer Julian Fellowes recently seemed to suggest that the end might be drawing near for the show. In an interview with The Wall Street Journal, the scribe said he can't start working on his new NBC drama The Gilded Age until he finishes Downton and that season six is hardly assured. Given NBC's need to have new hit shows, the Peacock might not be willing to wait much longer.