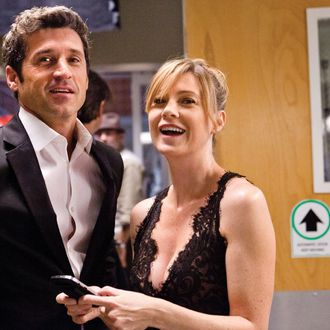 Patrick Dempsey (Dr. Derek Shepherd) and Ellen Pompeo (Dr. Meredith Grey) between takes during the filming of the 200th episode of Grey's Anatomy.
Photo: Jessica Chou/ABC
Grey's Anatomy stars Ellen Pompeo and Patrick Dempsey have signed on for two more seasons of the show, according to The Hollywood Reporter. The show is currently in its tenth, so Pompeo and Dempsey's contracts take them through a twelfth season, should the show go that far. (And it probably will; ABC president Paul Lee said at TCAs last week that he thinks the show will "stay on the network for many years to come.") Sandra Oh is still leaving at the end of this season, so now attention turns to Justin Chambers, James Pickens Jr., Chandra Wilson, and Sara Ramirez, whose contracts are also up at the end of this season. Man, Grey's Anatomy is probably going to be on forever.