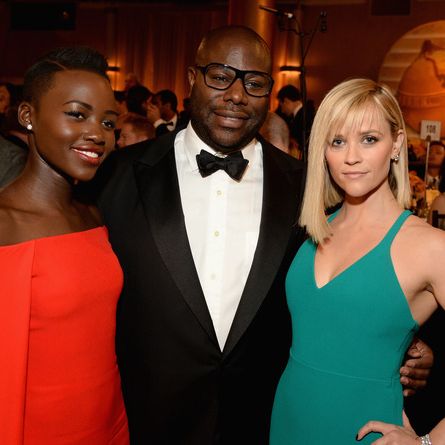 (L-R) Actress Rita Wilson, actor Tom Hanks and boxer Mike Tyson attend HBO's Official Golden Globe Awards After Party at The Beverly Hilton Hotel on January 12, 2014 in Beverly Hills, California.
Photo: Michael Kovac/2014 Michael Kovac
The Golden Globes are Hollywood's booziest awards show, which means Cate Blanchett wasn't the only celebrity with a few vodkas under her belt by the end of last night's ceremony: The stars were drunk! (Many of them, anyway.) With that in mind, Vulture's Kyle Buchanan and Denise Martin hit up some of the evening's biggest after-parties to spy on A-listers as they mingled, danced, and drank some more. Herewith, a timeline of Vulture's observations (preview: Benedict Cumberbatch danced to "Blurred Lines" but did not dance to "Poker Face"); plus, notes from a handful of the weekend's pre-parties. Let's all wish Hollywood a speedy hangover recovery.
Friday, January 10: W Magazine's Best Performances party

8:55 p.m. Jared Leto poses for pictures in the driveway of the Chateau Marmont, goes to leave, then turns back to the paparazzi and suggestively intones, "Hey, guys, can I just say one thing?" Dramatic pause. Dramatic pause continues. Then: "Happy FUCKING New Year." The paparazzi go wild.

9:10 p.m. Inside the party, your Vulture correspondent bumps into a tall brunette clutching a stack of papers under her arm. "Sorry," says your correspondent, assuming she is a harried publicist. Then, a double take. Nope. That was Greta Gerwig.

9:15 p.m. W magazine has gotten some flak for its decidedly unphotoshopped Amy Adams cover, but the actress must not mind it, because she's hanging out here on the balcony as her American Hustle director David O. Russell greets friends inside.

9:28 p.m. A tray of cookies makes its way through the party. Sofia Vergara takes one, carefully splits it into six separate pieces, and hands them out to a posse of women she's traveling with, including her Modern Family co-star Sarah Hyland.

9:31 p.m. "Colin Farrell and I would get wasted till 4, 5 a.m., and then go to IHOP," shouts the man behind me to his friend.

9:55 p.m. Liberty Ross (the famously wronged wife of Rupert Sanders, whom K-Stew had that affair with) hangs with newly appointed Moschino designer Jeremy Scott.

10 p.m. The party is crazy crowded and I almost trip over the high heels of an actress kneeling on a banquette, her lithe legs sticking out into the crowd behind her. It's 12 Years a Slave goddess Lupita Nyong'o.

10:15 p.m. For the last twenty minutes, it feels like Gina Gershon has just been darting through this crowd on her own, murmuring, "Excuse me," as she sidles past people. It's like performance art.
Saturday, January 11: BAFTA Tea Party
2:33 p.m. Here are two polar extremes of BAFTA fashion: Best Actor contender Bruce Dern is wearing a musty ball cap to this fancy-dress tea party, while Best Director nominee Steve McQueen swans in, dressed in a black blazer, hot pink dress shirt, and … uh … "Is Steve McQueen wearing a dress?" asks the woman next to me.

2:39 p.m. It turns out the satiny black garment is actually some form of billowing harem pant. Still, it's all anyone can talk about.

2:40 p.m. I hate to accost a celebrity with that tired line "Who are you wearing?" but in this case, it's required. "Yohji Yamamoto," McQueen explains to me; he famously walked in a Yamamoto show back in 2008. Suffice it to say, these high-fashion harem pants rep a delicious new frontier in awards season attire.

2:43 p.m. Michael Fassbender, on the other hand, is in a leather jacket and gray jeans so wrinkled that he must have pulled them from the hamper just minutes before. He makes a beeline for his frequent collaborator McQueen.

2:57 p.m. Sally Hawkins is in and out, looking lovely and wearing what might be a giant doily.

3:03 p.m. As Chiwetel Ejiofor makes his way into the room, a stranger boldly asks, "CAN I CALL YOU CHEWY?'

3:18 p.m. Tom Hanks is all charm until the journalist next to me asks Hanks whether he caught Meryl Streep's infamous Disney-dissing NBR speech. "No, I didn't see it," Hanks replies, an inscrutable look on his face. His publicist is less hard to read: "We're done here," she says, grabbing him and pulling him out of harm's way.

3:25 p.m. American Hustle co-writer Eric Singer says he's still dazed from the AFI luncheon he went to earlier that week. "For me, it was a big deal, because when I got out of college and I was living on the floor of my buddy's apartment, I was working for a catering company and the first gig that I worked was the AFI luncheon. I just remember being so angry and so in awe at the same time, because all of those guys were who I wanted to be. And I had no idea I was gonna get there."

3:27 p.m. Random additional fact: That roommate Singer crashed with in his lean days was controversial conservative Andrew Breitbart. "He was a raging liberal back then," laughs Singer.

3:30 p.m. It's a flashbulb bonanza as Cate Blanchett hangs out in the corner with Martin Scorsese, who directed Cate to her last Oscar for The Aviator.

3:49 p.m. It's anyone's guess whether Benedict Cumberbatch and Alice Eve will return for the next Star Trek movie, but they're catching up like old friends in the corner.

4:06 p.m. "Oh my God, Sandra Bullock!" say two BAFTA attendees simultaneously as the Gravity star makes her way in.

4:09 p.m. Like he did here last year, Leonardo DiCaprio sets up shop in the corner and waits as waves of starstruck BAFTA voters make their way to him. He good-naturedly engages each in conversation as women wave iPhones in his face, angling for a good picture.

4:29 p.m. Best Director competitors David O. Russell and Paul Greengrass share a friendly chat. The former is chugging juice like it's his job.

Sunday, January 12: AMC/Sundance Viewing Party at the Stardust Lounge and After-Parties Hosted by HBO, Fox, and WB/InStyle, All at the Beverly Hilton Hotel

5:38 p.m. At the AMC/Sundance party, Breaking Bad's Jonathan Banks puts down his beer to pump his fist for winner Bryan Cranston. The room erupts two minutes later when the show wins for Best Drama.

6:02 p.m. "Awwww!" The Walking Dead's Danai Gurira laments Aaron Paul's loss of the supporting actor award to Ray Donovan's Jon Voight. Breaking Bad's Michael Quezada, a.k.a. Gomez, asks, "Where's the exit?"

8:19 p.m. Tom Hanks makes a beeline to Chris Noth and Josh Charles at HBO's after-party. "Big fan. Big fan," he tells them. It probably helps that his wife, Rita Wilson, is a sometimes guest star on The Good Wife. Then Hanks asks for a photo. Hanks asks.
9:05 p.m. Girls star Alex Karpovsky fawns over Elisabeth Moss's Golden Globe for Actress, Miniseries or TV Film (Top of the Lake). "I'm finger-banging your Globe" he tells Moss before handing it back.

9:35 p.m. Ben Affleck is in the house. He's striding by Matt Damon's empty table. "Where's Matt? Is Matt here?" Aw. He misses his friend.
9:44pm: Over at Fox's party, the 12 Years a Slave crew celebrates their Best Picture win as Michael Fassbender and Steve McQueen make their way through opposite ends of the party.

9:48 p.m. Benedict Cumberbatch dances to "Blurred Lines."

9:52 p.m. Benedict Cumberbatch does NOT dance to "Poker Face."

9:59 p.m. Benedict Cumberbatch gets so into "Don't Stop Believin" that he thrusts both arms out for balance like he's on a dangerous surfboard.
10 p.m. At the HBO party, a long-haired Scott Speedman, who next stars in the network's Ryan Murphy pilot Open, and Seth Meyers make plans to have dinner at Seth's place.

10:14 p.m. For reasons we can't fathom, Grace Gummer lifts the men's shirt she's wearing as a dress to show off her nude-colored Spanx for her circle of pals. Front and back. As far as undergarments go, we guess they're nice?
10:15 p.m. New Girl star Max Greenfield skipped the ceremony, but he's at the Fox party and giddy to talk about his next movie They Came Together, a rom-com parody debuting next week at Sundance starring Amy Poehler and Paul Rudd. "I think it's safe to say that it might be the greatest movie ever made in the history of film," enthuses Greenfield, who counts himself as a big fan of the film's director, David Wain (Wet Hot American Summer). "I can tell you 100 percent that it's a return to their Wet Hot American Summer days. That will be the headline."

10:20 p.m. Greenfield plays Rudd's brother in the film, and he says to watch out for an epic comic argument the two share. "I'll never be more proud of a scene, ever — nor will I do better work," he laughs, before launching into an unexpected comparison: "You know, there's a behind-the-scenes feature on the DVD of Before Night Falls, where they're all at the first screening of the movie, and Julian Schnabel is in this hallway crying and Javier Bardem comes to him, like, 'Julian, Julian, what is wrong?' And Julian says, 'I'm crying because the movie is so beautiful.' And while I was watching They Came Together, this fucking dumb, idiot movie, I was having that same moment: 'This is the most beautiful thing I've ever seen.' I've never been more proud."

10:16 p.m. Spotted at the HBO party: Newsroom star Thomas Sadoski taking a cigarette break. Emily Mortimer and Olivia Munn are also here.

10:19 p.m. Still celebrating Breaking Bad's series win, Betsy Brandt dances and sings aloud to "Ain't No Mountain High Enough."

10:26 p.m. COG smooch pals Jonathan Groff and Corey Stoll reunite near the buffet line. This seems as good a place as any to mention Groff's new HBO comedy Looking is capital-F fantastic. January 19, everyone.
10:30 p.m. Brie Larson surprises Scott Bakula with a hug from behind. The two just finished filming the romantic musical comedy Basmati Blues in India. Father-daughter duets are in our future!
10:56 p.m. Joe LoTruglio and Chelsea Peretti head into the WB/InStyle party after their surprise Brooklyn Nine-Nine win. "Chelsea, how many times did I step on your dress tonight?" LoTruglio asks. "Five? Eight?"
10:58pm: Chord Overstreet is deep in conversation as Taye Diggs looms nearby, waiting for his chance to talk. Diggs grabs him by the bicep until he finally turns around. (There's a Glee connection there: Diggs's ex-wife Idina Menzel did a few arcs on the show.)
11:10 p.m. Brandt is still celebrating over at the HBO party. "My trainer asked if I wanted to work out tomorrow," she tells us. I said, 'No fucking way! Xo!' It's Golden Globes!" Twenty minutes later she's dancing on a chair. Hey, that's a workout!
11:11 p.m. Idris Elba sits on a banquette at the WB/InStyle party, swarmed by women.

11:13 p.m. The women have now dispersed and Idris sits by himself, staring into space, unbothered.

11:15 p.m. We continue our Benedict Cumberbatch dancing live-blog: He is on the dance floor, but he is NOT dancing to "Get Ur Freak On."

11:16 p.m. The D.J. puts on House of Pain's "Jump Around" and Benedict heeds the call: He is both jumping AND dropping it like it's hot.

11:20 p.m. The extended album cut of "Motownphilly" comes on and the dance floor explodes with nostalgic pleasure. Benedict, however, is unmoved. "Maybe this wasn't a hit in the U.K." says my companion.

11:21 p.m. Eric Stonestreet is so into this dance floor that he's forced to pull out his handkerchief and wipe his brow numerous times.

11:28 p.m. Meryl Streep's daughters (Spanx-loving Grace and Mamie) make their way into the party with their respective hunky dates.
11:31 p.m. Nebraska's Angela McEwan — the older actress who casts that heartbreaking glance at Bruce Dern near the end of the movie — looks equally heartbroken as she tries to figure out how to leave the Beverly Hilton. To be fair, the place is a confusing maze.

With additional reporting from the HBO party by Soo Youn.