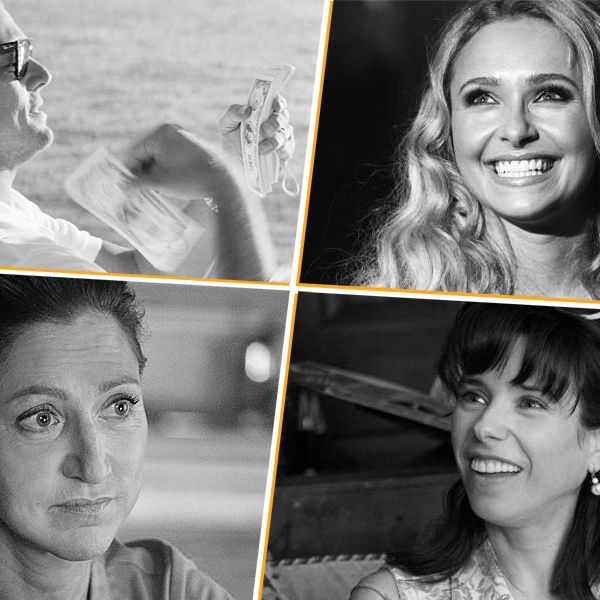 Ah, the Golden Globes. There's so much to like: It's fun! Amy and Tina are hosting again! The acceptance speeches are often way more entertaining than the ones we get at the Oscars a month and a half later! We'd give it our complete endorsement, if it weren't for one little thing: The Hollywood Foreign Press Association, which votes on the Globes, is made up of a few dozen international journalists whose votes are known to be swayable by actors who stop by to say hi. And while that means it's hard to take a Golden Globe win all that seriously, we can at least look at the very worthy people who've been nominated and determine who deserves it most, if only because it could eventually nudge their Oscar and Emmy hopes ever higher. Let's start with the film categories and pick who ought to win.
Best Motion Picture, Drama
12 Years a Slave
Gravity
Philomena
Rush
Captain Phillips
With Oscar threat American Hustle shuttled off to the comedy category, this becomes a head-to-head race between 12 Years a Slave and Gravity. Either would be a terrifically worthy winner, but 12 Years a Slave is one for the ages.

Best Motion Picture, Musical or Comedy
Her
Inside Llewyn Davis
Nebraska
Wolf of Wall Street
American Hustle
The Golden Globe rules for what is and isn't a comedy seem awfully nebulous — I mean, Best Drama contender Philomena has a scene where Judi Dench excitedly extols the virtues of Big Momma's House, for God's sake — but it'd be awfully lovely to see Her win regardless.

Best Director
Alfonso Cuarón, Gravity
Paul Greengrass, Captain Phillips
Steve McQueen, 12 Years A Slave
Alexander Payne, Nebraska
David O. Russell, American Hustle
Alfonso Cuarón should and will win, since Gravity is the result of years and years of directorial toil and effects magic, all of which produced something utterly seamless.

Best Actor, Drama
Chiwetel Ejiofor, 12 Years A Slave
Idris Elba, Mandela
Tom Hanks, Captain Phillips
Matthew McConaughey, Dallas Buyers Club
Robert Redford, All Is Lost
Robert Redford really ought to get some laurel for his terrific All Is Lost performance, and since he's in real danger of getting snubbed by Oscar, it may be now or never.

Best Actress, Drama
Cate Blanchett, Blue Jasmine
Sandra Bullock, Gravity
Judi Dench, Philomena
Emma Thompson, Saving Mr. Banks
Kate Winslet, Labor Day
Obviously Cate Blanchett. We have eyes and ears, don't we?

Best Actor, Comedy/Musical
Christian Bale, American Hustle
Bruce Dern, Nebraska
Leonardo DiCaprio, Wolf of Wall Street
Oscar Isaac, Inside Llewyn Davis
Joaquin Phoenix, Her
This is the wildest and wooliest that Leonardo DiCaprio has been in years; give him a trophy, and maybe he won't go back to making aaaagh-my-dead-wife dramas. Who wouldn't want that?

Best Actress, Comedy/Musical
Amy Adams, American Hustle
Julie Delpy, Before Midnight
Greta Gerwig, Frances Ha
Julia Louis-Dreyfus, Enough Said
Meryl Streep, August: Osage County
Julie Delpy gave one of the best performances of the year, dammit, and she co-wrote the thing, too! She frankly deserves to be in the Oscar race for this category, but we'll take what we can get.

Best Supporting Actor
Barkhad Abdi, Captain Phillips
Daniel Bruhl, Rush
Bradley Cooper, American Hustle
Michael Fassbender, 12 Years A Slave
Jared Leto, Dallas Buyers Club
A whole lot of terrific performances, but Michael Fassbender deserves kudos for making his villainous 12 Years a Slave character both terrifyingly inhuman and startlingly flesh-and-blood.

Best Supporting Actress
Sally Hawkins, Blue Jasmine
Jennifer Lawrence, American Hustle
Lupita Nyong'o, 12 Years A Slave
Julia Roberts, August: Osage County
June Squibb, Nebraska
Sally Hawkins was always in danger of having her Blue Jasmine performance overshadowed by Cate Blanchett's — and maybe that's apropos, given the nature of their sibling bond in the film — but she deserves just as much credit for anchoring Blanchett's performance with a tremulous, earthy co-lead.

Let's approach the TV side with the knowledge that TV Golden Globes are kind of erratic, and that it's okay for these awards not to go to the "best" shows and performers but to ones that have a much lower likelihood of winning an Emmy at any point. Think of a Golden Globe as a chance to share the wealth and have a little bit of "oh what the hell" fun. With that that in mind, who should win in the television categories?
Best TV Drama

Breaking Bad

Downton Abbey

The Good Wife

Masters of Sex

House of Cards

Breaking Bad has actually never won a Golden Globe for best drama, which is silly but also okay. BB doesn't need a Golden Globe. But Masters of Sex does. That show's freshman season was understated and beautiful, and, particularly in the second half, engendered a compassion for all its characters in a way few shows seem to bother with.
Best TV Comedy

The Big Bang Theory

Brooklyn Nine-Nine

Girls

Modern Family

Parks and Recreation
It's starting to feel like Parks and Recreation is never going to win anything, other than our hearts. Throw 'em a bone already! If Amy Poehler's good enough to host, her show is good enough to win.
Best TV Miniseries or Movie
American Horror Story: Coven
Behind the Candelabra
Dancing on the Edge
Top of the Lake
White Queen
Behind the Candelabra already cleaned up at the Emmys, and that's well deserved. But Top of the Lake deserves a victory lap, too.
Best Actor, TV Series Comedy
Jason Bateman, Arrested Development
Don Cheadle, House of Lies
Michael J. Fox, The Michael J. Fox Show
Jim Parsons, The Big Bang Theory
Andy Samberg, Brooklyn Nine-Nine
Everyone in this category except Samberg has already won a Golden Globe, and Don Cheadle and Michael J. Fox have each won two. Parsons probably does the most comedic heavy-lifting, and Fox has the sentimental juju (don't be surprised if he wins), but let's go with Andy Samberg for this one. Not because he's so amazing on Brooklyn Nine-Nine (the show's getting there, but slowly), but because he seems like the most likely to give a funny and unique acceptance speech.
Best Actress in a TV Series, Comedy
Zooey Deschanel, New Girl
Edie Falco, Nurse Jackie
Lena Dunham, Girls
Julia Louis Dreyfus, Veep
Amy Poehler, Parks and Recreation
The last three winners in this category were Laura Dern (Enlightened), Laura Linney (The Big C), and Toni Collette (United States of Tara). All good performances! But not really ha-ha-funny performances. Why not keep the trend going with Edie Falco?
Best Actor in a TV Series, Drama

Bryan Cranston, Breaking Bad

Liev Schreiber, Ray Donovan

Michael Sheen, Masters of Sex

Kevin Spacey, House of Cards

James Spader, The Blacklist
See, it's nominees like this that keep the Globes from seeming particularly legitimate in the TV categories. James Spader? Liev Schreiber? Both fine actors, but neither is doing much on his respective show except breathing heavily and glowering. This is Bryan Cranston's fifth nomination (one was for Malcolm in the Middle), and yet he has somehow never won. Right this wrong!
Best Actress in a TV Drama

Julianna Margulies, The Good Wife 

Tatiana Maslany, Orphan Black 

Taylor Schilling, Orange Is the New Black 

Kerry Washington, Scandal

Robin Wright, House of Cards
Please dear God let Tatiana Maslany win this one. Orphan Black deserves a much higher profile, and sci-fi shows have never had a chance with the Emmys. Make it so!
Best Actress in a TV Miniseries or Movie

Helena Bonham Carter, Burton and Taylor

Rebecca Ferguson, White Queen

Jessica Lange, American Horror Story: Coven

Helen Mirren, Phil Spector

Elisabeth Moss, Top of the Lake
It's getting really boring writing over and over again how good Elisabeth Moss is in Top of the Lake, but fine. Once more. Elisabeth Moss is wonderful in Top of the Lake, and yet somehow she has not won any awards for it.
Best Actor in a TV Miniseries or Movie

Matt Damon, Behind the Candelabra

Michael Douglas, Behind the Candelabra

Chiwetel Ejiofor, Dancing on the Edge

Idris Elba, Luther

Al Pacino, Phil Spector
Michael Douglas's Emmy acceptance speech was bawdy and hilarious, so let's go for a second round. Also, he deserves it.
Best Supporting Actress in a TV Series, Mini-Series or Motion Picture

Jacqueline Bisset, Dancing on the Edge

Janet McTeer, White Queen

Hayden Panettiere, Nashville

Monica Potter, Parenthood

Sofia Vergara, Modern Family
What a strange category with totally not comparable roles! Let's root for Hayden Panettiere, because it will be fun. What Panettiere really deserves is a Daytime Emmy for this role, but a Golden Globe would suffice.
Best Supporting Actor in a TV Series, Mini-Series or Motion Picture

Josh Charles, The Good Wife

Rob Lowe, Behind the Candelabra

Aaron Paul, Breaking Bad

Corey Stoll, House of Cards

Jon Voight, Ray Donovan
Oddly, this is Paul's first Golden Globe nomination, but given the Emmy (and cultural) love he's gotten in the past, let's pull for Corey Stoll. House of Cards had some serious shortcomings (come at me, Slugline), but Stoll added some real humanity to a show where other performances bordered on campy mustache-twirling.